As a parent, my husband and I know that we have a big part in building our daughter's self-confidence. We buy her favorite books, we enroll her to a music school because she loves music, and we also try to let her enjoy being with her friends. But as we all know it, since we've already passed through these stages, physical appearance is also a big factor for a daughter of her age (she's turning 11).
Just in time with this post, Buzz Feed posted an amusing article about how important teeth is when it comes to looking good. Check it out here.
We were not aware why Maristel got crooked teeth in front when she had perfect teeth when she was born. And thus, we decided that she needed to wear braces.
The problem with braces is that we have heard so many negative feedback about them. They are painful and expensive. But if you are a parent, you will know that these two can be survived, because when Maristel gets older, she will eventually thank us for her confident smile which she can bring with her everywhere she goes. My whispered prayer is to find a good orthodontist who won't give us exaggeratedly priced dental packages, and that my daughter won't get traumatized by the procedure.
And then we got this invitation from a blogger friend Vance Madrid to visit Green Apple Dental / MRC Clinic (the first in Asia). It's a nice, comfy dental clinic within Trinoma Mall which offers complete dental and MRC services. MRC stands for Myofunctional Research Co. which owns the brand of Myobrace, which are *intra-oral appliances used to treat the causes of crooked teeth and poor jaw growth.
And then we met Dr. Gammy Urbi, who as we found out, has been popular because of his advocacy in applying preventive dental measures by correcting poor oral habits (or what they call myofunctional habits) as against correcting dental problems through braces at the later stage. He had many tv guestings and printed articles spread out to let the public know about this dental technology which already has increasing followers.
So I let Dr. Urbi to see the problems in Maristel's teeth and he easily recognized that my daughter has incorrect breathing habits which resulted to her crooked teeth and her eternal dried lips. I was actually wondering in the past why she always has dried lips and she often requests me to buy her lip balm. I never thought that it was because she breathes through her mouth (unconsciously) and not through her nose, which is the correct way to do it.
Photos During Diagnostics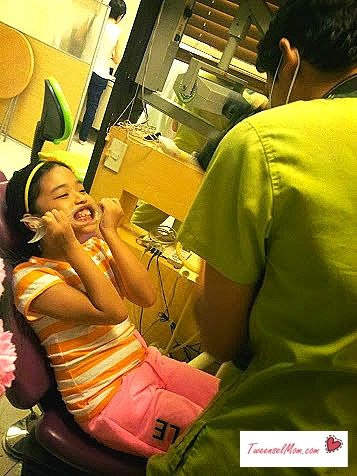 With Dr. Urbi's recommendation, we let Maristel undergo a diagnostic test that day and as the x-ray showed it, my daughter's air passages are narrower than normal. And this was because they are not being used properly. Dr. Urbi explained to us that it's like other parts of the body which becomes weak because of improper or lack of use. The doctor is a tri-athlete himself so he must know about this part. The good news is that because my daughter is still young, there is a high chance of correcting these malformation and he recommended a two-year MRC trainer program for Maristel. He also said that in six months we should be already seeing positive changes  given we fully cooperate with the program.
What really attracted us to try out Dr. Urbi's program is first, with the dental cases presented to us which had amazing results in so short a time, I felt that this is the way for my daughter to get her dental treatment without going through the pain that we've always heard about. She can go to school and eat normally while under the program. As the program also includes therapy sessions which will teach her proper breathing and the right food to eat, we also felt that these will all be helpful to her until she gets old. She can also pass all her new knowledge to her little sister.
And then there's the question of the money to be spent. As I don't think it will be ethical to mention the price of the program we signed up for, the doctor said that the price may vary with the patient depending on the case. But with what we were expecting, the package price given to us is considerably lower than what we expected. Plus the fact that we are promised that relapse is very minimal.
And so we are on our first step on our journey to Maristel's perfect smile. As a mom, I know how concerned most parents are when it comes to their children's dental health and the need to use braces is actually not only popular but have always been thought about as the only solution. With this part of my blog, we will be sharing with you our journey every step of the way. Who knows, this might be the answer to your prayers too 🙂
Check my blog post about our next visit to MRC Clinic.

Green Apple Dental Clinic Website