I've always wanted to have a bread toaster for a long time but haven't set a budget to buy one. I always want my sandwich lightly toasted which will come with even the simplest jam spread over it. Last week, I was finally blessed to own an Electrolux Bread Toaster courtesy of Mommy Mundo & Expo Mom Event at Galleria 2. I joined their online Instagram promo where I uploaded a photo of me and my daughter and used their event hashtags #youthemom #mommymundo and #expomommanila. Luckily, they chose my photo! Thanks so much again  and it was such an honor. Mommy Mundo is a nationally known team which supports mommy entrepreneurs. I for myself have always dreamed to be blessed with that spark of an idea to have my own even the tiniest business. But for now, I am still very happy for the P5,000 Gift Certificate they gave me! It was my first time to go on a shopping spree which was more special since the stores I got to visit were by co-mommies!
Now let's get back to topic 🙂 From the 5K I got, P3,500 of that went to the items I bought for my kids. Well, you know how moms tend to splurge more for the kids and less for themselves. I don't know, I just find more happiness in doing that. The rest of the money was spent for my dream bread toaster. I got the Electrolux Bread Toaster for P1,495.00.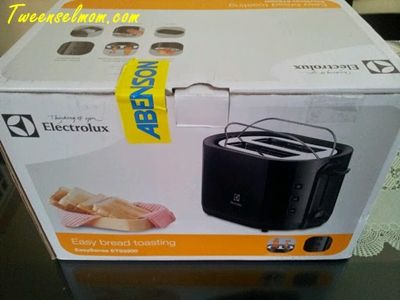 Here's what the bread toaster looks like upon opening. Dimension: Approximately 30×18 cm Weight: 1.94kg Color: Black 220 Watts. I noticed that the cable length was too short so if your outlet is far from the table or your cabinet, you may need to use an extension wire. The outer material is made of hard plastic so it doesn't get too hot when in use.
The box contains egg cartons for storage protection, the warranty cards and this instruction catalog. The instructions were translated in several languages.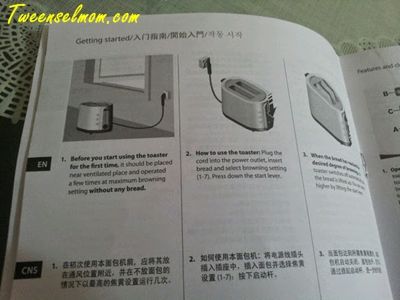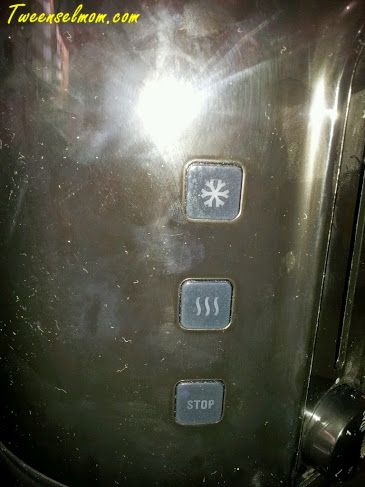 These special buttons are for the following and they all light up when being used.
1st button : Defrost button
2nd button: Reheat button
3rd button: Stop button which you can push whenever you think your bread is done even if the toasting is still in process
There are two slots where you can put your bread slices. One slot is good for thin slices of bread while the other one can toast the thicker types of bread.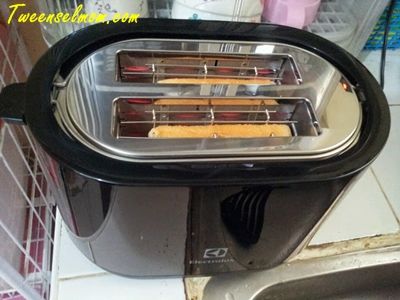 After putting the slices of bread to the slots, you will be pushing this slider to the bottom. Turn the knob around to your preferred toasting setting. There are 7 settings. On the first usage, I turned the knob to 1 and in 2 to 3 seconds, I saw the inner slots turning to red, meaning the toaster is working. You can also smell that slight hint of metal burning maybe because it's brand new. Instructions say that before actually using the machine for toasting your bread, use it several times without the bread at first, testing wise.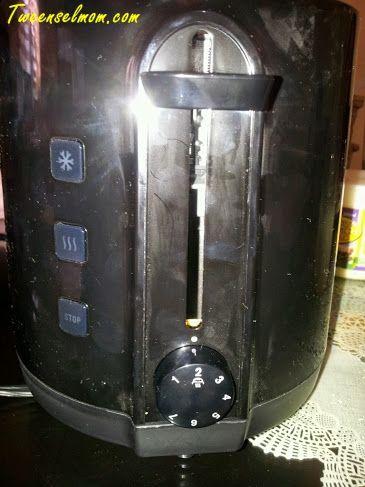 I tried toasting my first two slices and used 1 and the bread popped out after a couple of seconds but they are not that toasted. They were actually warmed. But I didn't hear any Ding! sound which I expected and the popping won't make you jumpy like what I've seen on some tv commercials 🙂 They just went up silently haha.
Then I put again another 2 slices and used setting No. 3. The bread slices were toasted slightly brown but I don't prefer this kind of brown. Too much already for me.
Then again, I tested another slice with setting number 2 and it was just perfect!
The slice of bread on the top was toasted using setting No. 2 while the slices at the bottom were done using No. 3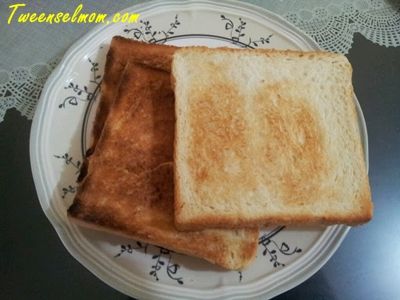 For my sandwich today, I used Purefoods Roast Chicken Ham (you don't need to cook this) and a dollop of SM Bonus Sandwich Spread.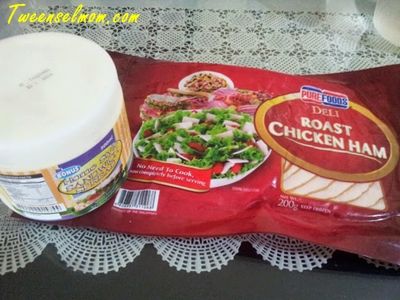 There's a toggle on the left side of this toaster to make these metals go up. If you want to warm or toast bread rolls, this is the slot where you will put them.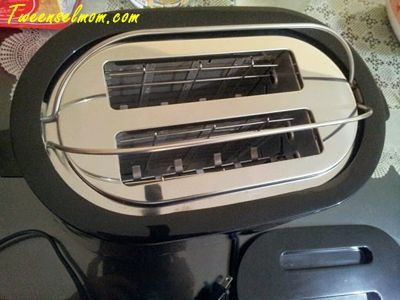 To clean this bread toaster, you can just pull out the metal on the bottom and remove the bread crusts which fell from the bread slices. The machine also comes with a convenient lid to keep the inside from insects or dusts.

I am so satisfied with my Electrolux Bread Toaster and I am so much looking forward to more delightful sandwiches and better breakfast for my daughters. So useful for me since it will be school days again in a matter of weeks.
If you want to get one for yourself, Abenson has many branches and an online store where you can order. Their Facebook page is at https://www.facebook.com/abensonappliances.