If you haven't started shopping for your child's school shoes for any reason, start thinking twice. The crowd is getting thicker and thicker in shopping malls and a few days more, it's either you will be buying something you don't like because your preferred shoes are already out of stock or you just like to end your suffering that you pick the first pairs you see.
As for me, it's getting a little bit more difficult because we are having lesser options for my eldest daughter's schools shoes. Her feet size is already as big as mine but her preferred designs are still the same with her little sister. She also gained weight and height and we thought that she needs something sturdier than the usual brands we buy her.
HardyTogs Black Shoes
For my eldest black shoes, I found this pair of Hardytogs which look nice and durable. When I look for shoes, I usually check the seams (tahi) and the quality of leather used on the soles. I asked the staff where it was made but he wasn't able to answer me. I asked my daughter if she was ok with the design and then let her fit the pair. Fortunately, she agreed after her first fitting and she said that it's just perfect. I looked at the price and it was P1, 349.00 quite expensive from the usual brands that we buy. So I roamed around for a couple of minutes to compare the prices of other brands and saw that they are all quite similar and Hardytogs costs lesser actually.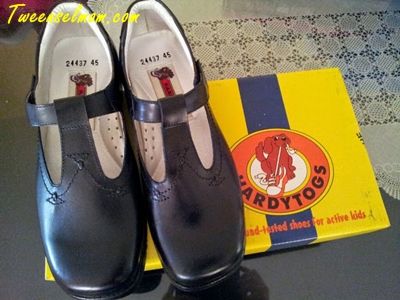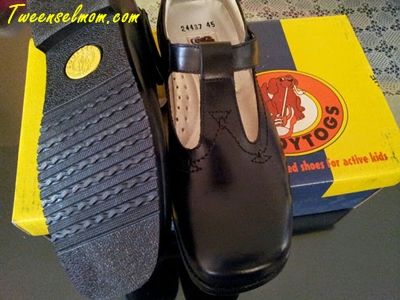 HardyTogs' box says "Playground-tested shoes for active kids". I thought these are just perfect for my daughter, as patweetums she may be, still likes to play rough with her playmates at the playground. We will see this year if these shoes will really be dependable.
Disney Princess Rubber Shoes
We like Disney Princess shoes and we have bought so many shoes with this brand. Their princess designs which my daughters love are always pretty. They are also economical compared to other brands. Quality wise, from experience, their shoes actually last depending on how they are used. So I always try to invest in a couple of pairs which my daughters use alternately. I also teach my kids to clean their shoes and store them properly for their shoes to last long.
For my eldest daughter's PE shoes, she needs something white and not too colorful as her school requires. We had a hard time finding this pair because most of the other designs only have 35 as their biggest size. My daughter's size is 37. This pair costs P999 with elevated and cushioned heels. As big as they are, this pair is lightweight, has velcro straps (my daughter hates rubber shoe laces) and there are also sparkly dusts which my daughter likes to display.
Monster High Black Shoes and Sneakers
My youngest daughter totally loves Monster High. Since she did good at school last year, I decided to give in to her request to buy her Monster High shoes this year. I checked out how good the shoes were quality wise and the price of course, and they seem to be nice. They look similar and priced almost the same with Disney Princess shoes we usually buy every school year. My daughter was so happy with her pairs for this year, specially with the sneakers partially covered with sequins. The Monster High Black School shoes costs P749.75 while the Monster High Sneakers costs 599.00

How about you? What brands of shoes do you usually buy for your kids?