Last month, I've posted how we learned about Dr. Urbi of MRC Clinics and the benefits of Myobrace versus the traditional dental brace. As I saw how many children were able to successfully have beautiful smiles despite of seemingly hopeless dental issues, I signed up my daughter for the program. Last Sunday was our scheduled first appointment.
Dr. Urbi was already at the clinic when we came. I was happy about it because we didn't have to wait. Actually, the clinic already reminded me of our schedule days before. Dr. Urbi is a busy doctor. As a pioneer of Myobraces here in the Philippines, he is always moving in and out of the country to further his advocacy in helping more children have a chance to have great teeth. But he keeps his appointments and he is on time. We were so glad to see him once again.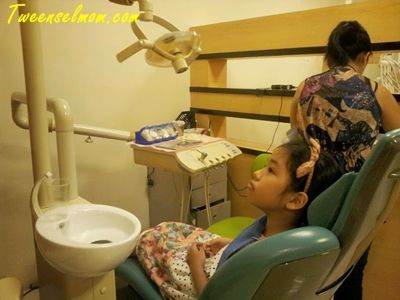 First thing Dr. Urbi did was to check Maristel's dental model. We were happy to learn from him that only Maristel's upper teeth line need repair and her lower teeth were perfect. Her canine teeth were also slowly protruding already. Because of that, the doctor chose an appliance with wider spaces to give room for her incoming teeth.
Myobrace Dental Appliance / MRC Trainer
This is what Myobrace appliance which my daughter will be using for the program. It's made of silicone rubber which fits exactly to my daughter's teeth and gums. They let my daughter wore it for five minutes for the first time and she said that it doesn't hurt at all. The doctor said that it really shouldn't hurt but after a while, there may be quite some pain on the teeth because they are being fixed by the appliance. What we should be alert with is when there will be sores on the gums caused by the appliance. We should have it returned to the clinic when it happens.
Taking care of the appliance is very important and yet, it's easy to do. We should just wash it with running water before and after use. It should also be dried thoroughly before storing on its case. My daughter can easily do these on her own ♥ I can just imagine how metal braces can be so high maintenance with my daughter's low tolerance for pain.
Dental Therapy Session
You see, aside from the Myobrance Appliance or the MRC Trainer, dental therapy sessions are part of the package when you sign up. It means that there are activities to be done at home and at the clinic aside from the monthly visits to see Dr. Urbi.
For our first appointment, the dental assistant, the pretty preggy "Tere" as she wants us to call her, had Maristel and another patient do activities as part of the therapy. Tere said that as beginners, they belong to group 1.
From the MRC Trainer activities workbook, Group 1's target is to learn the following:
Resting Position or the proper resting position of the tongue when it's at rest. There's a spot on the top of the inner mouth where the tongue should rest when we are not using it for eating or talking. If the tongue is not in proper position when it is at rest, the tendency is for it to push the front teeth outward. This is one of the main reasons why there are lot of kids who have protruding front teeth.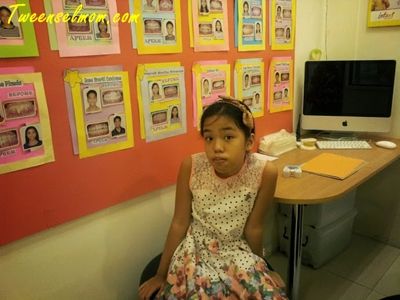 Correct Swallow –  as I've seen from the activities, correct swallowing is using throat and neck muscles to swallow and not the cheek muscles. I was asked by Tere to swallow and she said that I myself am doing it incorrectly. Incorrect swallowing makes an impact to our teeth's alignment and because we swallow a hundred times every day, it is important for the kids to learn and be used to the correct way of swallowing as early as possible.
Breathing Awareness – I took the liberty to ask Dr. Urbi why my daughter seems to have unpleasant breath most of the time. She's already near pre-teens and kept getting conscious of her looks and her smell. She actually won't like to read this here but I thought it will be helpful for other moms to know that one of the major reasons why children have bad breath is through improper breathing.  My daughter unconsciously breathes through her mouth and so, bacterias enter her system very easily, making her stomach and lungs weak and sometimes odorous. Proper breathing means we should always breathe through our nose and not through the mouth. The hair follicles inside the nose were specifically there to filter out harmful bacteria and dirt from the air.
Proper breathing activities involve learning how to hold breathe through the nose as long as possible. Our homework is to practice breathing through the nose everyday. We will do this by pinching the nose while holding breath and monitor the number of seconds Maristel can hold her breath. We will be doing this activity 5 times a day in one sitting with 2 minutes interval.
As of now, we are already in Day 2 since Sunday and Maristel had already worn her trainer for 2 nights. It takes quite some work to keep her trainers on when she is at sleep. I'm a light sleeper so from time to time, I am able to wake up and look at her trainer and then tap her to put it back at her mouth. The doctor said that for newbies, this will be expected. In time, when my daughter gets used to the trainer, she will be finding it incomplete without it inside her mouth.
My daughter said some of her lower teeth are quite painful but the pain is tolerable. I've seen some slight differences but I always prompt Maristel to be more conscious of how she breathes, how she should be keeping her mouth closed when not talking, the way she puts her food in her mouth when she eats. She was usually the kind of a hearty eater and she fills up her mouth before she chew. I told her that she should try to put less food and chew them before she fills up again. My daughter is quite disciplined when it comes to this so I am hopeful that we will be seeing good results in lesser time.
Thanks for following my blog! Follow our Journey To A Perfect Smile series ♥ Check out our 2nd Appointment visit on MRC Clinic ♥
If you have questions about Myobrace and Green Apple Dental Clinic, you can visit their FB page here.