I've never thought we still have these lovely home items till I decided to join Nuffnang's latest blog contest. Fortunately, I have been posting before on online classified ads and OLX is one of the most popular these days.
We are unofficially what you call pack rats and we just keep items as long as we can. However, my kids are growing up and our space is getting cramped up. It's just time to let go of some of these pre-loved items and let them be useful to others.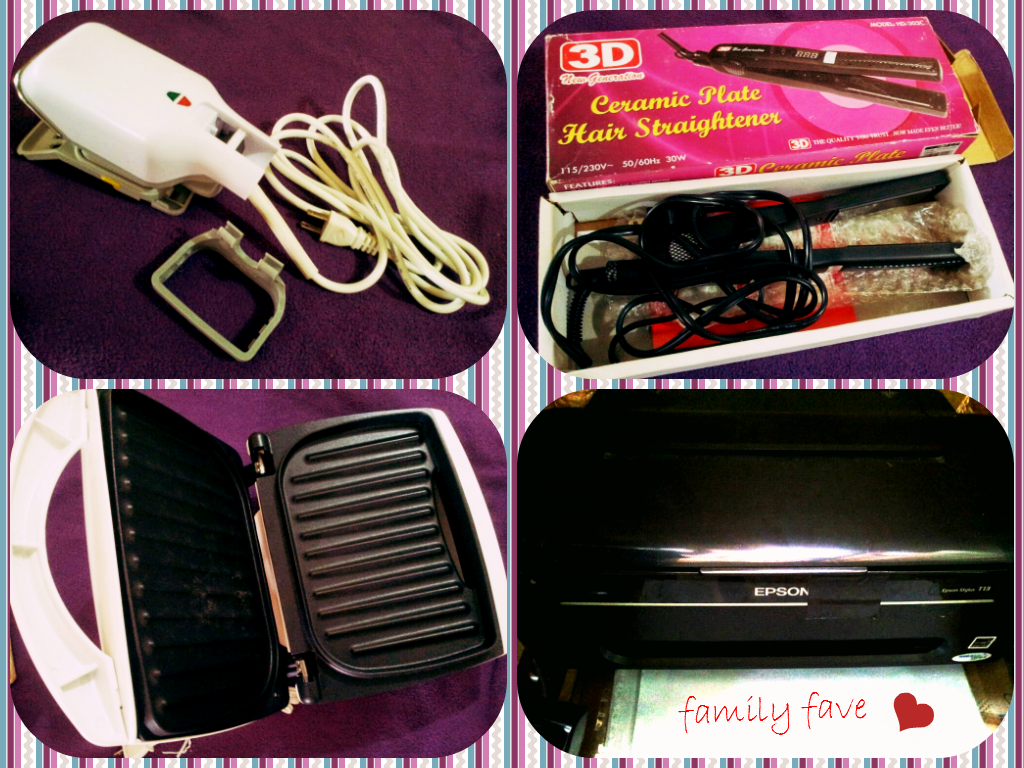 As I took photos of these items, I tried to reminisce how we got hold of them in the first place 🙂 It was actually fun thinking of these memories.
The Steam Iron – I remember I bought it from a deals store online. I just can't remember which one of them. Why I bought this is because I saw those dress boutique staff using one of these and I was so amazed how easy for them to straighten out the clothes. I thought it was cool when you can just hang the clothes, and then the iron releases steam while you glide the iron along the cloth. It's also safe to use on sensitive clothings or those kinds which easily gets burned when you set the iron on high. I decided to sell this because most of our clothes are already RTW (ready to wear) and I am now fond of using fabric conditioners so our clothes don't get crumpled too much.
The Hair Iron – I bought this simply because I want my hair straightened when we go to special occasions. It's also very useful for my daughters who have long hair. The downside is it's a bit big for my hands my palms get painful after minutes of using. I'm not good with manual jobs especially when applying pressure. But then again, I may still change my mind. I saw my daughter's hair last time so frizzy I guess I can still use this hair iron.
The Beloved Printer – This printer had already helped us a lot on my daughters school projects and when printing their reviewers. We had refill attachments for this to save ink. We are actually replacing this buddy because we need a 3-in-1 printer where we can scan, xerox and print. But still, this printer has been the family's favorite. We always use it to print the lyrics of songs we want to memorize. I am certain its lifespan will still be long because Epson's brand is quite durable. The next user will just need to be keen on maintaining its cleanliness to avoid ink clogging.
The Healthy Grill – This one is my personal favorite. Tiny as it is, it is able to grill a good serving of vegetables, fish and meat. It's also handy since it was made like a laptop. You just have to close the top and carry it like that wherever you go. We had many weekends when we choose to grill some grocery-bought barbecues here, and then some bangus and broccoli on the side. Grilling is a much healthier way of cooking as compared to frying, and food tastes better too when you grill them. I am letting this baby go because we have another one given as gift this year. It's the perfect time to let another family enjoy it.
There you go! How about you? Do you have pre-loved items you want to sell?
OLX.com is a free local classifieds website where you can post classified ads for all the used or maybe brand new stuff you want to sell. They also display classified ads of cars, jobs, and housings.