Today, I'd like to share with you two recipes which you would love to try for merienda.
Carbonara
Not so much was written about the origin of Carbonara dish except that we know that it is Italian. Despite little knowledge, carbonara is almost always one of the favorites of every women. Why? Because it's so flexible you can just put anything on top of your pasta and you have your own version of this dish. Here's a recipe recently shared to me by my friend from Jolly Foods and Fly Ace Corporation.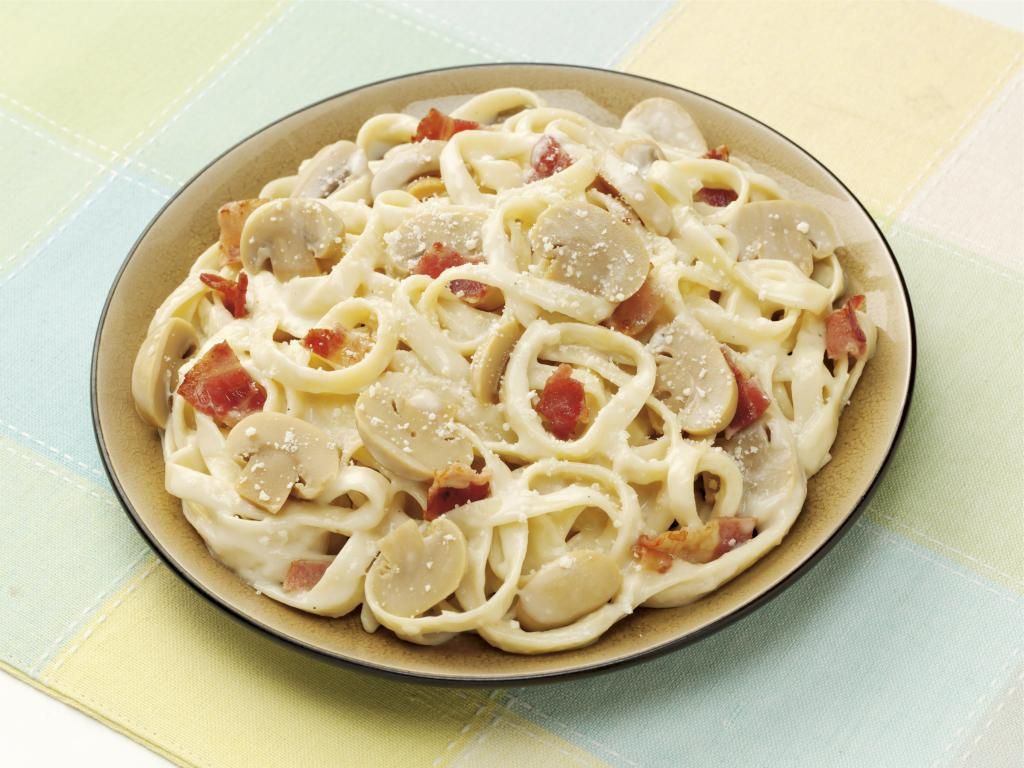 JOLLY FETTUCCINE A LA CARBONARA
Ingredients
500 grams Al Dente Fettuccine, cooked
2 Tablespoon (30 grams) butter
150 grams bacon
1 piece (50 grams) white onion, chopped
1 can (400 grams) JOLLY Whole Mushrooms, sliced
1 cup JOLLY COW FRESH MILK
1 can (298 grams) JOLLY Cream of Mushroom Soup
½ teaspoon (2.5 grams) salt, iodized
¼ teaspoon (1 gram) black pepper, ground
¼ teaspoon (1.2 grams) ground nutmeg
3 Tablespoon (45 grams) grated parmesan cheese
Procedure
1. Heat pan and sweat bacon, onions and Jolly Whole Mushrooms in butter until cooked.
2. Pour in Jolly Cow Fresh Milk and Jolly Cream of Mushroom Soup. Stir well until there no more lumps. Simmer until the sauce thickens.
4. Season with salt, pepper and nutmeg.
5. Toss in Al Dente Fettuccine pasta and top with parmesan cheese.
Yield: 5 – 6 servings
About Jolly:
Each Jolly product is packed with pure goodness that the whole family will surely enjoy!
Jolly is the number 1 mushroom brand in the country. It is known for its consistent quality and a wide variety of mushroom cuts such as Whole Mushrooms, Pieces and Stems, Premium Sliced Mushrooms, and Shiitake Mushrooms. Another popular product under the Jolly brand is Jolly Cream of Mushroom. Sourced from the US and made from the finest ingredients, Jolly Cream of Mushroom is sure to add excitement to your pasta and other culinary dishes. You can also enjoy it simply as a soup.
Other Jolly products include Jolly Corn, Jolly Green Peas, Jolly Salted Black Beans, Jolly Asparagus Cut and Spears, Jolly Straw Mushrooms, Jolly Water Chestnut Peeled, Jolly Red Pimiento, Jolly Garbanzos, Jolly Tomato Paste, Jolly Lychees, Jolly Mandarin Oranges, Jolly Peach Halves, Jolly Grass Jelly, Jolly Maraschino Cherries, and Jolly Fruit Cocktail.
Bam I Canton Sotanghon Medley
This dish is famous in the southern regions. Me and my youngest daughter are very fond of Pancit Sotanghon and Pancit Canton and this recipe is almost a combination of both.
GOOD LIFE BAM-I CANTON – SOTANGHON MEDLEY
Ingredients:
½ kilo pork, sliced
½ kilo chicken breast, boiled and shredded
5 pcs chinese sausage, sliced
½ kilo shrimp, shelled, deveined and heads removed
200 g Good Life Egg Noodles, cooked
300 g Good Life Vermicelli (sotanghon), soaked in water
2 1/2 cups chicken stock
1 pc small cabbage, chopped
2 pcs carrots, julienned
1 pc medium onion, diced
1/2 cup shrimp juice (extract by pounding shrimp heads and squeezing it till you get the juice)
1/2 cup soy sauce
1 tbsp garlic, minced
3 tbsp Jolly Claro Palm Oil
salt and pepper to taste
green onions, chopped
Procedure:
1. Cook Good Life Egg Noodles according to packaging instruction. Set Aside.
2. Sauté garlic and onions then add the sliced pork and cook until meat is no longer pink. Add in the Chinese sausage and chicken.
3. Add soy sauce, shrimp juice, salt, ground black pepper and chicken stock. Simmer for 5 to 8 minutes.
4. Put the shrimps, cabbage, carrots, and cook for 2 more minutes.
5. Add the soaked Good Life vermicelli, stir, then add cooked Good Life egg noodles and continue cooking for 3 minutes or, until the liquid is absorbed the noodles.
6. Mix well. Remove from heat and serve on a platter or bilao lined with foil. Sprinkle with chopped green onions and serve with soy sauce and calamansi on the side.
Serves 10
About Good Life: "Enjoy Good Taste with Good Life"
Good Life Products bring out the authentic taste and flavor of your favorite Asian-inspired dishes. Take your pick from the Good Life Noodle selection. Good Life Premium First Class Vermicelli is made from premium potato starch, thus it is firm to the bite, shiny and crystal-like. Good Life Egg Noodles is the better choice of Pancit Canton. It is made from wheat flour and eggs and is steam-dried, not fried that's why it is healthier! Plus, it yields more than the ordinary canton noodles. Lastly, Good Life Bihon is a staple for well-loved Filipino celebrations.
Other Good Life products include Bread Crumbs, Oyster Sauce and Sesame oil. Good Life is available in major supermarkets and convenience stores nationwide.