One of the perks of being a blogger is that you can generously praise the people and products you love whenever you like. And I like this opportunity to endorse one of my friends' sweet cookies which she personally mold, bake and design.  Being a full time work at home mom won't allow me to gain many 'amigas' from my daughter's school and sometimes I am tempted to feel that I am missing something. But then again, when I think of it, even if I am not working full time, I don't think I will still find myself being on so many gatherings. I prefer going out with my family during weekends, I have so much things going on my mind that I want to learn and do, and so the list of my friends is too short. And sometimes, it really takes time for me to warm up and really like people. But when I talk to persons, listen to them, and interact with them, I enjoy it and if I am not mistaken, they enjoy  my company too. It really just takes time.
Not to go further away from my topic, Evelyn is one my daughter's classmate's mommy. She is a sweet, shy-type and soft-voiced lady just like her daughter. I saw how creative she was with her cookies and so I decided to ask her if she can bake cookies for Mommy Blogger's Philippines Halloween Party. And she eagerly said yes. She baked the cookies sponsored by Personal Baby Videos and Romance Reads. And she even gave me bonus cookies.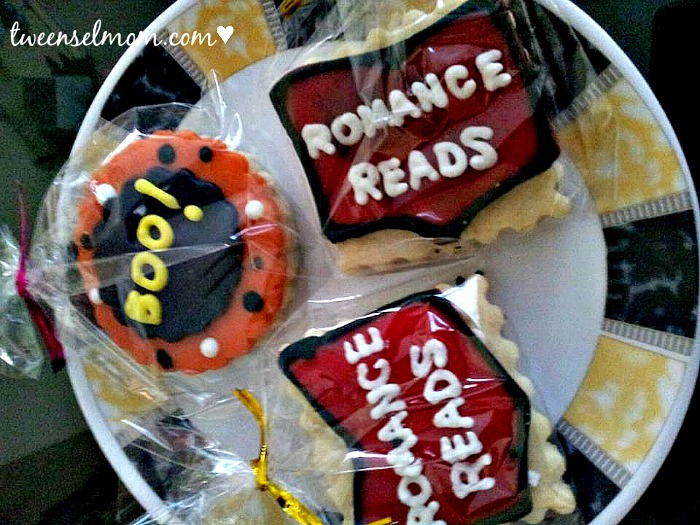 Evelyn's cookies aren't so sweet which means hindi nakakasawa. They are soft and almost chewy, unlike other fondant cookies who crumble when exposed to air. I guarantee that you are going to eat the cookies and not just put them in your plastic bag after the party, and then forget it and throw it away. They are perfect with any kind of beverage. This lady still needs some push for her to open her online store, and I'm telling her she will be a big hit when she decided to go for her business. I will be the first in line when that day comes.