Yellow creatures are invading our homes! Because these adorable characters which originated from the hit animation Despicable Me are now available as toy collectibles when you purchase a McDonald's Happy Meal.
We were so lucky to be able to attend the launch of Minions at Mcdonald's and Mariel had a great time playing with her friends, having a cute minions tattoo, but most importantly, bringing home the collectible edition of Minions at McDo.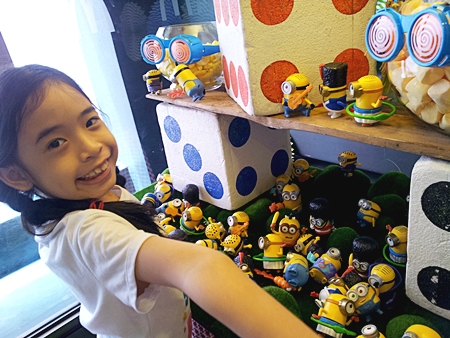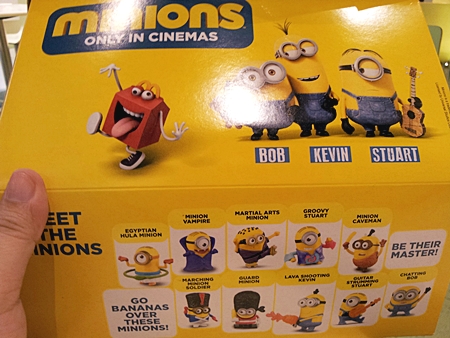 The Minions Collectible Kit contained 10 different minion characters which has their own abilities :
1. Chatting Bob – when you push the button on his tummy, he says "bah-be-eh-ba-nana-eehh, ahaaha" (which I invented of course 🙂
2. Guitar strumming Stuart – who sings when you push down his guitar. I hear him sing with a guitar in his background "Loka migo logato" (which again I invented, LOL)
3. Lava shooting Kevin – He doesn't shoot lava but he has a gun which looks like lava and it lights up when you trigger the button
4. Marching Minion soldier – The Minion guard looks like a Welsh guard, complete with the big hair, but his gun is a banana. It's a wind up toy which walks straight until the winding machine stops.
5. Guard Minion – This one has a button at the top of his head which when you push down, the guard's eyes goes back and forth, left to right, while his hands also moves, up and down.
6. Egyptian Hula Minion – This one also has a button at the top of his head which when you push down will make the hula hoop go round and round.
7. Minion vampire – The minion vampire has a tiny lever at its back which when you push down makes the vampire's hands go up, and show his vampire fangs. He still looks cute though, not scary 🙂
8. Martial Arts Minion – This minion has free-spinning legs, just like he is doing a martial arts kick.
9. Groovy Stuart – Groovy Stuart wears a colorful robe and when his feet touch the floor, his hands will move up and down opposite each other, looking like he's dancing.
10. Minion Caveman – He holds a banana and wears a caveman outfit. When you push his button at the back, he swings his banana up and down just like a caveman who likes to club his enemies.
What I like from McDonald's Happy Meals toys is that they are very durable. Their colors don't fade for a long time. My daughters would like to keep these collectible minions but we decided that we will choose only two (Stuart and Bob) as souvenirs. We choose to share the happiness to some of their friends and cousins who also like the Minions.
The greater news is that McDonald's is also having a Minions-themed desserts! We tasted some of these and oh, boy, that Banana McDip is delicious, and the  Banana McFlurry with Oreo. I'm looking forward to try  the Banana Crumble McFlurry! They also have these combos which make it more affordable to pair these yummy desserts with our favorite McDonald's French Fries!
Isn't it great that there are so many things which makes kids smile and happy these days, just like the adorable Minions? How about you? Which Minion is your favorite?