We were planning to go to Art In Island for such a long time but budget and availability became an issue so we had to put it as one of our to-dos on the later part of the year. But God is always good and He blessed us with the opportunity to go to this exciting place in such a perfect time. Jolly Cow, one of the first brands developed by Fly Ace Corporation, had included us on its "Jolly Cow Mom and Kid's Day Out" which was a whole day treat for selected moms and their kids. The program included a visit to Art In Island, lunch at Burgoo, and cinema viewing at Gateway Mall.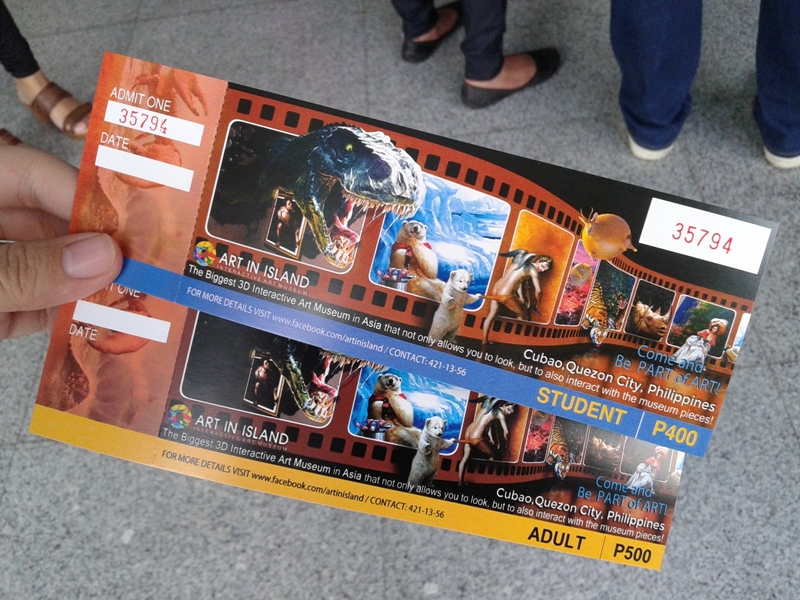 Art In Island Tour
Address :
175 15th Ave., Brgy. Socorro,
Cubao, Quezon City, Philippines
Although the tour was made for moms and one of their kids, I thought this trip wouldn't be that much fun without my eldest and my husband. So we just purchased 2 tickets for Ate Maris and Daddy. We also went straight to Art In Island to give allowance to the time we need to spend in buying the tickets. Ticket costs P500 for adults and P400 for students. My daughter wasn't able to bring her school ID but it was a good thing they were not that meticulous.
It was a Saturday then so traffic was a little bit lighter. We used Katipunan Road from Quezon City and we arrived there before 10AM opening time. At first, we were disappointed to see the parking area was full of buses from schools who were having field trips that day. But we learned later on that the kids were there already from 7AM and the students will be out by 10AM.
Before you are able to enter the museum proper, you will be required to remove your shoes and wear socks. We saw that some of the guests just came in barefooted but for me, I won't be recommending it since it's cold inside. Art In Island sells some pretty socks with nice colors. I wished I bought a pair for myself.
After you submit your shoes, you'll start having a fiesta of spots to take your picture. Every where you look, right or left, the excitement literally builds up as you go inside the gallery. You'll be amazed how the photos just pop out in front of you and you will find it very hard to leave one spot un-photographed. Well, there's nothing better than describe the place through some of the beautiful photos we got when we were there.