If you have kids who are still studying in grade level, story telling contests may be part of your child's annual calendar activities. This is an activity which we look forward, not so much because of the competitive aspect, but because we look forward on seeing the kids focus, learn a new piece and be able to practice being not afraid on stage. It's a good time to build self confidence and speaking skills. I personally believe that people who have self-confidence and good abilities to speak have an edge when it comes to being successful in the future.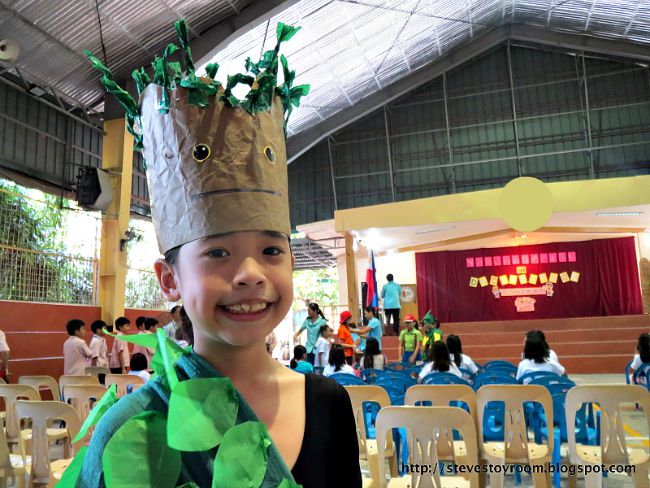 With six years of having my kids participate story telling contest in their school, in which most of the time they won, I think I've gained at least some credits to give some tips for mothers out there who might have kids join similar contests in the future.
Mastery is a must. As soon as your kids get the piece, have them memorize it by heart. Let them understand the content and if they are not able to, explain to them. They can act better when they know what they are talking about.
Practice when the kids are rested. Even though our schedules are very hectic, I make sure that they have eaten and rested first before practicing.
Teach your kids to put themselves in the shoes of the characters. Ask your child if they have suggestions and let her practice them along with your inputs.
Tell your kids to look from time to time to the audience and to the judges and establish eye contact.
Be involved in preparing their costumes if the contest mechanics will allow it. Kids get inspired when they get to wear cool outfits they can only wear for contests.
Find declamation or story telling videos from YouTube. You'll find examples of previous students who have interpreted the same piece. Though you will want to be unique in your interpretation, watching these videos will give you some quick ideas about the mood and what the piece is all about.
Lastly, tell your child to be a good sport. Although this is a contest, the thought that they are already a part of it means that they are special and that being able to perform and do their best in front of people is a blessing already.
Remember that on the first practice, the kids won't be able to get everything correctly but as you guide them and they have the piece written in their minds and heart, they will have the confidence to perform well in a story telling contest.
I hope you learned some good tips from me. If you did, feel free to comment. Goodluck to you and your child's story telling piece!