Halloween is one of the most awaited days of our kids and to keep with the tradition and of course, to make our kids happy, we usually give them candies. Where do you think this tradition of giving candies came from?
According to Wikipedia, "The custom of trick-or-treating at Halloween may come from the belief that supernatural beings, or the souls of the dead, roamed the earth at this time and needed to be appeased." When the kids pose and wear something like these ghosts, they become protected from being harmed from these beings.
Some of us may believe these folklore and some may not but we still do participate just for the fun of it. After all, the kids will only be kids for a short period of time. They enjoy the company of their friends when they attend trick or treat events and they enjoy it most when they get sweet treats.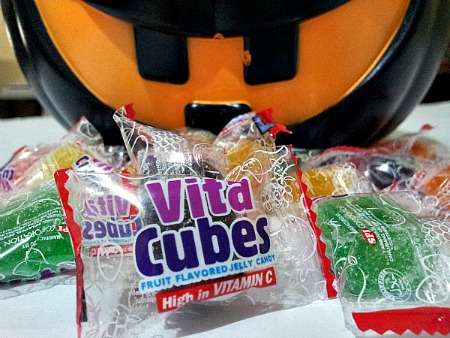 Hard candies may not only be the kind of treats we can give the kids. Actually, when I buy trick-or-treat events, I only buy soft sweets such as mallows and gummies. I do recommend Vita Cubes fruit flavored jelly candies because each cube contains Lysine, Zinc, Vitamins A-C, and E. A box contains enough candies to give a bunch of kids who will knock on your door. You don't only give them something sweet to chew on, they also benefit from the vitamin contents.
It's a good idea to give Rebisco cookies and cupcakes. They have so many assorted variants and flavors these days to choose from and these are much filling than giving the kids hard candies. Much better that they can also keep these cookies for some time and munch on them when they get hungry.