I always stock a couple of Nissin Instant Cup Noodles in our pantry for days when we need easy to prepare soup to warm our stomach (merienda, when we have colds, or when it's a rainy day).  I usually buy the seafood flavored cups because they are the tastiest and not "nakakasawa". Sometimes, I also bring cup noodles when we travel out of the country or when we check in on a hotel. They are the easiest food to carry and you just need hot water and you'll have something to fill in your tummy.
When I got invited to the Nissin Souper Meal Food Trip event held at Robinson's Place Ermita, Manila, I got excited because I know I will have something to bring home which my family will love. And I enjoyed the event myself. The event was Japanese themed and featured a food alley with noodle stalls where we were able to taste the new flavors of Nissin Souper Meal Bowls : Seafood , Beef Brisket, Hot & Spicy, and Garlic Pork Tonkotsu. Each stall was beautifully decorated with popular Japanese icons – cherry blossoms, lantern festivals, the Zen garden and the torii (wiki : traditional Japanese gate most commonly found at the entrance of or within a Shinto shrine).
I've tasted each flavor and here's what I can say : Beef Brisket has nice beef broth flavor just like when you cook beef bulalo, Hot & Spicy may be too spicy for little kids but older kids may be able to tolerate it, Garlic Pork Tonkotsu tastes simple but delicious enough because of the garlic, and Seafood is still the best just like the cup noodles.
There was a gigantic noodle bowl at the center part of the area where mall-goers and attendees were given the chance to guess the number of Souper Meal bowls inside it. Lucky me, I was chosen in the blogger contest and won P500 GC myself 🙂 What's even more fun was that I got to be with my friends and met a couple of other bloggers too.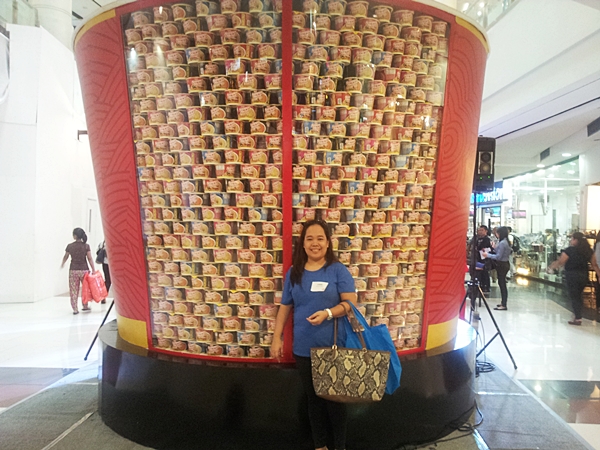 NURC Business Unit General Manager Marcia Gokongwei said that "Nissin Souper Meal is meant to cater to the needs of the modern and active who, despite their busy schedule, still consider eating quality, filling and great-tasting food." Well, who isn't busy these days? With bigger bowls, great flavors and affordable price of P29 per bowl, you just can't ask for more.
If you want to enjoy events like these, make sure you don't miss the next Nissin Souper Meal Food Trip events which will be on January 16-17, 2016 at Trinoma Mall and January 30-31, 2016 at Glorietta Mall.