I've already seen a lot of movies where daddies teach their daughters how to ride their bikes. It's because learning how to bike is quite a milestone, and it becomes sweeter when you are able to remember your first ride with your father.
This December, my daughter got her first 2-wheel bike from JSPGC and her dad, my husband, was just so eager to teach her how to balance and ride without support. They went out one early morning to the community park and after an hour and a half, I heard Mariel shouting outside the house telling me to look at her. And there she was, proudly circling the lot with her bike.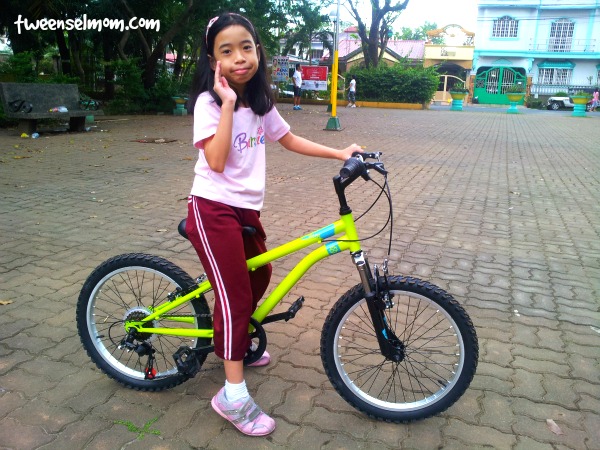 So how do you choose the right bicycle for your daughter?
It may seem easy to just pick any bikes that you see in bicycle stores but actually you have to consider these five things if you want your child to have a good experience whenever she goes out for a ride.
1. Get the right size – My daughter is 9 years old and her bike wheels have diameters of 16-18 inches. Unlike in adults when bikes are measured by the frames, the wheels are the basis for children's bikes.  Your child should be able to ride in and out off the bike even while stepping on the ground.  The knees shouldn't touch the handle bars when they are riding and their feet shouldn't be too much stretched out when they are turning around.
2.
Safe design
– Before buying a bike, check the general design of the bike for safety. There shouldn't be any protruding accessories or metal parts on the bike in case the rider falls off. The metal frame should also be durable and sturdy enough for the kids who tend to abuse their bikes out of excitement.
3. Good brakes – Of course, check the hand brakes if they are working properly and if they are easy enough to use when needed. There are hand brakes that are too thick for the kid's hands so check those too. They made of thick rubber which is easy to grip even if your child's hands are still thin or weak.
4. Chains – Make sure that the chains are secured and your child's shoe laces won't get stuck on it when in use. Make sure that there's enough space between the legs and the chains as they pedal to avoid accidents.
5. Price – Price should be considered when buying because children grow up too fast and you may not notice it that time had already passed and they want to move along to adult bikes already. There are toy stores which offer good quality bikes such as JS Philippines Global, Corp for a competitive price.
JSPGC is one of the most trusted licensee and distributor of well loved toy brands such as Disney, Disney Princess, Marvel, Crayola and Nickelodeon. Their products include different kinds of toys for babies and bigger kids and these are distributed throughout the country inside the malls and the biggest toy stores such as ToysRUs, ToyKingdom, MetroGaisano and SM Hypermarket.