Before the first work week of January ends, I'd like to celebrate in my blog my 100th review in Zomato! I am just so happy to achieve this because I believe in myself that with more than 240,000 review reads and more than 1Million views on my posted photos, I was able to contribute valuable information to my readers, at least in learning good restaurant alternatives.
I am not a food blogger and I seldom attend food blogging events but I enjoy writing (short as they may be) about my family's food trips no matter how simple the restaurant we went to may be.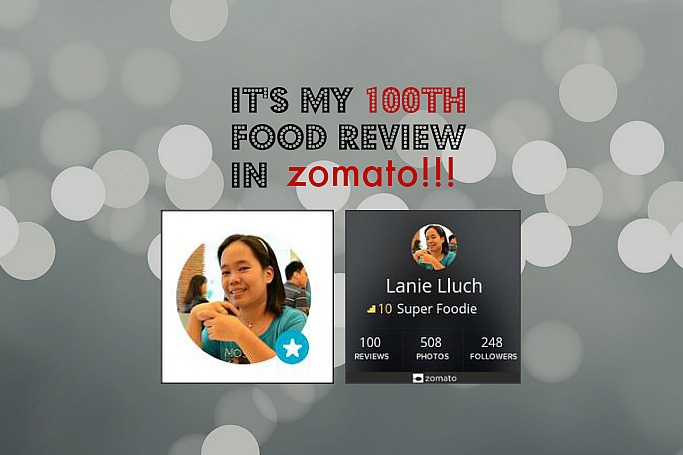 We also don't eat too much in expensive restaurants. A number of my reviews honestly are fast food because, my kids are just ordinary kids who like to eat in Jollibee, McDonalds, Shakeys, Domino's, Krispy Kreme etcetera. But once in  a while, we try to visit family friendly food spots which are usually peaceful inside (my girls hate loud music), spacious, have comfortable sofas. And then we also love to visit cafes which offer both coffee and non-coffee based drinks and desserts. Expensive restaurants are reserved for special occasions and as the budget holder in the family, I don't encourage eating in those places without planning in advance. Thus, I read a lot of restaurant reviews. Zomato is my favorite place online when I do that because they have a thousand listing, they have photos , maps , and menu prices. Sometimes, when I do not find a restaurant in a specific location, I suggest the place by writing them, and they respond!
I bear the mark of a Food Expert in Fairview and Trinoma Mall because we are located in QC. Although in reality, I don't consider myself anything near to a food expert, what I always try to include in my post is how family-friendly a place is and how we are able to satisfy ourselves without ordering a lot. When we read food reviews, that's what we usually look for, spotting the perfect food orders which complement our tastes and not because the food or restaurant is popular. Food is meant to be enjoyed by everyone, even by kids who may not have mature sense of taste yet. And sometimes, the most delicious foods can come even from fast food outlets, from unexpected places, within an affordable menu price.
Please follow me in Zomato here, feel free to comment, and enjoy doing a lot of food trips!