If I will be asked what I want to get this Valentine's Day, I'd be practical to say that I'd like some Wacoal underwear. Roses and chocolates will be sweet, but Wacoal apparels will be more memorable and long-lasting.
I was able to try a Wacoal underwear from a giveaway last Mommy Bloggers Philippines Christmas Party. I kept a couple for a while as I found the packaging so nice. Last week, I thought to open one, a hipster panty, and boy, when I tried it, it was a perfect fit, and the cloth felt so thin and yet so soft, as if like a second skin over mine. It feels like I wear nothing. It was an instant satisfaction on my part and I hadn't felt like that from an underwear before. I immediately thought I'd give my husband a hint about this for Valentine's Day.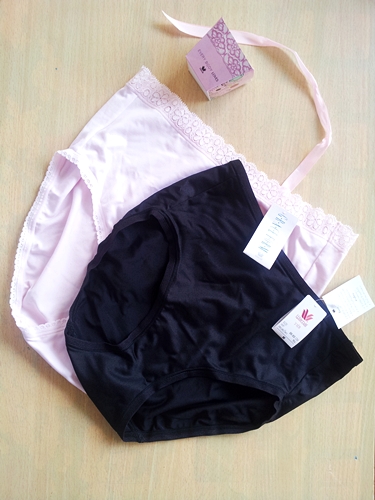 I checked Wacoal's website and I found out that the panty I tried was  made of thin, breathable cotton. It was good to know because I feel itchy with other materials. It costs P385 a piece, quite steep, but with the kind of material and the comfort it gives, I'd willingly invest on it.
Valentine's Day is so near you might want to check out the items in Wacoal online store. I've tried their delivery service before when I had to buy a bra and it was an easy shop and delivery. You'd also love the packaging they use to ship their items. They look so special. Try choosing a nice pair of bra and panty, or maybe a lacy underwear and then send the link to the shop to your husband. Sometimes I do that when I wish for something, and I send the link to my husband's Facebook PM. He gets it already. Who knows you might get what you wish for this Valentine's Day?