Have you ever felt sick at work but you still need to finish your job task? Or if you are at home, you couldn't go out and bring your child with you because of personal reasons? You need to go to the doctor and you'll realize that it will take you long before you will arrive to the clinic because of the traffic. After your consultation, you need to go to the pharmacy. That's a whole lot of stress and anxiety in one day. There's one app/website service which tries to give solutions to these problems. MyPocketDoctor.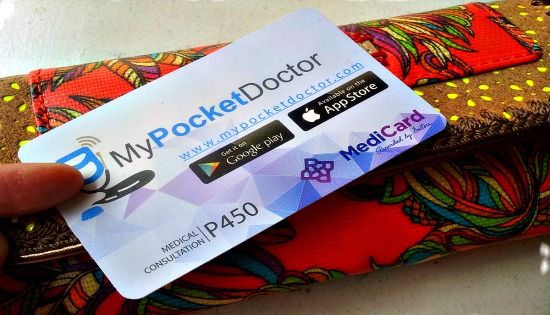 MyPocketDoctor is an application where you can consult with a local doctor, as in a Filipino doctor. This app is available in Google Play and App Store for free. The consultation is not free though as it costs P450 but it's worth it in the long run when you compute the cost of gasoline, the time that you lose when you commute, and the important events you will miss for your needed medical appointment. MyPocketDoctor is a Europe-based telemedicine company since 2006. The doctors behind this business come from Europe and Philippines. If you don't have a mobile device, you can consult your doctor directly from the website via Skype.
Things you need to do to be able to use the mobile app/desktop app
1. Download the app in your mobile phone. Android Apple
2. Register your email and activate,  and fill up your medical profile on their website.
You need to fill up your medical profile so that MyPocketDoctor can efficiently suggest the correct doctor who will attend to you. It was quite easy to fill up and includes basic but important information such as your blood type, allergies and medications you currently take.
Website:  https://www.mypocketdoctor.com/
Contact: +63 32 260 3220
I tried signing up my mobile number on their site, and in less than 1 minute, a staff called me about the registration for medical profiling. I asked if I can just fill up my information through their website and the staff said that it will be fine to do so. You can speak with the staff in your local language.
The staff was helpful and he introduced me to the basic requirements of using the app, which I already mentioned above. He also informed me that payments for medical consultations can be done through credit card and paypal (a plus for work at home moms and online workers like me). I asked about how it is to actually talk to the doctors and he told me that I can communicate to the doctor through voice call, Viber and Skype, both on mobile and on desktop.
I have this voucher code of MyPocketDoctor and I decided to use it to try how is it to talk to their doctors. I installed their mobile app on my Android smartphone and requested a consultation. You need to briefly describe the reason of your consultation. Once I entered the voucher code, I received a call from a staff who asked some basic info and medical info which are basically the same as those on my medical profile within their website. He also asked me about the medical problem I had. I tried consulting for a persistent headache I had this week. After some more questions, the staff told me that a doctor will be contacting me about my problem.
I estimated that it took less than 10 minutes before a doctor called, she said she was Dr. Dela Rosa and she asked me if I called through MediaAxes (its the company provider of MyPocketDoctor) and then she immediately asked me about my medical problem. She asked if I did strenuous activities involving my eyes, or if I had little sleep, the medicines I already took in, and more questions much like as if I am in a real clinic. And then after a while, she told me that she will text my prescriptions. I then received a text message from the doctor telling me that the prescription was already with the nurse.
Then the same staff who helped me in updating my medical profile called me again that the prescription is ready. He also informed me that there's an option for me to let them order the medications to Mercury Drug and be delivered to me at home. I declined because I told him that I wanted to check the prescriptions first. After 10 minutes or so, I received an email for my prescription,  with the complete name of the doctor (Deuzah Ezrah Dela Rosa M.D.) , her signature and license number.
My Opinion about MyPocketDoctor
I think this service is quite unique. It will be truly advantageous to have a doctor who you can consult with anytime you choose to. Going to the clinic these days can really be time consuming. Sometimes, you even have to invest a day or two just to be able to meet with your family doctor because of their hectic schedules.
For me, MyPocketDoctor can be useful for light medical problems which you think needs to be attended immediately, for example in my case, persistent headache which I am feeling for a few days. Or sometimes, there are medical issues which make you worry and you want to ask medical opinion about it. Or maybe, you think you need prescriptions for some illnesses and you want to confirm it first from a medical expert. I also imagine this virtual consultation can be effective for people who wants to be anonymous on their medical conditions.
For me, a personal visit to the doctor can't be replaced by a virtual doctor because in this one, you lose the personal touch of a doctor-patient relationship. We have  a pediatrician and gynecologist to whom we go to since the start and they are already like family to us. I am not sure if you will get that kind of trust and confidence when you do not see the doctor in person.
The consultation fee is P450 which is just a little bit higher than what we pay to my doctors but then again, you have to consider that you already saved time, effort and gasoline in this part. I think the fee was justifiable especially when your consultation gives you peace of mind after the call.
This app can also be proven very beneficial if it can be utilized on emergency purposes, if the staff and the affiliate doctors have the capability to respond to more difficult medical questions, maybe life-saving calls, in cases of emergencies. I am a fan of Grey's Anatomy, the popular medical series, and I've watched how the surgeons were able to save lives and even operate through calls. But of course, it will be too much to imagine this kind of possibility because it's a fictional series and the characters are surgeons, not ordinary people. But who knows?
One thing that I swill suggest though is that their website https://www.mypocketdoctor.com/should have more information, about the service, how it works, and the affiliate doctors who will provide the medical consultation service. I think Filipinos are still not that open yet to virtual services like these but if they can improve the website, make it more informative, it will give more confidence to users and give this app a try.
What about you, how do you feel about this app?