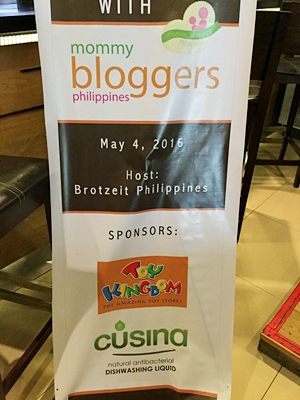 This year's school vacation was all about having fun in the kitchen. Since the kids started staying at home for their school breaks, they had been bugging me to find recipes online and recipe magazines which they can make at home. I'm glad that they were up to it because the oven had been sitting unused for a long time. Fortunately also, Mommy Bloggers Philippines had lots of baking workshops in line this year for the kids.
Last May 4, Mariel and I had a great day learning how to bake pretzel when we attended MBP's JuniorChef @ Work workshop in partnership with Brotzeit. Brotzeit is a restaurant located in Shangri-la famous for its German sausages and dishes and beers, but the restaurant also offers dishes that can be enjoyed by the families like pizzas (fladen), salads (salate) and breads. Brotzeit also has offered kiddie baking workshops during summer. We've attended one of their workshops previously and it was unforgettable.
This year, it was even more fun because Mariel got to be with the kids of my blogger friends. They were all eager to try being little chefs for a day. Unlike last year when Mariel learned how to bake a chocolate cake, this year, she got her hands on in making her own dough for a  cheezy pretzel. Making dough, kneading and rolling it was not easy and the mommies had to butt in and help the little kids.  It teaches a lot to the kids on how it is to work if you want to eat.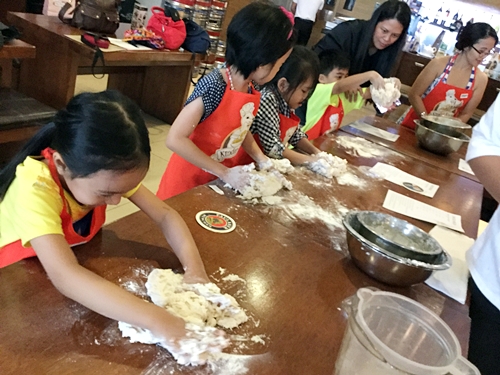 When the pretzel was baked, we could all smell the delicious aroma of the cheese and the bread. We were delighted of the pretzels we made and we had lots to take home. Aside from the pretzels, Mariel had received from the workshop sponsor Toy Kingdom while the mommies were able to take home a set of Cusina Natural Antibacterial Dishwashing Liquid which I'll share to you in this blog soon!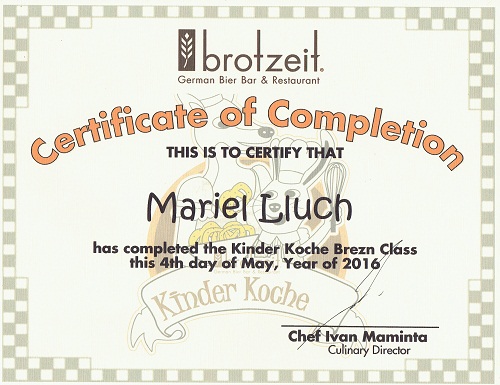 If you want to make your own pretzel, you can try the recipe given by Brotzeit HERE.
But even better than that, why not have your kids try Brotzeit's Junior [email protected]. You can enroll your kids on the Saturday workshops too, this May. You can shoot an email to Malou Yambao Gonzalez at malou@brotzeitphil.com for schedules and registration.
Brotzeit is located at:
Unit 112 Shangri-La Edsa Plaza Mall
Mandaluyong
http://www.brotzeit.co/outlet/philippines