When I think of my kids school snack, the first food ideas which will come to my mind will be hotdog and cheese. But recently, they became fond of eating shredded corn. You know those cheese corn you can buy when you watch movies in the cinema? We love buying those corn with butter and cheese. The kids also like to eat popcorn, corn muffins and sometimes corn chips. Corn is good for our health so I just indulge them with all these.
Corn is sometimes being called "the healthiest food" in the world.
It contains a good amount of fiber and it has minerals which promote good eyesight.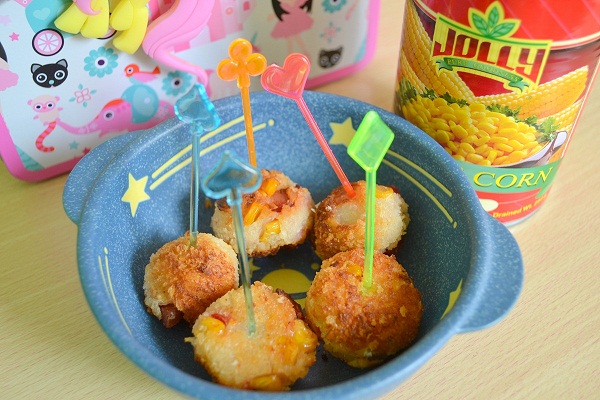 I thought it will be good to combine my kids' favorites for their snack in school : hotdog, cheese and corn. So here's my recipe of Jolly Corn and Hodog Fritters. It's just a basic mix and fry recipe which you can easily whip up even when your child goes as early as 5 am to school, like my eldest.
School Snack Tip : Jolly Corn And Hotdog Fritters
Ingredients
Jolly Canola oil for frying
1 cup flour
1 teaspoon baking powder
1/2 tsp salt
1/4 tsp white sugar
1 egg
1/2 cup Jolly Fresh Milk
1 tsp butter
1/4 can of Jolly whole corn kernels 425 g
2 jumbo hotdogs, diced into small pieces
quick melt cheese, diced *put as many as you like, just take note that cheese can be too salty if you use too much)
Good Life Bread Crumbs
Instructions
Heat canola oil in a deep pan ( put enough for deep frying)
In a separate bowl, combine flour, baking powder, salt and sugar.
In a separate bowl, mix butter and egg.
Stir everything from steps 2 and 3 and include the corn kernels, hotdog and cheese.
Scoop a little portion and form it into a ball. This will be sticky enough.
Roll the ball in bread crumbs and then deep fry.
Serve with your child's favorite sauce or dip.
http://tweenselmom.com/2016/06/09/school-snack-tip-jolly-corn-and-hotdog-fritters/
For more easy-cooking RECIPES, click here.