Having a handy alcohol is always a must for me. I am not the paranoid type when it comes to cleaning and germs but I am aware that keeping our hands sanitized is one way for our family to avoid being sick. If you will look into this health source, it says that aside from hand washing, hand sanitizing through alcohol can greatly reduce risks of infections.
A Handy Alcohol To Quickly Sanitize Our Hands
Working at home in front of the computer for almost more than 10 hours daily doesn't allow me to wash my hands often. My hands are tired and I don't want the risk of "pasma" . What I do is I keep my hands clean and my working station clean by using tissue and alcohol.
My husband on the other hand, our handyman, always has his hands dirty because he loves to keep his plants in the front yard and he also cleans the garage daily. It's a must that he wash his hands and sanitize them before working and eating.
The problem with the kids is that they keep touching their eyes and face and  then they eat snacks while studying.  Even though they already know the essence of washing, using alcohol is still important just to make sure that no germs were left on their hands.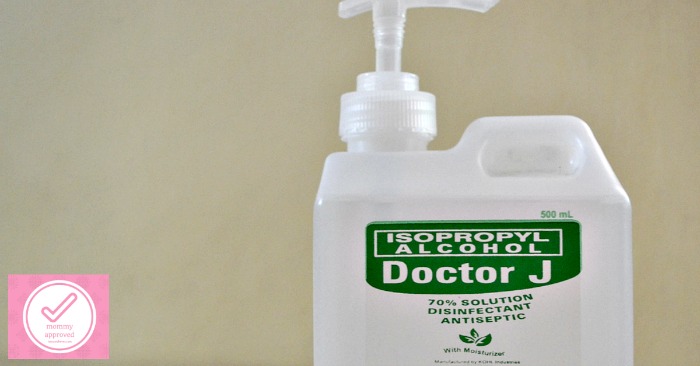 Dr. J Isopropyl Alcohol
It's an alcohol being manufactured by KOHL Industries, a Filipino-owned company, which produces different cleaning products and antiseptics. It's a popular brand in hospitals and janitorial companies because of the products' sanitizing efficiency. You can have a full idea of KOHL Industries from their website http://kohlindustries.com/
Dr. J Isopropyl Alcohol has natural moisturizers, indicated on its packaging, but I do feel its moisturizing effect on my palms whenever I use it. My hands feel smooth and I like this effect a lot. It saves me in using my hand lotion which I now reserve for occasional use. This alcohol also has a nice scent but you cannot smell it instantly. When you put the alcohol in your hands, you'll smell the same scent from other brands of rubbing alcohol. After several seconds, you'll smell the cologne-like scent on your skin and it stays for a long while. The pump also works well with me better than the ones in bottles because I can just pump alcohol on to my hands and go.
For the concentration, I prefer 70% alcohol because higher concentration tends to dry up more quickly and the strong smell can be irritating to our noise and sometimes trigger our allergies.
Doctor J Isopropyl 70% is available in:
1 Gallon
1 Liter
500mL pump
500mL bottle
250mL
150mL
60mL
If you need to find one, you can buy on the following stores:
Shopwise, Watsons
Rustan's
Wellcome Supermarket
AFPCES, Super 8
Fisher Supermarket
Unimart
Makati Supermarket
Walter Supermarket
CVC Supermarket
San Roque Supermarket