It was a colorful afternoon at the Manila Peninsula as we witnessed the launch of Nippon Paint Asia Young Designer Award (AYDA) last July 21, 2016. This contest is open to all interior design and architecture students who are in their senior years. This contest was started in 2008 to inspire design students to be more creative. The contest which started with 11 participating countries is now a bigger arena with 15 countries sending their representatives.
AYDA is judged by renowned and well-established professionals in the industry and supported by professional societies and government bodies such as the United Architects of the Philippines (UAP), Council of Deans and Heads of Architecture Schools in the Philippines (CODHASP), Philippine Institute of Interior Designers (PIID), and Council of Interior Design Educators (CIDE).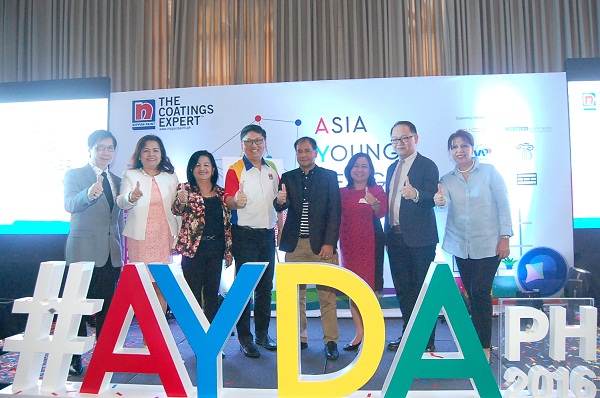 2nd from left) Mr. Michael Chung NPCP General Manager wit h(left to right) Ar. Nina Bailon-Arce, Head Judge for  Architecture Category, Ar. Guillermo Hisancha, United Architects of the Philippines National President, Dr. Leonida S. Calagui, CESO III-Director IV-CHED NCR and IDr. Wilfrid Magcase, Head Judge for Interior Design category holding the toulene-free Nippon Paint Pylox Lazer during the Asia Young Designer Award 2016 held at The Manila Peninsula.
Here were some of the happenings during the launch an hour before the program.
For the benefit of the interested parties, I've copied some of the contest information you will need to know:
THEME: "BE BOLD. BE FREE. BE YOU."
Participants are encouraged to create a design that has something unique to offer design professionals, commercial buyers and the community alike. It has to be a brave new idea that no one has ever seen, which carries commercial value and yet pays careful attention to the well-being and green sustainability of its surrounding community. Our judges are looking for a well thought out design that is both phenomenal and useful, executed in top-notch quality to match.
PARTICIPATION
Two Categories:
I.                    Architecture (third-year students onwards)
II.                  Interior Design (third-year students onwards)
SUBMISSION DETAILS
One entry permitted per student
Submission deadline: Saturday, 15th of October, 2016, 10:00 pm
All completed entries must be postmarked latest Saturday, 15th of October, 2016 and mailed via the nearest LBC EXPRESS outlet to the following address:Attention to:
Oncuemedia, Inc,
Unit 5A, 5th Floor, Suntree Tower,
Sapphire Road, Ortigas Center, Pasig City·
Present valid school ID and filled out entry form to LBC EXPRESS outlet to avail of the free courier service for Asia Young Designer Award.
Grand Prize will be 6-month Internship opportunity from Lor Calma & Partners and Aidea, Inc., Php 50,000 cash prize and experience a once-in-a-lifetime learning programme abroad for a chance to compete against 14 other countries and win the PLATINUM AWARD + USD 1,000 cash.
More details from
https://www.facebook.com/nipponpaintphilippines
http://www.youngdesigneraward.ph/
http://www.nipponpaint.ph