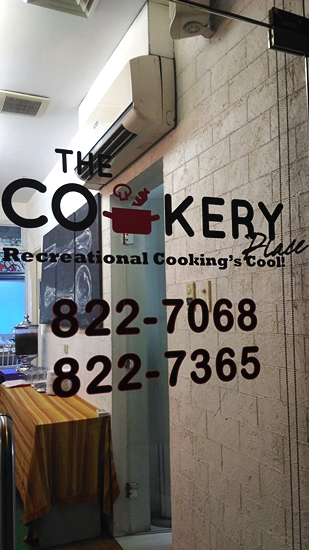 Filipinos are getting busier these days. As they say, we are all caught up in the rat race. One of the disadvantages is that we now tend to prefer fast-foods and the immediate services of restaurants more often than home-cooked meals. Although these may be unavoidable, we slowly forget how easy it is to cook meals at home (given the time), how healthier and more affordable, and most of all, how it bonds families closer to each other. Yes, I must say closer, because even though we can all chat with each other when we eat at fast foods or in the more expensive restaurants, nothing will give us that relaxed, laid back feeling where we can all be our true selves than we are at our own homes.
Knorr tries to revive our preference for home-cooked meals and I am very happy about it because it I wanted my daughters to appreciate eating at home through the dishes I cook. I admit that I may not be the best cook out there, but I am proud of my skills in the kitchen. Through Knorr's #LutongNanay campaign, I have been more eager to improve my cooking which has been made easier because of Knorr's flavors.
Last August 12, I was one of the attendees of #LutongNanay  event at The Cookery Place in BGC, Taguig. A lot of my co-mommy bloggers from MBP was there and it had been a great experience to do something we all love to do, cooking! Relate na relate kaming lahat and it was exciting because we got to cook on our own after a seasoned chef and mom herself, Chef Kai demoed us how to cook sinigang with watermelon. It was a nice coincidence because I was really hoping to cook it at home since I tasted a similar dish in Manam's, a popular restaurant where we often eat. The watermelon makes the dish a little bit sweeter but more flavorful. Knorr Sinigang mix is a balanced flavoring which makes the Sinigang outstanding.
According to Knorr's Brand Manager for Bouillon and Seasonings, Dhiren Karnani, "Our goal is to bring back the value behind home cooked meals especially since people choose to eat outside or even alone in this fast-paced world. Knorr aims to help more moms bring the family together through the best flavors in their cooking." "Cooking is a force for good. When a mother cooks, it is often seen as a way for her to ensure her family's well being – and through Knorr, moms can serve nutritious meals without sacrificing great flavor" Karnani continues.
I'm sharing with you the recipe here as well as the other three Sinigang recipes cooked by the other moms as well! We hope that through these recipes and Knorr, you will also find that same eagerness to prepare home-cooked meals.
For more updates and delicious home-cooked dish recipes, follow Knorr in their Facebook Page.
Enjoy cooking!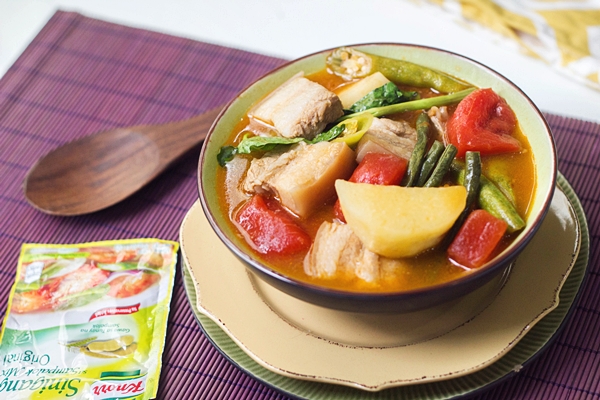 Knorr Sinigang with Pakwan Recipe
Ingredients
500 grams Pork Belly 3 inches x 1 inch slices
3 tbsp Knorr Liquid Seasoning
2 tbsp
vegetable oil
1 liter water
3 cloves garlic, crushed
1/2
 onion, cut into 2 wedges
3 pcs tomatoes, sliced into quarters
1 inch fresh ginger, cut into fine matchsticks
1 lemongrass stalk, white part only
2 pcs fresh kaffir leaves (optional)
200 grams gabi, sliced into cubes
500 grams seedless watermelon, peeled & cut into 1inch cubes (divided into 2 parts)
1 22-gram pack Knorr Sinigang sa Gabi mix
1 cube from Knorr Beef Cubes
2 long green chillies, sliced
150 grams sitaw, cut into 7 cm lengths
1 tbsp
fish sauce, plus extra to taste
¼ tsp
freshly ground black pepper
100 grams okra
1 bunch
water kangkong
1 tbsp soy sauce
Steamed rice, to serve
fish sauce to serve
Instructions
Marinate the pork belly in Knorr Liquid Seasoning for at least 30 mins.
Place a large casserole over medium-high heat. Add the oil and, working in batches, cook the pork until evenly browned. Remove with a slotted spoon and set aside.
Reduce the heat to medium. Add the garlic and onions to the casserole. Add the tomatoes, ginger lemongrass, gabi and watermelon and cook for 2 minutes before returning the pork to the casserole.
Add the water, Knorr Sinigang Mix and Knorr Beef Cube. Cook for a further 1–1½ hours until the pork is almost tender.
When the pork is tender. Remove the pork from the casserole and set aside. Strain the liquid and add the fish sauce, soy sauce and pepper to taste.
Add the remaining watermelon, beans, and okra and cook for 20 minutes, before adding the water spinach and cooking for a further minute until all the vegetables are tender.
Serve with steamed white rice and fish sauce for dipping.
http://tweenselmom.com/2016/08/21/knorr-lutongnanay-revives-our-love-for-home-cooked-meals/
Check out three more Knorr Sinigang Recipes here!
Knorr Sizzling Sinigang Recipe
Knorr Surf and Turf Sinigang Recipe
Knorr Sinigang na Liempo sa Sampaloc