Doing the laundry can be a daunting task specially if you are not satisfied with how your clothes end up after you get them from the clothesline. Making our clothes smelling fresh is very important and that's how I gauge it if I was really able to wash the clothes properly.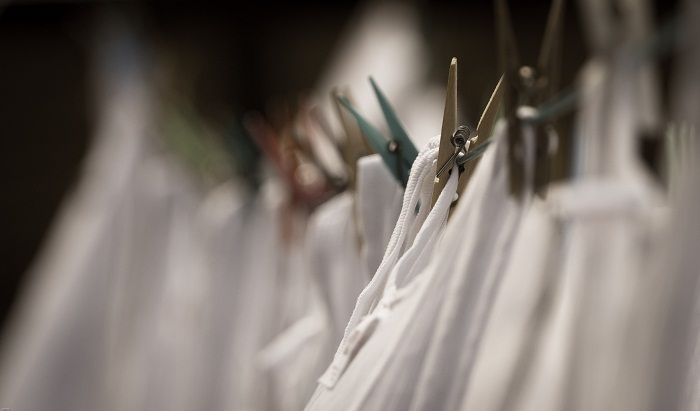 A month ago, I went to the mall and had to commute. In the jeepney I rode, there were some student passengers who wore white uniforms. They looked clean to me but I smelled something unpleasant. The bad thing is that the students were girls. They may have looked clean but they smelled unclean. I immediately thought of my daughters and made sure to check their uniforms. Because my odor standard is very high specially for my girls. Though hygiene is a must for everyone, may you be a boy or a girl, for me, ladies should always be the epitome of cleanliness. I always tried to find ways to make sure that I get rid of the unwanted smell from their uniforms.
Here are some tried and tested tips to help you remove unpleasant smell from uniforms because of sweat and body odor. Please note that these are for WHITE uniforms only, not the colored ones.
1. Baking Soda – Put 2 tablespoons of baking soda made to paste by putting some water on it. Brush the smelly part with the paste. Rinse the uniforms with water and let them dry. Baking soda doesn't have smell so rinsing will be enough.
2. Water and Vinegar – Soak the white uniforms in a basin full of water and then mix 3-4 tablespoon of white vinegar. Soak for 1 hour and wash the clothes as usual, with soap and water, and then hang them to dry.
3. Undiluted Vinegar – Put 1 tsp. undiluted white vinegar to the smelly part, soak for at least 10 minutes, then rinse with water and fabric conditioner.
Unwanted smell in the kids' uniforms can be inevitable. Our weather is usually humid making my tweens sweat a lot and get sticky. They don't have airconditioning in their classrooms and sometimes they go out of the field to do some activities.
Other tips:
Check your tweens' brand of deodorant if the smell can't be removed from the clothes easily. If yes, chances are that the deodorant will stick to their skin that way too. Teach your kids how to properly clean themselves. Sometimes we may assume too much, that they already know some things because they see us how we cleaned them or how we clean our body. But they need to be guided and taught in the most personal way we can. Make sure that they really know how to brush their bodies, get rid of the dirt ("libag" in Filipino) from their armpits and groins, and how to use shampoo and soap. Tweens tend to hurry up too much they can't clean themselves properly.
I hope you were able to learn a thing or two. Stay cool!