Being beautiful and feeling beautiful can be as easy or as difficult as women can think of it. In as much as "beauty is in the eyes of the beholder", I also believe that  beauty is in the heart of the "beholdee" (I'm not sure if there's a word like that, but you know what I mean). Although I can see that many women still perceive beauty as having that svelte body and pretty face, I believe that most of us had already gone past this superficiality.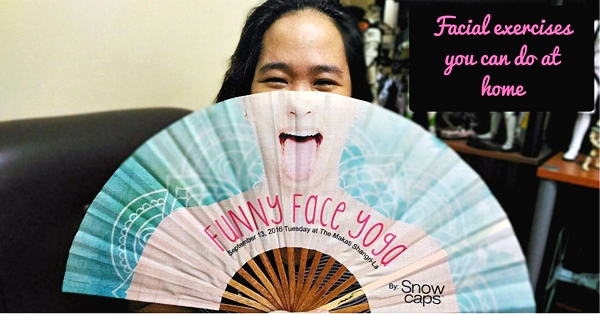 As a mom of two young ladies, it is a challenge for me to teach them of the importance of having self-esteem which is not based in skin-deep beauty. I've always told them to look up to women who are intelligent and who make wise decisions, women who have self-respect and independent. Because of these, I'm happy to say that my two girls grow up valuing their studies and they choose friends who have the same aspirations. My husband and I always hope and pray that they continue to do so.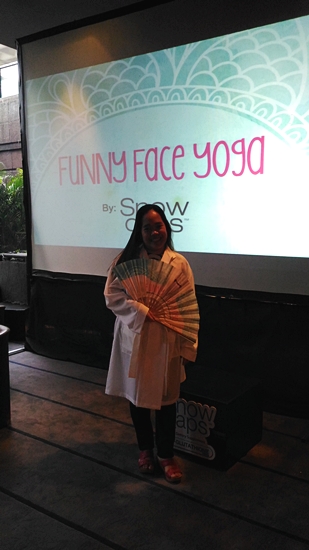 And what about me? When you stay at home most of the time, it's very easy to neglect yourself, you know, forget to brush your hair, put some powder etcetera. Although I feel beautiful when I am in my elements ( being productive in my online work, keeping up with the laundry, having a clean home) I also want to be pretty in the sense that I look healthy, happy and presentable. It's the kind of beauty that doesn't need makeup.
Last September 13, I was invited to an event held at The Makati Shangri-la, where we were inspired to feel beautiful by having that inner kind of happiness. The speaker was the very beautiful former model Vivien Tan. At first I thought, it was very easy for her to teach about beauty because she is already beautiful but as the program progressed and as she showed how Funny Face Yoga is being done, I realized that she is talking about a different kind of beauty.
Funny Face Yoga is a different kind of facial exercise because it makes you flex all the muscles in your face in different ways. Vivien was still pretty while she did the Funny Yoga, cute actually, but I felt hilarious with myself as I imitated her.
There were 3 kinds of exercises when you do Funny Face Yoga:
1. Breathing Exercises
2. Kissing Exercises
3. Eye Exercises
You will see how the basics of the Funny Face Yoga through this video:
I've tried doing these exercises when I shower and every time I do, my facial muscles feel pumped and energized. I've tried the yoga one morning, when I woke up, and I felt so funny about it I was very much awake at 4 in the morning!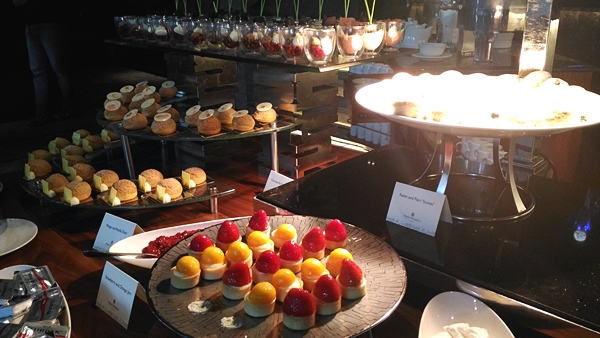 Aside from Funny Face Yoga routines, the brand sponsor of the event SnowCaps showed the importance of taking care of ones' self to achieve the healthy skin and physical well-being. Being beautiful may not mean having that perfect kind of shape of the body or face, but it involves being healthy deep within. It will be manifested in your skin, how it glows and in some women, through the hair. Sometimes, you'll hear people talking about how a woman has this beautiful aura. For me, that means that the woman is happy, feels happy and beautiful.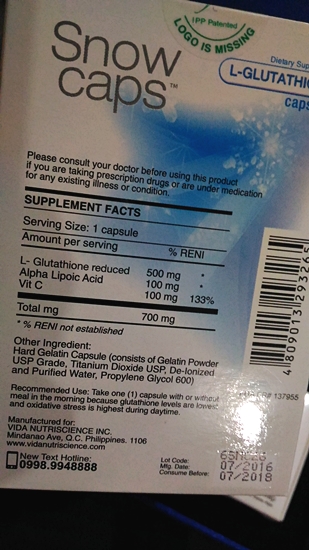 Snow Caps contains L glutathione from Kohjin Lifescience Tokyo Japan and it has 50% more  glutathione content than any other expensive brands. Yes, its true because I checked the contents on the label with the popular glutathione brand I have at home.  The Vitamin C content actually is more than what I take from my regular multivitamins. Glutathione is naturally produced by our liver but factors like aging, sun exposure, stress, heavy exercise, alcohol, cigarettes and pollution reduce our glutathione levels causing the skin to dry and darken. Snow Caps gives us our daily dose of glutathione, an antioxidant that promotes radiant looking skin while fighting off toxins and free radicals that are harmful to the skin and body.
I've been taking glutathione because of the Vitamin C, and the whitening effect is just secondary. I'm happy to learn that SnowCaps is more affordable and yet has more Glutathione content. I am taking one capsule every morning and I am excited how it will turn out.
For more information about Snow Caps, find them on Facebook (Snow Caps Glutathione), visit vidanutriscience.com or call (02) 927-9227.