It's already the third year of MBP's Halloween Party and yet, Louisa, Joy and I still felt the same rush of adrenaline as the day of the event got closer. I don't know but whenever we had events like these where we expect to see the members of our bloggers' community, we get excited and despite our full time jobs (we are all WAHMs by the way) and our unending family chores, we can still find the time to coordinate with each other and with the sponsors. Can you imagine that one day before the event, we got to 7 different locations just to be able to complete the sponsored items ? It was a lot of work but it helped that the three of us enjoy each other so much that we couldn't even notice that we've finished everything we needed to do. We also had one goal for this event, that is to give a wonderful party to the MBP moms and their kids, because this party has always been much awaited.
I can say that the party was a huge success with at least a hundred attendees. With our venue sponsored by nonetheless The Mind Museum, I felt proud that this institution agreed to give us moms an opportunity to use their facility, be able to explore the museum afterwards, and be one of the firsts to learn and visit its newest traveling exhibition The Science Circus.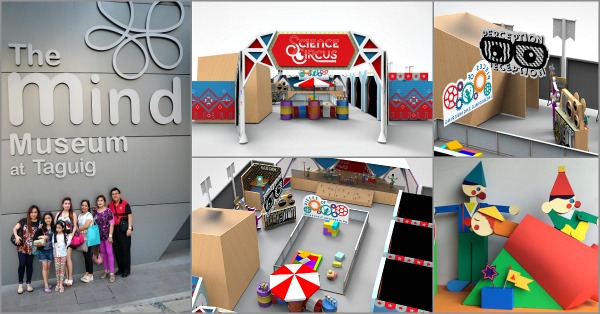 I have to thank all the mommies who were there at the party. The thought that they've prepared their kids' costumes and be there at the party with their little ones took time and effort. As the party emcee that day, it encouraged me a lot to have a warm and cooperative audience. I also remembered that the "chikitings" were behaved throughout the program, except on the later part of the day when most of them were itchy to try the foods and candies.
Of course, as my blog revolves around my family life, this party wouldn't be complete without my husband and my kids. I wouldn't be fully be in my element if they were not with me during that day.
The party was filled with goodies, sweets and treats from the sponsors. We had more than a dozen and our team were so thankful to all of them for believing in the purpose of this event. We are also glad that through this event, we would be able to help them introduce their brands to the moms who attended and eventually to the readers who will read our blogs. More photos of our sponsors can be found in Mommy Bloggers Philippines website.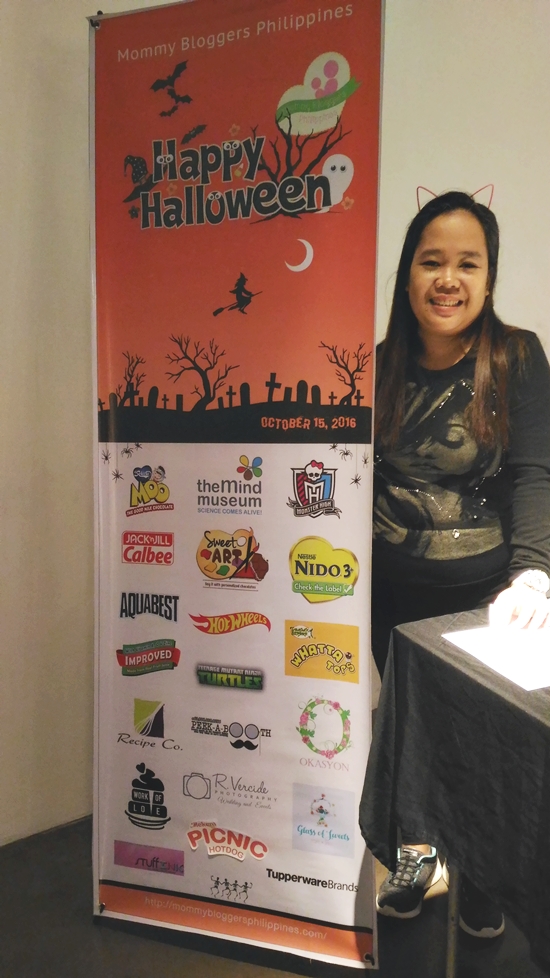 Indeed, this Halloween party was one of the best ever!
Find out more about our sponsors and follow their social media sites here:
The Mind Museum
https://www.themindmuseum.org/
https://www.facebook.com/themindmuseum/
https://www.instagram.com/themindmuseum/
https://twitter.com/themindmuseum
Mekeni Picnic Hotdog
http://www.mekeni.com/our-brands/picnic-products/
https://www.facebook.com/Mekeni-Picnic-Hotdog-1557893084527540/?fref=ts
Nido 3+ (1.2kg milk, Baon pals lunch boxes, Backpack Hoodies)
https://www.lakingamazing.ph/products
https://www.facebook.com/nido3.nidofortigrowPH/
https://twitter.com/nidofortigrowph
Richprime
http://www.richprime.net/brands
https://www.facebook.com/Monster.High.PH.Official/
https://www.facebook.com/makeitepicph/?fref=ts
Selecta
https://www.facebook.com/SelectaMilk/
https://www.facebook.com/SunkistJuicePH/
https://www.facebook.com/tetrapakphilippines/?fref=ts
Tupperware
http://www.tupperwarebrands.ph/
https://www.instagram.com/TupperwareBrandsph/
https://twitter.com/TupperBrandsph
Lemon Square
http://www.lemonsquare.com.ph/?s=whattaops
https://www.facebook.com/LemonSquareCupcakes/
Calbee
http://www.jacknjillcalbee.com/
https://www.facebook.com/JacknJillCalbee.PH/
Aquabest
https://www.facebook.com/aquabestpurewater/
Okasyon Filipinas
https://www.facebook.com/okasyonfilipinas/
Stuffink
https://www.facebook.com/mareelaiza
Sugar Blend
https://www.facebook.com/EqualPhilippines/?fref=ts
Sweet Art
https://www.facebook.com/sweetart01/videos/1101976053243742/
https://www.facebook.com/sweetart01/
Glass of Sweets: Desserts and Treats (photos)
https://www.facebook.com/glassofsweets/
Recipe Co
https://www.facebook.com/Recipe-Co-1520078788275118/
Work of Love
https://www.facebook.com/workoflove1/?ref=br_rs&qsefr=1
Peekabooth
https://www.facebook.com/peekaboothservices/
R Verdice Photography