When I was invited to witness this specific school-chair turn over event, I immediately agreed. Why?
First, I get to see Quezon City Hall again which was one of my favorite "tambay" places when I was in high school. The QC Public Library was the nearest library we could visit way back then when we have research projects when I was studying at Quezon City Science High School.
Second reason was that I get to see Mayor Herbert Bautista. I've seen him only on TV and I thought it will make me proud to shake hands with the most powerful man in the city I live in.
Third reason, but the most important one, was that it touched my heart to learn how Robinsons Supermarket tries to make a difference for public school students by donating new school chairs. I've seen so many news about schools who have broken chairs and some schools don't have enough chairs for their students. I remember my eldest daughter, when she took her MTAP exams in one of the public schools in QC, not all of them had chairs. Good thing was that we came in early and my daughter was able to get her seat. How can a student be able to learn well in school if he or she doesn't even have a chair to sit in or write  on?
The best thing about this project is the chairs are made from recycled plastic materials. Envirotech Waste Recycling Inc. use 30 tons of recycled plastic materials to produce 1,500 plastic chairs. This is truly a win-win project.

The goal of Robinsons Supermarket is to be able to donate 11,000 chairs as part of their Ecosavers Project. It's also part of their commitment to use their Green Fund to support children's education while saving the environment at the same time.  Robinsons Supermarket's Green fund comes from P2 that shoppers pay whenever they don't bring their ecobags and just opt to choose plastic bag.
As Mayor Herbert Bautista said, that this is actually to discourage Filipinos in using plastic that's why our government required the supermarkets to charge a fee whenever they give out plastic bags. But since there are many of us who still forget to use ecobags, the funds of the supermarket increase. Since 2012, Robinson Supermarket gathers a total of P27,785,770 throughout their stores. Filipinos are so hard-headed right? But at least, this money goes to the Green Fund.
The first batches of chairs, 1,500 in all, were turned-over to Pasong Tamo Elementary School, in a simple ceremony held at the Quezon City Hall. The ceremony started with a national anthem and a short speech by the city mayor. Present in the event were the city vice mayor, the city counselors and Robinsons Supermarket General Manager Jody Gadia. I was honored to see them all personally. Mayor Herbert was very formal as he discussed the Ecosaver project and the campaign against plastic. But his comedic persona also showed up later in the ceremony. I thought it was so cool to be able to listen to the mayor of the city and see him in person, how we actually talks to his councilors and constituents. The councilors did not say anything in the program except for Councilor Kate Coseteng.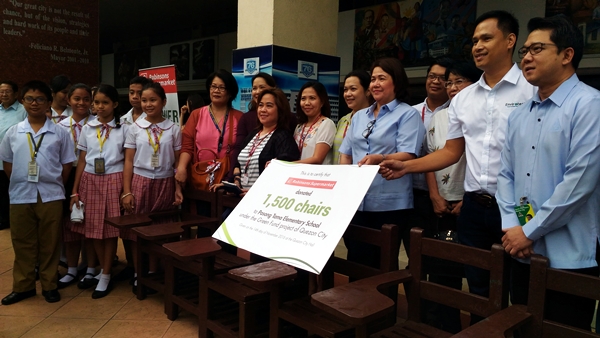 There were student representatives and some teachers also who were present during the ceremony and picture taking. I could feel their excitement for the new school chairs that will be delivered to their school. I wish that this project by Robinsons Supermarket will be accomplished very soon and better yet, that the campaign to protect the environment and bring better educational facilities to public schools be widened.
To know more about Robinsons Supermarket Ecosavers Project and Green Fund initiatives, like Robinsons Supermarket at Facebook or visit the official website at www.robinsons-supermarket.com.ph