I had been keeping my Gift Certificates to The Spa for a long time. I didn't have an idea that my first visit at this place will be one of the best day-off experience for me ever!
We'd planned for Joy's birthday a month before. As the three of us are all very busy work at home moms, add it up that we are also active bloggers, all our meet-up schedules need to be carefully planned.  Joy treated us for a lunch buffet in Vikings, Louisa paid for our movies, and I used my gift cards to The Spa. Joy even had to work that day but no one would be able to stop us that day to have fun.
Vikings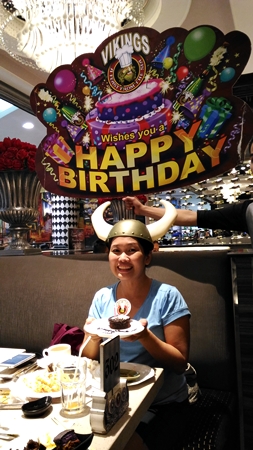 Last time I was in this place was in my birthday two years ago. I had a great time then with my husband, my youngest and my  in-laws. This time, with Joy and Louisa, we had fun catching up with each other and tasting Vikings' desserts. And I was grateful to the Lord that everything fell into place for us to have that open schedule to just stop working and enjoy the day. The place was filled-up with people, buti nalang Joy was still able to get last-minute seats. We started 12PM and maxed it out till after 2:00PM. Food in Vikings are delicious but the disadvantage was that when you are an active blogger and you go to hotels and restaurants to attend events, you tend to forget to be appreciative of good food. You get very conscious of the quantity you eat also. So what we did in Vikings is just to "tikim" na lang.
My favorite food just to keep them in my memory are the "bagnet" and tempura. I also came for the famous oysters but the coward in me (my stomach is a bit sensitive) took control so I just looked at the customers on the next table as they enjoyed eating their big, fresh oysters.
Desserts – I enjoyed looking at them a lot and tried some myself eventually. I was looking for their Ube Collection but unfortunately, that promo must have been over.
Movies
Opening time of the movie in SM The Block Cinema was just in time after we were done in Vikings. We've watched "Unmarried Wife" which starred DingDong Dantes and Angelica Panganiban. Yes, we wanted to watch this movie kasi we don't get to watch Tagalog movies at the cinema that often. The movie was quite heavy for married couples, specially for wives who can relate to the issue of infidelity. We've ended up lashing out on both of the characters, the wife and the husband, because we thought the plot highlights the weaknesses of the individuals, instead of their strengths.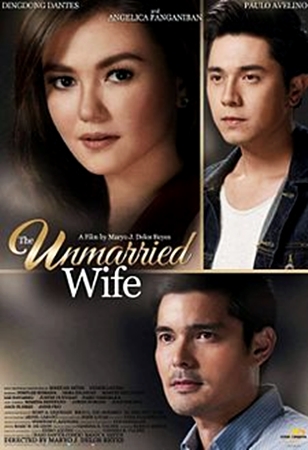 The Spa
I've booked our visit to the Spa a week before to make sure that we won't have any problems with the schedule. When you go to their website, you'll see that you need to inform them of the type of service you'd be availing and the schedule of your visit. Louisa and Joy availed the 60 minute Swedish massage service with their own private rooms, while I got a Honey Scrub Body Polish service.
The Spa in Trinoma has a dark but relaxing theme. You'll get the mood as soon as you enter the lobby where there were artificial tiki torches on the walls. It's like we entered a huge tent in a beach. After we registered, we were escorted to the locker rooms where we were given keys to our own lockers. Nakakatawa kasi I was so excited and was talking too much I didn't notice that I was opening another locker which wasn't mine. The owner of the locker saw me and said, "Excuse me, that's mine." Hahah, oh my, I was so ashamed. Fortunately, the owner did not make an issue out of it and we all went on to our business.
We changed our clothes and wore bathrobes. After that Louisa and Joy went to their rooms while I was escorted to mine. The whole place was cold, dark but calming with so many little stars on the ceiling. A soothing, mantra like music also filled up the place, na parang we are being soothed to sleep.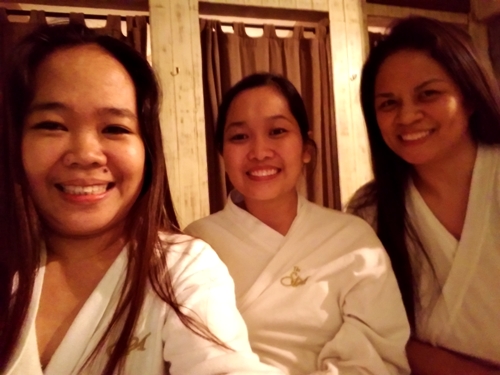 The room I went to was big and had two massage beds, a shower room and a big jacuzzi. I immediately wished my husband was with me, haha. There are switches which you can toggle to make the room become brighter ( a bit ) . After a while, the staff who will be scrubbing me asked me if I had an extra underwear. Of course I didn't because it was not my plan to have a body scrub. I planned for an aromatherapy because I thought there won't be a massaging part there. I am not fond of having massages kasi. The assistant at the lobby suggested for the body scrub so I chose the honey body scrub.
The staff was a woman who is of my same height and may be a little bit older than me. She was polite naman and I was comfortable with me so being naked for the scrub did not become a problem. First, I was told to take a shower first. There was hot and cold water plus body wash. After showering and drying up, I was told to lie down with my head facing down the whole with the pillow. The bed was covered with plastic underneath it. I felt the staff spread some salty cream over my back and then started scrubbing my body from the top of my back, to my shoulders, armpits, buttocks and legs. She did it portion by portion so half of my body was modestly covered while the staff scrubbed the other half.  Then I was asked to lie with my back on the bed (had to be careful because the plastic was already a bit slippery) . Then the staff scrubbed the top part of my body including the breasts down to the bottom of my feet. The staff was very professional I didn't feel awkward at all.
The scrubbing felt good! Even if I didn't have a massage, I felt my whole body circulation was awaken with the scrubbing. Even the inner portion of my toes were scrubbed. After the scrubbing part, I was asked to rinse away the salt at the washroom. Ang sarap ng feeling getting rid of all those dirt and kalyo. And I was thought that it was all of it.
But I was asked to lie down again facing down and then I felt the staff poured cold and smooth liquid on my back. I asked her and she said that it was a combination of honey and milk. The liquid smelled so nice and delicious. It also felt good on my skin after all the scrubbing. I felt totally pampered !
After a few more minutes spreading honey and milk concoction all over my body, the staff slowly wrapped the plastic where I was lying down, all over my body. I was like a lumpia (pero I can still breathe comfortably naman).  Then I was left to relax and sleep for about 15 minutes. Imagine the peace and serenity offered to me that moment as my body was absorbing milk and honey.
After 15 minutes, the wrap was removed and I was assisted to bathe in the bubbly and warm water in the jacuzzi. So nice and I felt like a queen. The jacuzzi was big and I loved the bubbles all around me.  My skin felt very supple and smooth and I totally enjoyed the last minutes of bliss inside that room. I thought every moms who labor at home and feel pressured with the usual domestic issues should be able to experience this kind of treat once in a while.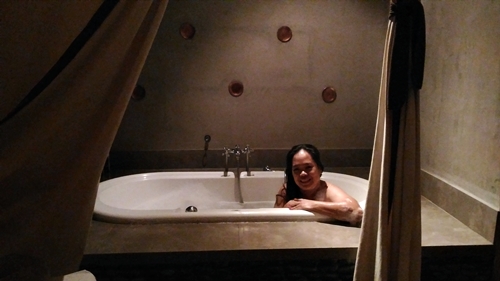 When I walked out of the room, I saw Joy and Louisa still wearing their bathrobes and relaxing at the sofa just outside the massage rooms. They looked revived and relaxed. We were all satisfied of our pampering sessions. As it was already past 7, we all agreed to go home. Our bodies got the physical luxuries we wanted and now it's time to go to the only place where our motherly hearts can be filled, our homes.
I hope you had a good time reading my post as I enjoyed writing it a lot. I wish you a great time at The Spa. Promise, you'll love it!