Going to The Araneta Center every Christmas has been an annual tradition in the family. Aside from the shopping malls surrounding the area, there's an overall Holiday feeling when you are there. There are lights everywhere, there's a giant Christmas tree, and of course, the yearly holiday show in Araneta Center. This year, they won't be showing a Disney on ice show, but something different and a first-ever show. It's the Legrand Cirque show !
I am actually looking forward to this kind of show. I remember when I was a little girl, there were circus shows being shown already at the Araneta Coliseum. The performers were very professional and my neck were stiff looking at the flying trapeze up above. My eyes were wide and glued to the performers at the balance beam. I wanted my kids to be able to witness those kinds of show and I am sure they will enjoy LeGrand Cirque just like I did with the circus shows before. I have high expectations for this show but I am pretty much certain The Araneta Center will only get the best performers on their stage.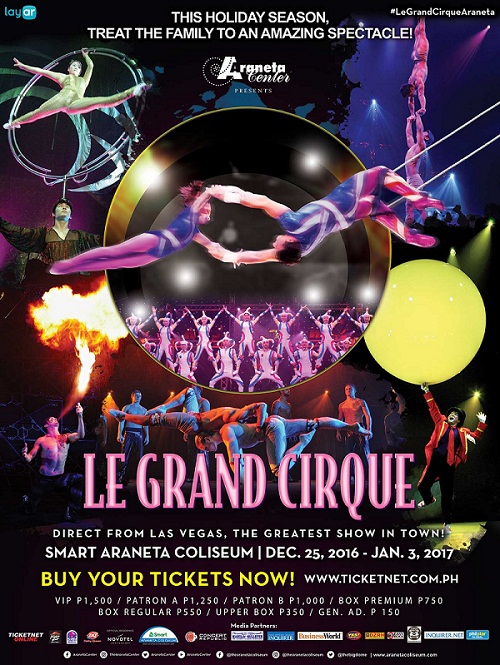 Watch the video to have a preview of this exciting show :
Watch the LeGrand Cirque show with your whole family. Be a part of the history by witnessing the first-ever LeGrand Cirque held in our country. You can purchase tickets via
TicketNet
and the price ranges from
P150.00 for the General Admission tickets to P1,500 for the VIP tickets
.