It's not about who we sleep at night but who we wake up with in the morning. Yes, I agree to that. I remember that I only actually started sleeping in bed with my husband when my youngest child turned 5, actually when she turned 10, because in the years in between, I alternately sleep in my daughter's bedroom and the master's bedroom. And when she turned 10, my daughter had already advanced to a more matured stage when all she wants in her room are her K-POP posters. Hayyy.
But you know what, my husband's relationship had gotten much more stronger when we started sleeping and waking up together in bed. There are still days when I had to sleep later or its him who wants to stay up longer but we try hard to be in bed together as much as possible. It's not only about the intimacy but we also get to talk our hearts out without getting angry when we are relaxed. Waking up together is another thing specially when it's in very early morning when the kids are still asleep. You know what I mean.
Cuddling and kissing in the early morning can be so romantic but not with the bad morning breath. Sometimes when hubby likes to do some "karinyo", I'll tell him that we need to go gargle and brush first. But sometimes we are just too lazy, so we skip the kissing part and jump to the main part. Hahaha.
But there's a toothpaste which promises to take that nasty morning breathe, you know. Because kissing is important since it's part of the play. Thanks to Dentiste, couples like us can afford to go lazy, skip the morning ritual of brushing, and jump into morning romance. Yeah, right?
Dentiste is made with 14 natural extracts and it activates at night to keep the bacteria inside our mouth from making our breath stinky. I've also checked the ingredients of the toothpaste myself and found them all natural:
Xylitol
Silicone Dioxide – according to this source, this is safe.
Peppermint Oil
Clove Oil,
Menthol
Vitamin C
Eucalyptus Oil
Sage Extract
Chamomile Extract
Sage Extract
Glycyrrhiza Extract (licorice extract)
Cinnamon Bark Extract
Dentiste Gargle on the other hand contains ingredients which helps stimulate the mouth to produce more saliva. Maybe this works silently because I didn't drool more than usual 🙂 You see, saliva production helps the mouth to become proactive in fighting bacteria. Now I understand since when we sleep, we stop producing saliva. But since I use Dentiste, it works inside my mouth while I sleep.
The effect of Dentiste lasts till you wake up in the morning which makes kissing in the morning such a delight. We've tried it and it works! The toothpaste has a cool menthol flavor and it doesn't come strong in the mouth (doesn't sting unlike other toothpaste brands). The gargle is a little bit stronger but tolerable. What I noticed is that when we brush with the toothpaste and gargle at night, our breath smelled natural, well, not that fresh like as if I've toothbrushed, but that kind of clean, ordinary smell of breath during the day.
Dentiste has been in the industry for 9 years and it's their anniversary this year. They've sold millions of tubes already and this Valentine's Day, they are giving couples a chance to get more romantic. In these times when more and more people are losing their faith in true love, Dentiste is strengthening our faith that love is still worth it.
There's nothing perfect in this world and there are also no perfect couples. It's because each of us is unique and because of that, we all tend to clash even with the most beloved persons in our life, at one time or another. But a sweet kiss can sometimes mend a simple argument or maybe even a painful one. I believe in that, specially in married couples blessed by God, because when we wed our partners, our kiss is the symbol of submission and faith. So that's why whenever we kiss, we revive that faith. What more if you will be able to kiss your partner the moment you both open your eyes in the morning? That kiss works like magic.
Capture those magical kisses thru Dentiste.
DentistePH recently released a video which shows that despite challenges in love, it will always be worth waking up to. Watch this romantic video clip and feel your heart skip a little.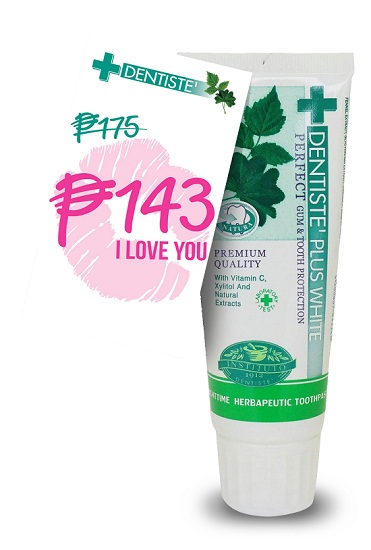 For Valentines Day 2017, Dentiste will have an upcoming promotion the 60G Size will be offered at a
s
pecial valentine price of P 143 (I Love You)
, discounted from original price of P175.
This promotion and all Dentiste products are available in Watsons Personal Care Stores, SnR Membership Shopping, Mercury Drug, Robinsons Supermarkets, SM Supermarkets, The Landmark Department Stores, Metro Gaisano Supermarkets and other major grocery stores nationwide.
Follow Dentiste thru their social media pages:
Instagram : @dentistekiss #DentisteKiss
Facebook : facebook.com/dentisteph
Website : www.dentistetoothpaste.com