When I saw the limited edition Jack 'n Jill Nips Color Series , I got excited with the colors. Nips is a favorite at home, mine is the Fruit and Nut variant, while my girls like the classic multi-colored variant. Since it has been a while since I baked cookies, I thought to surprise my kids with some colorful Nips Cookies which they can nibble while they do their assignments. I just used a basic butter cookie recipe with the colorful Nips on top.  Each pack of this limited edition treat contains single-colored button-shaped candies that have assorted Milk Chocolate, White Chocolate and Peanut centers. Available in Yellow, Blue and Red variants. Hope you enjoy this recipe!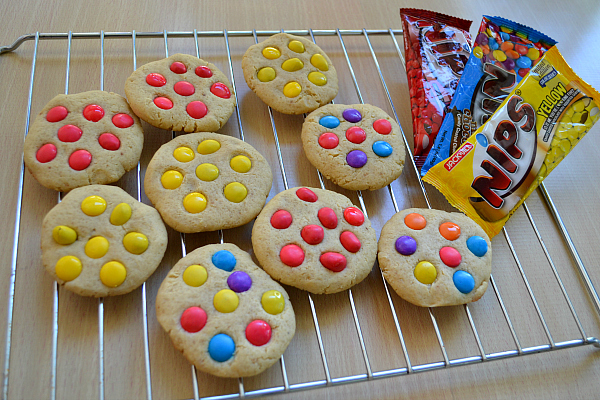 Ingredients
1 and 1/4 cup all purpose flour
1/2 tsp baking soda
1/2 tsp salt
1 stick soft butter
1/2 cup granulated sugar
1/2 cup brown sugar
1/2 tsp vanilla flavoring
1 large egg
Nips - you may use a single color or any variant you like
Instructions
Preheat oven to 200 degree celsius
Mix flour, baking soda and salt in a bowl
In a separate bowl, mix the butter, granulated sugar, brown sugar and vanilla flavoring using a mixer. Add the egg and mix until creamy.
Slowly mix the powder ingredients with the cream using a spoon and blend till you make a dough.
Make cookie drops by using 1 spoon of dough, roll in your palms and flatten on the baking sheet.
Top each cookie dough with NIPS.
Put as many as you like or decorate as you like.
Bake the cookies for 10 mins or until golden brown.
http://tweenselmom.com/2017/02/15/nips-cookie-nibbles/
Did you enjoy this recipe? Please do send me your thoughts and comments, will appreciate them!