Every mom deserves a treat like this, a facial spa with your closed friends inside the spa room, and then a refreshing and nutritious meal after the spa session. I experienced all these, thanks to Diana Stalder and her mom, who owns Diana Stalder by Dermline and DS Cafe. The cafe is located just within the area of their branch in Gateway Mall, Araneta Center. I can still remember that session, when I was still whispering to myself, "Ah, this is life."
I can hardly clean my face, I mean, I wash it only when I take a bath. I always have this flaky skin that when I wash more than necessary, my face stings. More so when I use products that I am not "hiyang". That's also the reason why I can't use too much make-ups. Buti nalang, my husband still loves me kahit walang masyadong make-up, kung hindi, I will be too jealous of women who can put all the colors they want. So that's why I badly need facials, at least maybe once a month.
Mask Sparty
Having a facial spa with Diana Stalder gave me so much pleasure. You get inside one of their comfortable rooms, lie in their comfy bed, and let a beauty specialist work on your face. For P400 pesos a session, I'll be willing to invest that amount monthly just to be more kind to my face. It's just that I wish they will have a nearer branch to our subdivision.
Diana Stalder Face Body Surgicenter by Dermaline is an established facial and skin care center and it is one of the most successful franchise business in the beauty industry, with  25 branches nationwide. Their skincare product line is proudly Pinoy made, multi-awarded and being exported outside the country. If you want to see the services and products they sell, you can check their website and Facebook page for the list.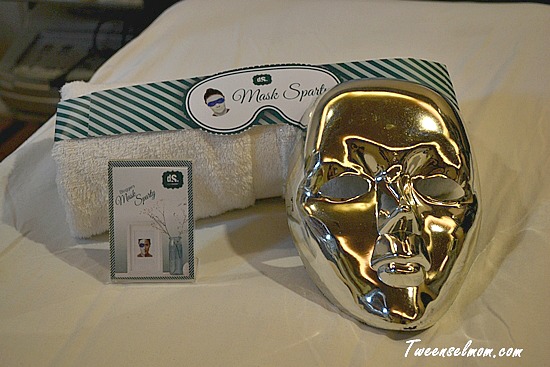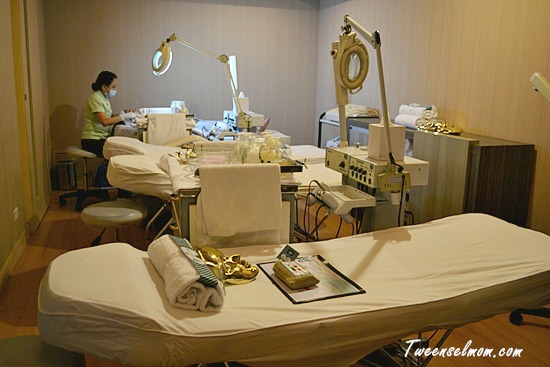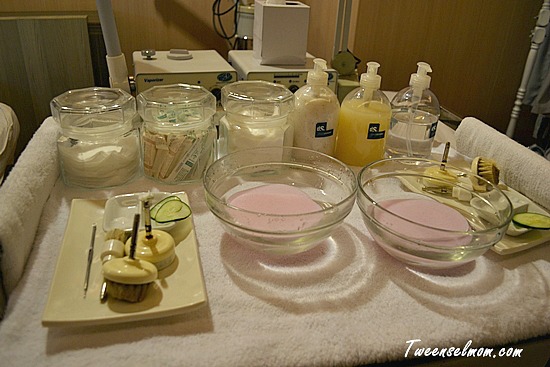 The Mask Sparty Diana Stalder gave for bloggers that day (thanks to Joy of www.occasionsofjoy.com) came with a facial supreme call Casmara C40 Bi-phase Soya Mask and it costs around P1,500 . It's a premium facial service using one of Diana Stalder's prized skin care treatments and it made my skin feel pampered and rejuvenated. Just to tell you that I am telling what's in my heart, I was willing to post this photo where my face looks like a blob. That was the facial mask that they put over my face for about 15 minutes. It felt cold on my skin but not uncomfortable.Imagine, I was wearing fake lashes under that. But the mask did not stick to the face even to my lashes, nor there were any remnants on my skin. The staff even said that if we wanted to, we could still bring the mask home for re-using (one time nalang).
DS Cafe
After the spa, we tried some of the food that their cafe, DS Cafe, offers. They offer dishes made with healthy meat, fresh fruits and vegetables. The salad was amazing no wonder it was their bestseller. DS Cafe also offers fresh and concentrated fruit and vegetable juices in bottles. Diana said that these juices are very healthy and can even cure health problems. I always believe in the power of natural produces myself. Actually, everything on my plate that lunch was delicious including the cake. Diana's mom said they sometimes cater and prepare pre-packed meals to their friends and some customers.
Omizu Beautifying Natural Spring Water
Aside from the healthy drinks, we washed our meals with Omizu. It was my first time to be introduced to a beautifying bottled water. I found out that the main difference of this bottled water is that it contains collagen-producing ingredient called Silica. You know how popular collagen is when it comes to the beauty industry. And mind you, Omizu is only P15 per bottle. I wish they will be available in all groceries that I go to so I can stock some bottle for myself. I brought three of these at home, and my eldest loved the shape of the bottle. It was very stylish daw.  Omizu is being  manufactured by Inryo Corporation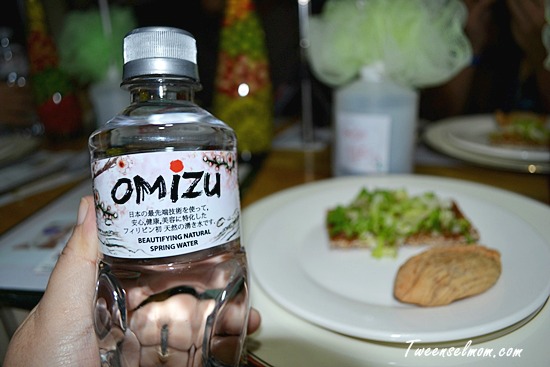 Inryo Corporation
www.inryocorp.com
958-7989/3686244
Visit Diana Stalder's branches at :

MANDALUYONG
5th Level, Bldg. A, SM Megamall
Telephone: 9848188
Mobile: 0925-3006395
QUEZON CITY
Basement 2, Gateway Mall
Araneta Center, Cubao
Telephone: 351-0299
Mobile: 0922-8226650
MAKATI
Rm. 710 – 7th Floor National Life Insurance Bldg
Ayala Avenue
Telephone: 892-5659
Mobile: 0925-3006389
CALAMBA
3rd Floor SM City Calamba, National Road,
Barangay Real, Calamba City
Laguna 4027
Telephone No.:(049) 306-0602
Mobile No.:+63 923-7303738
Franchises
ILOILO
Robinson's Place Ilo-ilo Level 2 Mall Expansion space Ledesma St. Ilo-ilo City
Contact No.: (033) 330-1554
CABANATUAN
XP Building, Circumferential Road, Barrera District, Cabanatuan City
Contact No.: +63 917-5633803
You can also check some of the skin care products they sell on their shop such as anti-acne kits, body bleaching kits, collagen BB creams and a lot more.