To give you a quick background, Jolly, FlyAce Corporation's premium product line of canned fruits and vegetables, has been generous to organize Jolly University to train and help culinary students achieve their dreams. Annually, Jolly University goes from school to school to hold talks, workshops and bootcamps for the students. This year, which is Jolly's 4th year already, a JOLLY Congress and Grand Cook-off was held to culminate this year's Jolly University. Mommy Bloggers Philippines had been one of the media sponsors of Jolly University and so I was chosen as one to represent the community as a judge in the individual category. It was a whole day affair and I just want to share the highlights of my day on that event.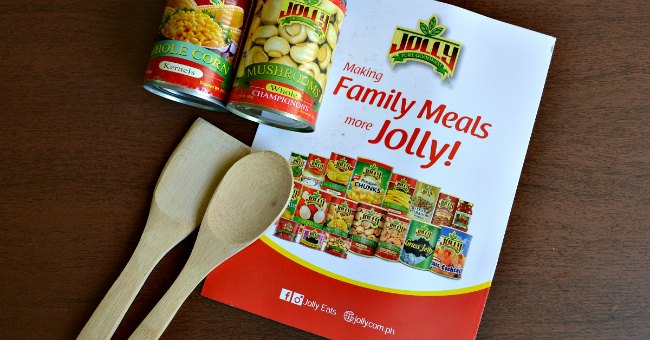 Jolly University Congress
It was a fully packed congress with the program teeming with presentations by students who came from different universities, talks by top industry leaders. To name a few which I was able to sit in and listen to were JC Libiran author of Byahe ni Juan, Liza Morales of CCA Manila, Bryan Kong of Crazy Katsu, Angelica Atanacio of Angelica's Desserts, and Rebecca Lee of WhenInManila.com. They were given only a short moment on stage to talk and inspire the students but I consider myself lucky, and all the attendees there, to be able to hear the bits of wisdom they shared. A mere 10 minutes to talk was very short and I felt how they were very eager to share more. No wonder these people became very successful in their career, and that is because they always wanted to give more than what they are expected.
One of the presentations I was able to video that day:
Later that day, attendees had fun with the games and prizes given by Jolly. Bags fully of Jolly products were generously given to the winners.
Judging
It was my third time to do a judging stint in a culinary competition. My first time was in the 2015 Brown Rice Cooking Challenge hosted by the Department of Agriculture and the second one was in the 2016  Ajinomoto Umami Culinary Challenge. It may seem easy being out there, tasting and giving grades to dishes, but it was not. In this year's Jolly University Grand Cook-Off challenge, I had to judge 30 dishes by culinary students who were all adamant to be champions from their schools. They are young, excited and bold to try what they've learned from their schools and their training from Jolly University. I've expected filling and satisfying dishes since I know Jolly brand for a while and the students were required to use Jolly in their dishes.
Scoring dishes is not easy because most of the criteria were subjective, such as creativity and presentations. Creativity in dishes will mean I had to evaluate how the ingredients were used ( conventional or beyond the usual) and when it comes to presentations, I had to identify which dishes are "beautiful" to eat. With 15 dishes on the table (and another 15) it could get quite overwhelming.
As a judge, I always come prepared. In this year's Jolly University competition, Mommy Bloggers Philippines, a community of very active mommy bloggers in the country,  which I manage, was one of the media sponsors. It was a partnership I do hold dearly because I personally believe in the quality and affordability of Fly Ace's products. Meeting the students personally and being one of the judges who will be instrumental in one of their culinary successes was just a huge honor. Being a mom for more than a decade, learning to cook from scratch and satisfying my family and my occasional house guests, working on being a mompreneur and a webpreneur, all these give me confidence that I will be able to score according to a "real" mom's perspective and someone who is aware of the current trends in food and digital industry (family wise). When it comes to enjoying the food, yes, it's a delight being able to taste all these food, but I had to do it in a much slower pace than usual or else I'll easily feel full.
Jolly University Grand Cook-Off Individual Category
In general, I was impressed by the student's finished dishes. Almost of the dishes were of restaurant quality when it comes to presentation and taste. As for the techniques, their respective schools should be proud of their students. I also believe that their training in Jolly University had given them an extra edge with their cooking skills. Considering the time pressure, the limited space and the distractions in the venue, I can say that every contestant did a great job. Because the place is fully air-conditioned, the judges were not able to taste the dishes in their best forms. Even so, I thought they were all seasoned and flavored well and the ingredients were properly cooked.
The participants and some of the finished dishes I was able to try as one of the judges.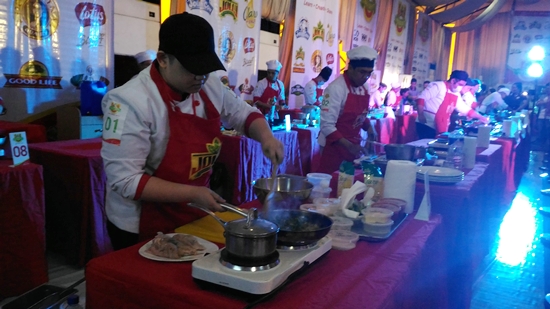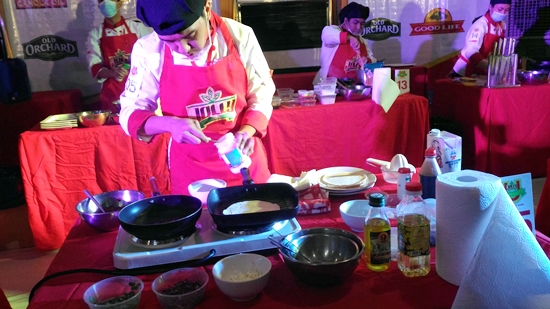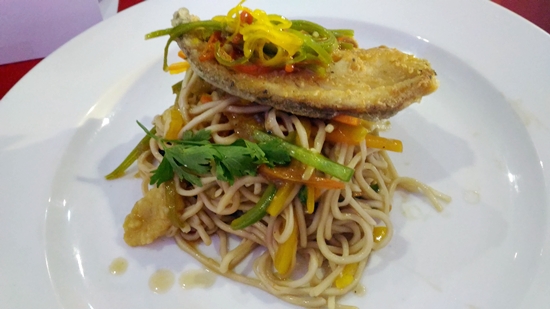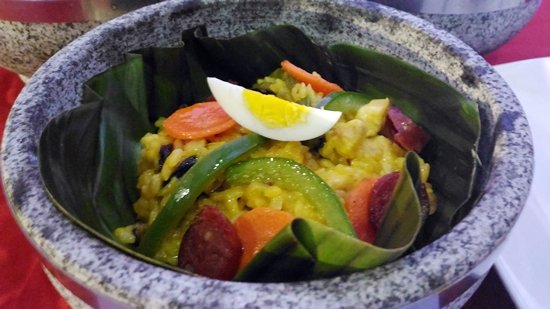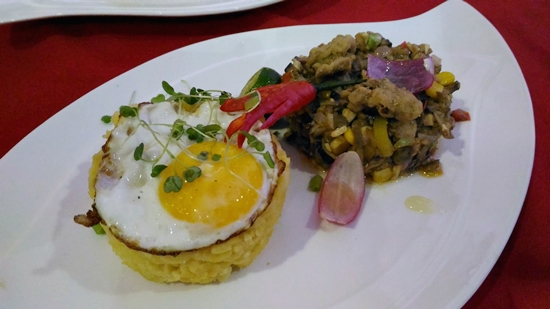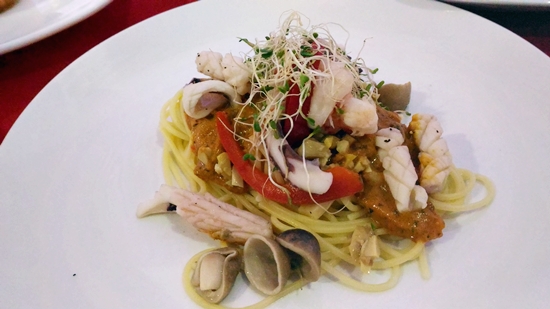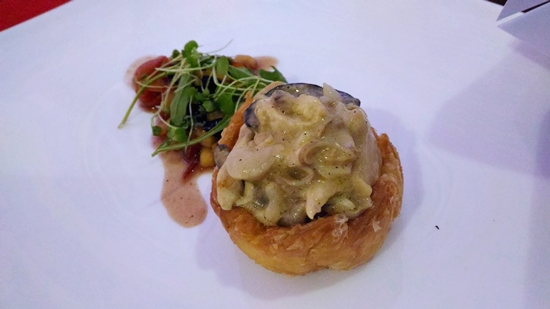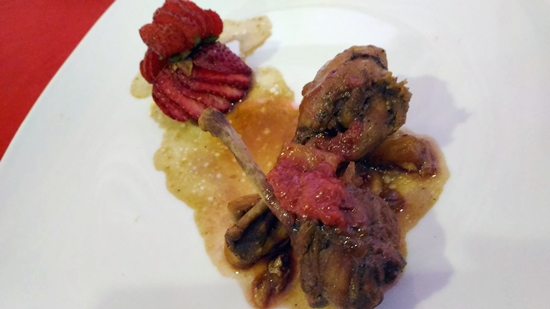 As difficult as it was, I tried to be objective as much as possible when it comes to presentation. I gave more points to dishes which suited my taste as a mom and as a home-cook who always wants to please the diners. I was particular with the "clean" taste which is also how I usually rate the restaurants my family dine in.  It's great for cooks to be experimental but for me, I should also be able to clearly define or describe what I am eating. For me, food is always meant to be enjoyed through the ingredients. These ingredients can be mixed and matched, cut to pieces or served as they are, but each of their tastes shouldn't be lost in the dish. I always like to use the term "symphony of tastes" and when the dish sings to me, then I give it a high mark.
The winner of the Individual Category was Bernice Angeline Tenorio of University of Sto. Tomas. She won P20,000 which was for me a very helpful amount for a culinary student like her. With 3 Judges who voted for her dish, I am certain that this girl will go a long way, as do the other contestants who gave out their best that day.
Congratulations again to Fly Ace and Jolly team for your successful event. May you continue inspiring our dear children and aspiring chefs and culinary masters to continue in pursuing their dreams. To the winners and contestants, I wish to encounter them again and be able to taste their dishes hopefully at their own, successful restaurants. As for me, I wish to be able to judge more cooking contests haha, and be able to try delicious flavors I hope to imitate in my own cooking.