"Is my blood healthy or not?" Have you tried asking this to yourself at least once? Usually, people are more concerned about high blood pressure rather than the checking about the state of their blood's health. But is it really that negligible?
When I attended Sangobion's Sulong Dugong Pinoy campaign media launch, I found out that it's very important that we know the quality and health of our blood and it's not only because we are planning to donate blood in the future. University of Sto. Tomas Hospital's Department of Obstetrics and Gynecology chairman, Dr. Corazon Zaida N. Gamilla, who was present that day discussed the importance of healthy
blood in supporting the functions of the body and she emphasized that everyone, including athletes and those who think they eat healthily, should have their blood checked. Why? Because iron deficiency anemia can happen to anyone without being noticed.
Some of the symptoms of a person who has iron deficiency anemia include feeling tired most of the times, feeling sleepy, having poor appetite and most of these symptoms we just usually ignore. If we are not conscious of our blood health, the iron deficiency can get worse and can lead to health problems such as stunted growth for infants and kids or more serious problems like heart ailments.
Sangobion IRON+ (Ferrous Gluconate+Vitamins & Minerals) is a blood health supplement which helps in fighting iron deficiency anemia. My Obstetrician usually prescribes this vitamin to me since I had my first child. I was diagnosed to be slightly anemic and it was not especially for pregnant women. You need a lot of healthy blood inside you when you are expecting a child. Sangobion helped me maintain a healthy amount of blood and so I had no problems with my delivery, even if both of my kids were delivered through surgery.
To help Filipinos be more aware of blood health and be able to save lives at the same time by donating healthy blood, Sangobion partnered with Red Cross to launch the Sulong Dugong Pinoy campaign. They started it off with the media launch where attendees were able to have their blood checked, listen to an informative talk about iron deficiency anemia and how to prevent it, and see in person Sangobion's long time celebrity endorser singer-actress Sara Geronimo.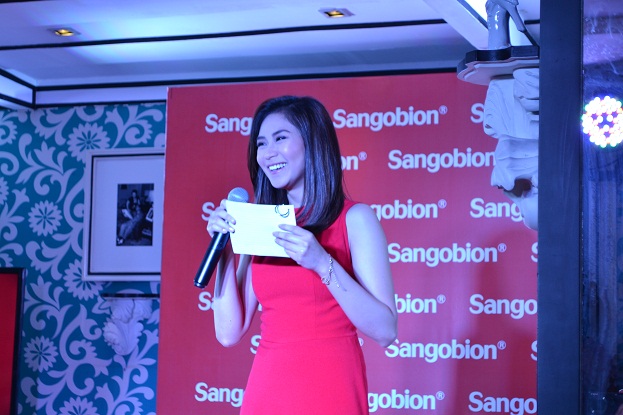 I've seen Sara G. last time in a Watsons event where she promoted Sangobion and it was a year ago. She hasn't changed and until now, I can tell that she is the same Sara who loves her parents deeply. She even managed to mention her mom's business when she was introducing herself. Though frail-looking as she was, she is a hardworking lady. She said that having a healthy blood is very important for people who work hard for their family, just like her.
Sulong Pinoy Blood Health Event will be happening on April 8, 2017 at the SM Mall of Asia Music Hall. It will be the biggest blood health event which will be hosted by Sangobion in partnership with Red Cross. There will be blood donation happening there and a concert which will be starred by, of course, Sara Geronimo.
Sulong Dugong Pinoy Blood Health Event will definitely be a fun and healthy event for everyone in the family. It will be a free event for the public and everyone's invited. Let's support it by telling our friends about it and preparing ourselves to donate blood. If you are interested to donate, here are some helpful tips provided by Red Cross.
Be a Life Saver, Donate Blood
Qualifications and requirements
1. Generally in good health condition
2. Age 16-65 years old, 16-17 years old will need a guardian's written consent
3. Weighs 110 lbs or 50 kgs above
4. Will need to undergo physical examination before donation
What to do before donation
1. Have at least 5 hours sleep
2. Do not take in alcohol 1 day or 24 hours before donating
3. History of travel, medications and piercing and tattoos will be checked for donation
4. Avoid fatty foods and eat before donating blood
After donating blood
1. Drink fluids like water and juice
2. Do not stood down or you'll get dizzy
3. Do not do strenuous activities
4. Apply cold compress if you will have discoloration on the site where you were taken blood from
5. When you feel dizzy, lie down and elevate your feet.