Dishwashing is one of the most simple house chores which teens should be able to learn as early as they can. The reason is simple and it is because all of us will need to do it, at one point or another. Sometimes, I'm guilty of just letting them skip or not do the washing because they are studying or they had so many assignments to do. It's actually wrong because when we do that, we let them think that they earn this kind of "entitlement" because they are studying their lessons. They need to understand that "house chores" including dishwashing is another part of life which they also need to study. We are the teachers and home is their school.
My kids don't like to wash dishes but despite that fact and even if I can handle the task by myself, I still assign this to them as regularly as possible. I understand why they find this chore so boring. I've read that teenager brains are still not that developed yet that's why they find it difficult to arrange the plates and glasses in to the drying rack. Teens are also hyperactive and full of energy and being there in front of the sink, being careful not to break anything, is like a monotonous music which is killing them.
To make this chore possible for my kids to accomplish without seeing the rolling eyes or having to check everything all over again, here are some of my tips how I make dishwashing time a little bit more interesting for them: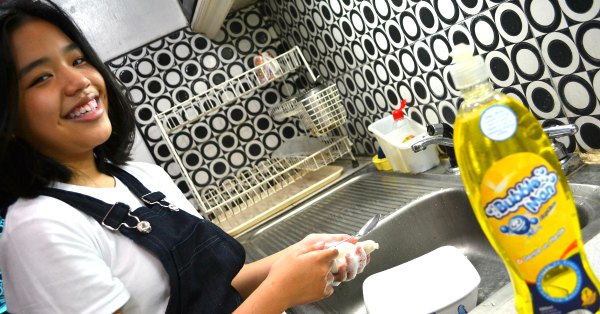 Allow them to listen to music while they wash the dishes. – Some people can do anything as long as they got a good music in their ipod. Most teens are Spotify users and they can make a playlist of their favorite music to listen to while they wash the dishes.
Teach and help them keep the place organized and comfortable. – The moment you see the sink full of dirty dishes, it will already kill the enthusiasm. So what we do is we help them organize the dishes and glasses in the sink before washing. The dirty plates are easier to look at and mishaps like broken plates happen very seldom.
Use nice-smelling dishwashing liquids and scrubs which can easily remove grease. – I think all kids, even teens, like to lather and play with bubbles while they wash the dishes. So it's important to use a brand which smells nice and bubbly. BubbleMan is one brand of dishwashing liquid we tried and liked a lot because it smells good, it easily bubbles but easy to rinse as well. It doesn't leave soapy smell and taste to the plates and glasses. The dishwashing liquid is not harsh on hands, gentle even on my teens' soft hands. BubbleMan prides itself because it is biodegradable (environment friendly)
Use kitchen tools, glasses and plates which are easier to wash – If you have kids or teens who regularly wash the dishes, it's advisable to buy plates, glasses and cups without too many folds or designs where dirt gets into. I also avoid buying tall glasses, glasses and plates which are too thin and breakable. Practice reusing of bowls and cups just to keep the numbers to a minimum when they wash. In short, make the dishwasher's life easier by living simply.
Teach them that washing dishes is a sign of blessings – Lastly, it's never too early to teach gratitude while they do this chore. Tell the kids that there are dishes to wash because there were food that they were able to eat. Washing the dishes properly is a way of saying grace after meal and a clean plate is a new hope for more blessings and delicious meals in the future.
Hope these tips work for you! If you have more tips related to dishwashing, feel free to comment and I'll include it in my bullet. Thanks!