As much as we want to spend summer in resorts or in malls all throughout vacation, that will be impossible and impractical at the same time. But home can be made a haven despite the heat. How? Make yourself or better, make the kids prepare cold desserts! Here are 2 recipes which we have already tried at home.
Mega Prime Corn Ice Pops
If there is one thing that kids and the kids-at-heart will truly enjoy this summer, it's the delectable corn ice-pops. These refreshments are easy to make, especially with the easy-to-open Mega Prime Cream Style Corn.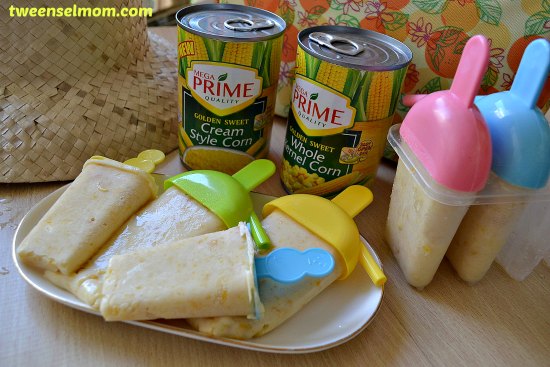 What you need to prepare:
¼ cup water
1 pack plain gelatin
½ cup condensed milk
½ cup coconut cream
1 can 425g cream style corn
5 easy steps to follow:
In a pot, pour ¼ cup of water and one pack of plain gelatin. Mix well until the gelatin granules are dissolved.
Heat the dissolved gelatin mixture and pour in the rest of the ingredients: ½ cup condensed milk, ½ cup coconut cream and 1 can 425g Mega Prime Cream Style Corn. Make sure that you and your kids wear pot gloves or use pot holders for safety purposes.
Mix well and let it simmer.
Remove pot from the stove and let it cool.
Pour mixture into ice pops maker and chill overnight.
Mega Prime Sweet Corn Smoothie

Another recipe courtesy of Prime Sweet Corn. You'll need a blender in this one. Mine broke and needs replacement but you can still try this recipe (much better if the kids will be doing this since they don't need to use the blender anymore). Instead of crushed ice, use ice cubes and 1/2 cup water. Instead of a smoothie, you'll have a cool and refreshing sweet corn drink.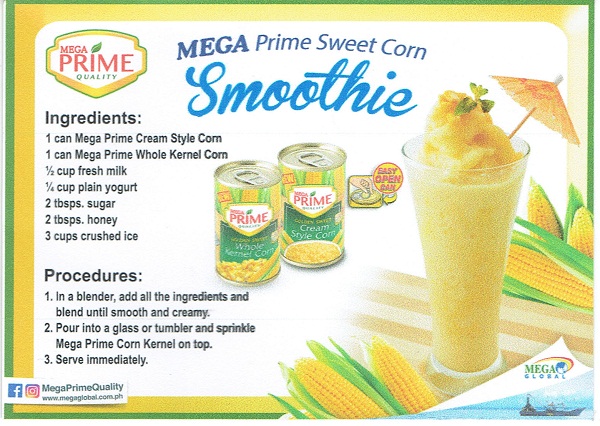 These exciting summer coolers are made one-step easier with Mega Prime Whole Kernel and Cream-style Corn, in 425-kg easy-open cans. It is an ideal partner for moms to create refreshing recipes and still have enough bonding time with their loved ones this vacation season, so that families can enjoy a #PrimeSummer!
Mega Prime is a complete array of high quality products that are bursting with freshness. Aside from canned corn, Mega Prime also has canned green peas and mushrooms that can turn the simplest of recipes to hearty, delicious and delectable meals for the entire family.
To learn more about Mega Prime, visit their website at http://megaglobal.com.ph/megaprimequality/.

Facebook and Instagram: @MegaPrimeQuality