You'll easily find The Malayan Plaza in Ortigas because it's one of the tallest buildings in the area. And because there were lots of earthquake episodes happening lately, I made sure to request a room in the lower level of the building. Fortunately, we were blessed to get a room on the 6th floor. We got a 48 sq meter room for P3,400 a night. I've read quite a few not-so-good reviews but we still decided to give it a try. Reviews can be fairly subjective and that's why it's a good thing that you read the latest blogs about a hotel before you check in just so to read different points of view.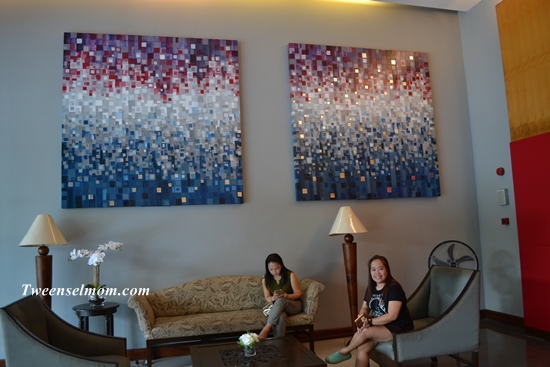 Parking
Since we checked in on a Sunday, most of the guests have already gone home. There was ample parking space on the basement level.
Security
Like other hotel rooms, they also use key cards to open the door and turn the electricity on. The door has added locks on top of it. Their elevators don't have that locked floor feature we saw in other hotels. The one in which a guest can only access a certain floor depending on where he or she is checked in.
Room and Beds
We got a Superior Twin Room and with its size, I can comfortably say that we had a lot of leg room. The problem was that with its size, the 2 single beds were not enough for the four of us. You must take note of this if you have grown-up kids when you are checking in. My kids are already big and although they can still fit a single bed, they were not that comfortable. That went the same with me and my husband. As much as we want to hug each other while we sleep, we are used to a much bigger bed at home.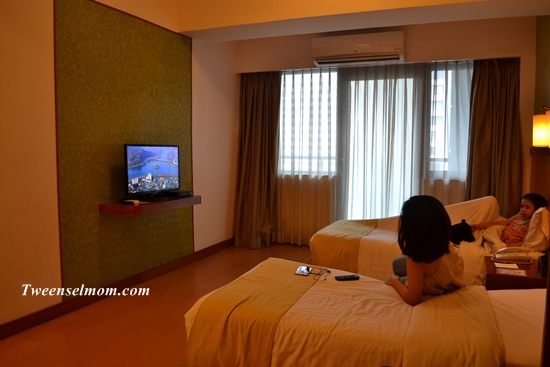 Kitchenette
There's a small dining table good for 2 with cups, saucers, and the usual complimentary tea, coffee and bottled water in the refrigerator. There was no cooking appliance or utensils except for a working microwave. I've read from the website though that you can request a stove if you need one. There are lots of spaces in the cupboards and the big cabinet. These can be very good features if you are considering staying longer.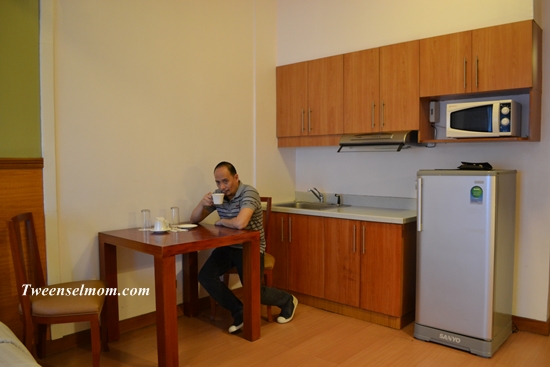 Balcony
Our room has a balcony which has a glass door covered with curtains. The door was closed when we got in the room, so I called the staff and they said that they can give us a key to the door but we had to sign a waiver first. When we peeked thru, we thought that it was maybe because the fence in the balcony is high but it was too open and can be dangerous for kids. We did not bother to get the key since the view is not that great after all.
Working Space
They have this big dresser, an office chair and a lounge chair with a stylish lamp overhead. I liked that it was separated far from the bed area because I was able to work in the middle of the night without the lamp distracting my kids and husband in their sleep.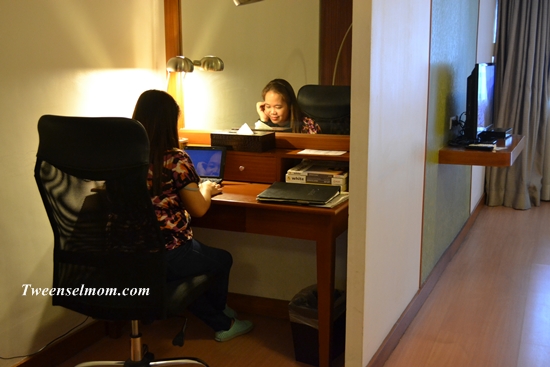 Electronics
The LCD flatscreen tv 32 inch looked small in the room since it was so spacious but it was fine with us already. The cable channels and reception were clear.
Wifi
They give 2 wifi access cards and I say the internet speed was ok with me. As long as I am able to work online when I wanted to, it means the speed works fine.
Bathroom
The bathroom is clean and has the usual functions except for bidet spray. Hot and cold worked fine and there were clean towels, shampoo and conditioner, but no toothbrush/toothpaste and slippers.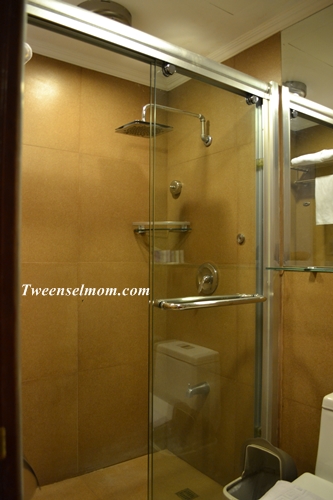 Swimming Pool
There was a swimming pool (lap pool and kiddie pool) on the 33rd floor the same level where we had the breakfast buffet. The pool was big and there were lounge chairs around it. I think it was 4ft deep only and so my youngest was able to enjoy swimming. The pool was not thermal and the area was open air, meaning it was cold when the wind was blowing. Imagine, it was 33rd floor so it was quite windy up there. But it's summer so even though it's windy, we were able to tolerate the water temperature.
There's also a ping pong table in the area and a kiddie playpen although it was closed when we went that morning.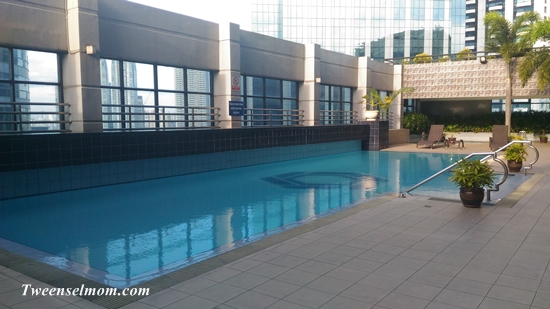 Buffet Breakfast
Breakfast starts 6AM and we were there around 6:30AM. There were still some good seats for us and they also have a lower level floor with additional space for guests. We paid extra P399 for my 2 kids (50% for 12 yrs old below). With the price we paid, I think the breakfast they serve is pretty satisfactory. They have a staff who cooks eggs and omelette per request, they have lots of breads to choose from,  warm soup, bacon, sausages, vegetables, fruits, juices and coffee. There's a TV tuned in a sports channel but you can only watch it from a certain spot. Our table was located with a window so my kids kept on peeking outside while they ate. We had a nice breakfast and it was a welcome change at home where I cook breakfast daily. I cherish these days when all I have to do is to choose what I want to eat and have coffee.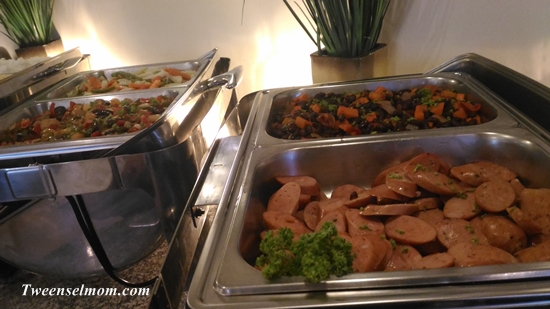 Location
The hotel is conveniently located in the heart of Ortigas. It's a few steps away from SM Megamall and, Robinsons Galleria Ortigas, Estancia and Ayala Mall at the 30th are just in the vicinity.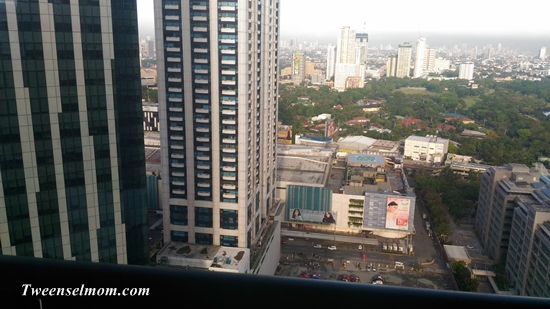 The Malayan Plaza is a nice hotel which will offer you a spacious room with a lesser price tag. They have the basic amenities we needed for a comfortable stay. For the size of the room, the food, location and some other extras, I guess their rate is quite a steal already.
The Malayan Plaza Hotel
ADB Avenue corner Opal Road
Ortigas Center, Pasig City
Philippines 1600
Phone Number: +632 706 0055
Email: malayansuites@quantumsuites.com / fomalayan@quantumsuites.com