As a retail customer, there are three basic reasons why I will come back to a certain store again and again:
If the store contains everything I need when I shop -The store should be a 1-stop-shop and it should have the most important things I need at home.
If I am able to save more – One of the skills a mother will develop from regularly doing the grocery is being able to identify which stores sell cheaper than the others. Maybe because this skill helps us a lot when it comes to budgeting.
If I enjoy shopping in the store – Grocery shopping can easily become a mundane task if the store doesn't have anything new to offer or anything exciting for its shoppers.
If I experience all these 3 in a grocery, I'll surely be one of their loyal customers.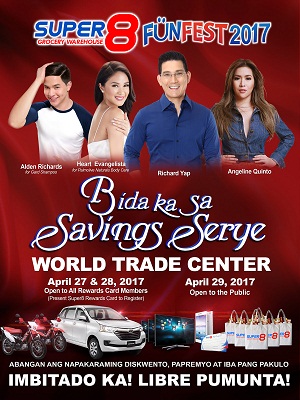 Just recently, I was able to attend this huge shopping event Super8 Grocery Warehouse Super8 FunFest 2017. I found out that this event is being held annually to reward Super8's loyal customers. I thought, what a wonderful way to give back to their customers, with a big event like this. In the current supermarket where I shop, I haven't experienced or even heard of these kinds of events that they give to their shoppers.
Super8 FunFest 2017 was quite unique. The theme was Bida Ka Sa Savings Serye based on the hit teleseryes, which as we know, are very much loved by those who shop for groceries. By who else, the mothers! The guest stars were also the biggest and brightest celebrities famed in their careers as teleserye actors namely: Alden Richards, Heart Evangelista, Richard Yap and Angeline Quinto. No wonder, the opening day was jam-packed! It did show how Super8 cares and thinks about how to make the shoppers happy. I, myself, felt "kilig" when I learned Alden and Richard would be there!
As soon as I entered the halls of World Trade Center on the first day of the festival, I immediately realized why this event was so much anticipated. There were huge booths designed and themed elaborately based on the most followed teleseryes like On The Wings Of Love, ForeverMore and Mulawin. Each booth had their own promotions and deals for the shoppers: 50-80% off, buy1take1, or game challenges where the shopper wins bulk prizes. Aside from the brand promos, Super8 had raffle prizes for lucky shoppers: gadgets, appliances, Super8 gift certificates, motorcycles and a brand new Toyota Avanza.
The event evidently was a huge success, and I estimated that there were thousands who went to the first day alone. I've seen shoppers who were roaming around with multiple carts filled with grocery items in tow.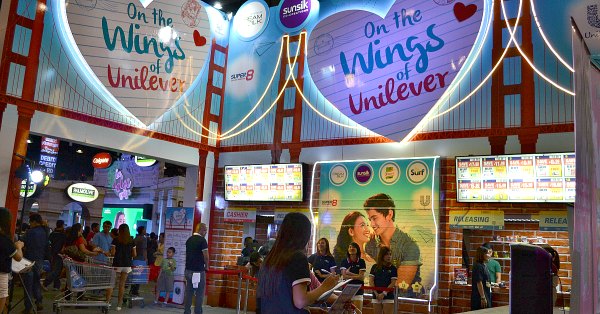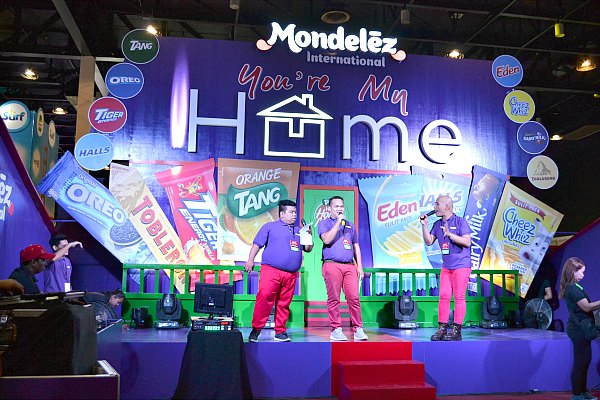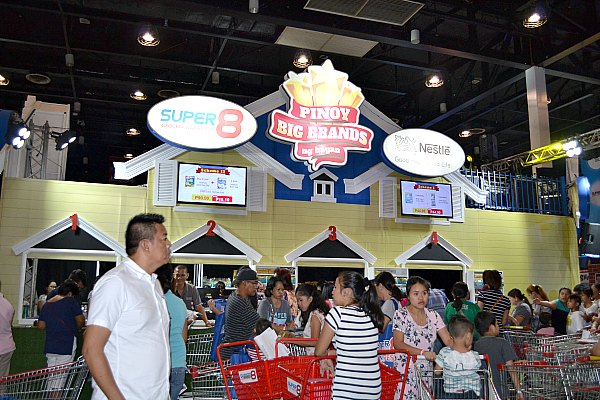 Super8 Grocery Warehouse gives another advantage to their shoppers through the Super8 Rewards Card where they get P1 for every P200 they paid. It's advantageous to get this card since Super8 regularly creates promos exclusively for reward card holders. The reward card has its mobile counterpart also, the Super8 Reward Card. This mobile app lets the shopper easily track the points accumulated in the reward card so he or she can use it right away as needed.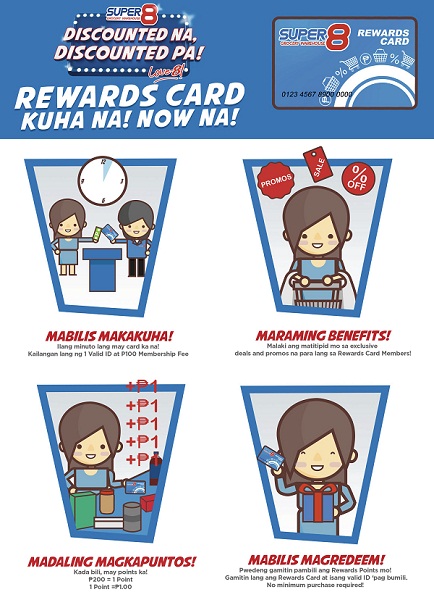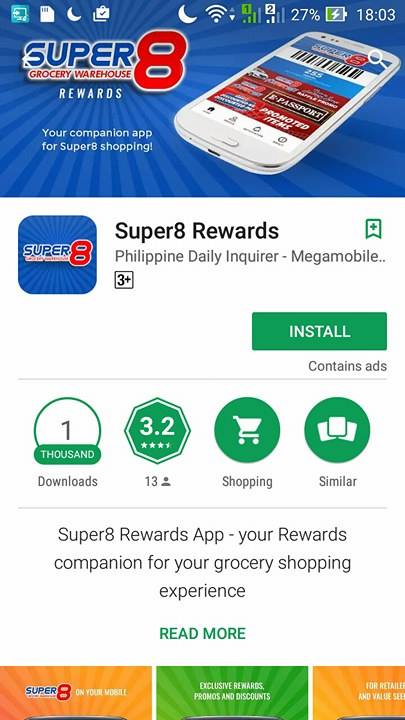 Later in the afternoon that day,  I had the opportunity to meet the big bosses of Super8: the CEO, Mr. Alvin Lim, the General Manager Mr. Armand Mendoza, and the Admin Manager Mr. Jay Dy. Along with other mommy bloggers, we chatted with them in this short meet-up and we easily felt comfortable in the conversation. I asked why Super8 and so Mr. Lim answered that 8 is a lucky number and Super is because they make everything super, "excellent, big, and exciting".
Mr. Alvin Lim gave me the honor of taking a short video of him for his message to their shoppers and to encourage mothers to visit and shop in Super8 Grocery Warehouse.
Mr. Lim also told us that Super8 Grocery Warehouse is different from other groceries because they really make an effort to make everything easily available and affordable for their shoppers. Sari-sari store owners and homemakers will always find Super8 Grocery Warehouse complete with what they need to make their stores and homes running smoothly. I'm just happy to learn that there's a Super8 Grocery Warehouse somewhere near our home and since I already have the Reward Card and the app on my mobile phone, I'm also excited to visit their store soon.
Super8 FunFest 2017 was held last April 27, 28 and 29 at the World Trade Center, Pasay City. The first two days were made exclusive
to Super8 Rewards Cardholders and the third day was open to the public. And since this event occurs every year, everyone still has a chance to experience the excitement of attending such a grand shopping event.
Check the nearest Super 8 branches from your home:
Super 8 Angeles
Super 8 Antipolo
Super 8 Baclaran
Super8 Baliuag
Super 8 Biñan
Super 8 Binangonan
Super 8 Blumentritt
Super 8 CAA
Super 8 Caloocan
Super 8 Caloocan Jackman
Super 8 Cogeo
Super 8 Dasmariñas
Super 8 Ermin Garcia
Super 8 Gagalangin
Super 8 GMA Cavite
Super 8 Guadalupe
Super 8 Hulong Duhat
Super 8 Hagonoy
Super 8 Karuhatan
Super 8 La Huerta
Super 8 Las Piñas
Super 8 Litex
Super 8 Makati
Super 8 Malolos
Super 8 Masinag
Super 8 Meycauayan
Super 8 Molino
Super 8 Muntinlupa
Super 8 Montillano
Super 8 Nova Bayan
Super 8 Ortigas
Super 8 Southgate Mall
Super 8 Libertad
Super 8 Malibay
Super 8 Recto
Super 8 Rosario
Super 8 Sta. Rosa
Super 8 San Pedro
Super 8 Sto. Rosario
Super 8 San Juan
Super 8 San Pablo
Super 8 Sapang Palay
Super 8 Shaw
Super 8 Sucat
Super 8 Tarlac
Super 8 Tatalon
Super 8 Taytay
Super 8 Tinajeros
Super 8 Urdaneta
Super 8 Visayas Avenu
You can follow Super8 Official Facebook page here.