Last month, my father in law celebrated his birthday and usually, when we go to celebrations like these, we have potlucks. This time, I decided to make my own blueberry cheesecake because Daddy has a sweet tooth and I know a cheesecake will just be a hit in special occasions like these. Last time, I made a Dulce De Leche Cheesecake but this time, I wanted to make something classic and fruity.
So here's a very easy recipe you can use if you want to make one at home. I used very basic ingredients which can be bought from any grocery store.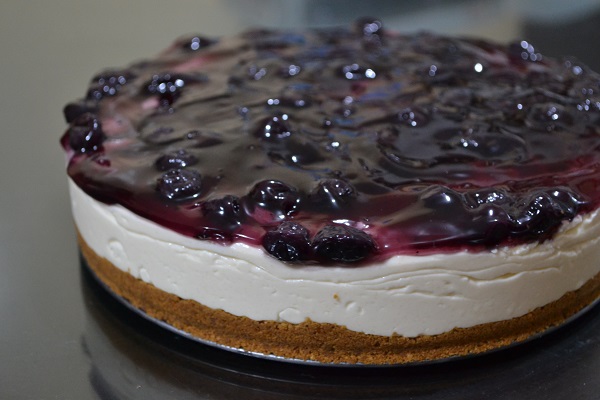 Ingredients :
2 boxes cream cheese
1 regular can condensed milk
1 tbsp Jelly Powder ( I used Mr. Hat Gulaman transparent)
1 can premade blueberry
2 cups powdered Graham
1/2 cup melted butter
How To:
Make the crust first by mixing butter and graham powder. Press into the bottom of your spring form pan and refrigerate for at least 30 mins.
In a saucepan, melt cream cheese in low heat.
Put in condensed milk and continue to stir until small bubbbles appear.
Dissolve the Jelly Powder in 2 tbps water and pour into the cream cheese mixture.
Continue to cook in low heat for at least 3 minutes.
Pour the mixture into springform pan and let it rest for 15 minutes until the cheesecake cools off and solidify.
Spread the blueberry onto top.
Cover the cheesecake (without touching the topping) with clingon and refrigerate before serving.