I saw this cookbook by Marietta Subong aka Pokwang and I felt the timing was just perfect. I was stressed that day after finishing a pile of laundry and I asked my husband that we go out and eat and do something fun. You know, books are my passion (a bit) but I wasn't in the mood for heavy lit that day and cookbooks and cooking magazines are becoming my go-to whenever I wanted to relax. And I saw this book in National Bookstore, pink and catchy with its title: Patikim, Pokie!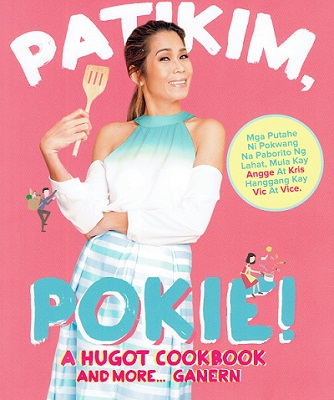 For the price of P225, this cookbook is a worthy buy. The pages are colorful, like a children's book, and I liked them a lot. Gives me good ideas for color combinations when I'm doing my own food photography (kuno) for my blog. The recipes are all Pinoy dishes, and easy to cook. They are mostly fish, chicken and vegetables. Hahaha, my daughter said, ayoko ng cookbook na yan, puro gulay! But of course, sya yon. Me, I learn a lot from Pokwang in her cookbook. And most of the dishes in this cookbook, I haven't tried cooking pa.
Like the Spanish Sardines recipe which was so easy that I was able to make my own version and my husband loved it. I really wanted to learn to make it kasi it's quite expensive from the grocery. At least now, I can experiment with other kinds of fishes, make it more spicy next time, improve it and maybe make several bottles this Christmas for giveaway.
If you love cooking at home, and you like to try learning more simple Filipino dishes like HomeMade Chicken Tocino, Kinilaw na Tanigue with Beer, Daing na Galunggong with Tone-Toneladang Bawang, HomeMade Fishballs, you've got to have this book. But the most important thing why I recommend this cookbook is because of the funny "hugots" you'll find while reading it. They are not cheap jokes. The book is written mostly in Tagalog though Pokwang has a funny way of writing.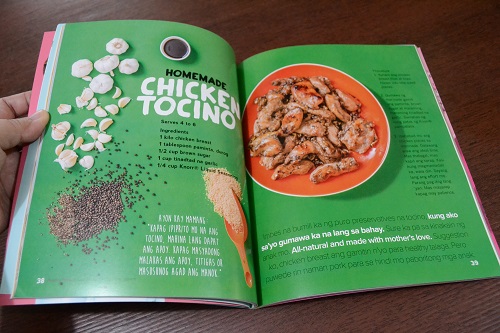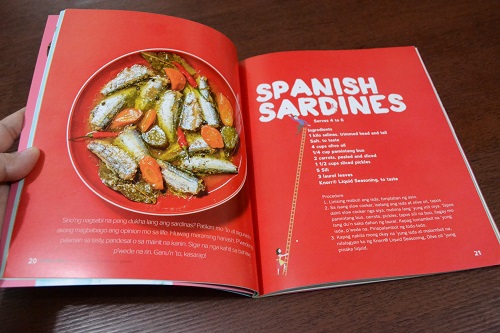 Each recipe name has their own kind of "hugot" like Suka (Pokwang's recipe for a special vinegar) "Bakit kaya minsan ang mga relationship, parang SUKA, laging may gustong makisawsaw."
For the homemade fishball recipe : "Eto na ang ultimate snack para mapangiti sya kasi woloh long. Perfect din ito for movie night. Itago mo na ang lanzones. Make tusok-tusok nalang the fishballs."
Funny, right?
Spanish Sardines Recipe
Ingredients:
1 kilo salinas, trimmed head and tail ( I used tawilis in my version, pero mas matinik, though cheaper yung fish)
Salt, to taste
4 cups olive oil
1/4 cup pamintang buo
2 carrots, peeled and slice
1 1/2 cups sliced pickles
5 sili
3 laurel leaves
Knorr Liquid Seasoning to taste
How to cook:
1. Clean fish and season with salt.
2. Using a slow cooker, cook the fish, with olive oil, paminta, carrots, pickles, sili and laurel leaves.
3. When cooked, drop a few Knorr Liquid seasoning according to your taste.
4. Let it cool down, and store in a clean jar or bottle.
Done!