I think most little girls love unicorns and the color of pinks and purple. Even adults like me, we are fascinated with these pony characters not only because they are cute but they are the symbol of meekness and freedom. And who wouldn't love a good nail spa session where you can bring your kids with you?  The owner of Veneracion Beauty Salon and Spa was brilliant to combine unicorns and nail spa and came up with its unicorn themed space inside the salon.
Ricel May Veneracion, the young and beautiful entrepreneur mom who owns the salon and spa, thought that a unicorn-themed spa will be a big hit to women and even men, both the young and the old. It turned out she was very correct as many have already rented her space for birthdays, for photoshoots and other special ocassions, plus the nail spa customers she got daily.
We went there Sunday afternoon and were lucky that we had the place for at least an hour or two. My daughters were ecstatic to pick the cute onesies we wore and immediately had our photo shoot. The salon has onesies for all body sizes (was surprised they had one for me haha!) The place was so colorful with nice drawings of clouds, rainbows and ponies on the wall. There were a couple of sparkling chandeliers too. What I love about the place is that the lighting was perfect for photos. Ang ganda ng kulay no matter what you use, whether a hand-held camera or mobile phone.
I thought it would be uncomfortable to wear onesies while we were having our nail spa but ok sya because the onesies are soft and fluffy and the staff were accommodating and swift. They were done with our nails within an hour. The place was of course air-conditioned so it was relaxing while we sat in their big sofas fit for queens and princesses. The salon also has wifi you can use.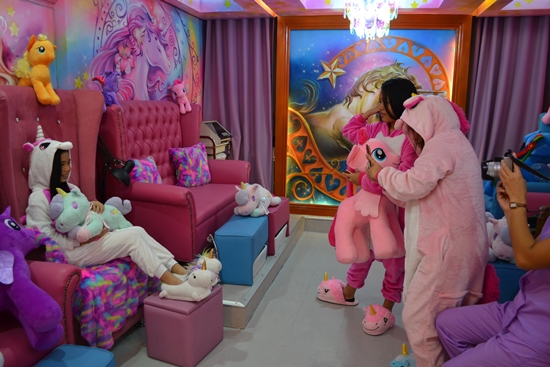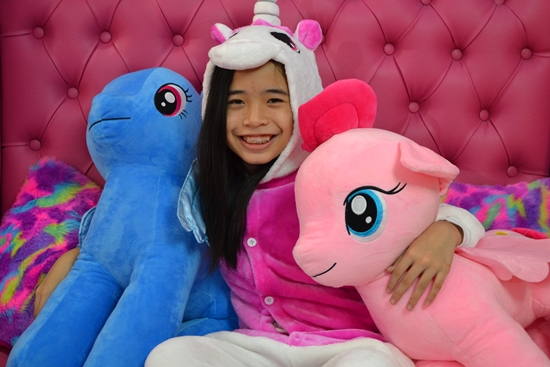 If you want to have a unique and enjoyable bonding time with your little girls or older teens, your lady friends or maybe your in laws, try this nail spa. It will definitely be worth it. If you want to, you can also bring home the onesies and the unicorn stuff toys with you for a price. I've asked the owner and she said that they were mostly brought from abroad but they are priced reasonably. The onesies, for example the one I wore, costs P1200. The smaller onesies cost lower, while the toys were priced as low as P150. Di ba?
I've posted the packages which are being offered by Veneracion Beauty Salon and Spa as well as the Do's and Dont's which you should read before you go. Parking won't be a problem as there are lots of spaces in the underground parking area of Robinsons Supermarket near the salon. And if you ever get hungry, restaurants and food stalls ( Potato Corner, Belgian Waffles and Turks) are in the vicinity.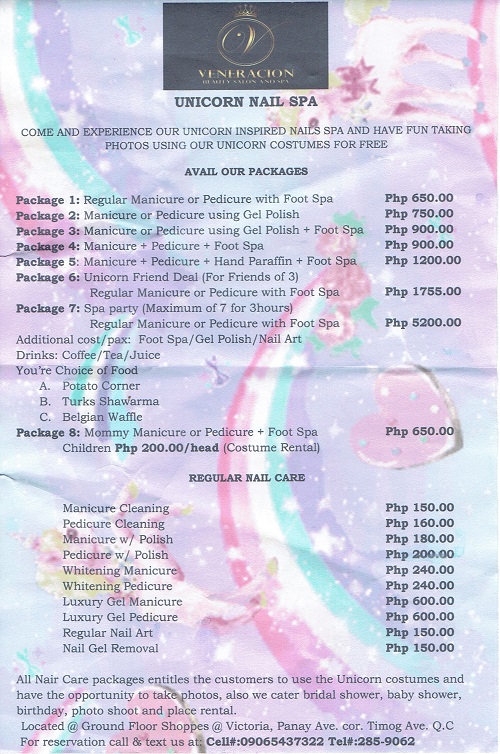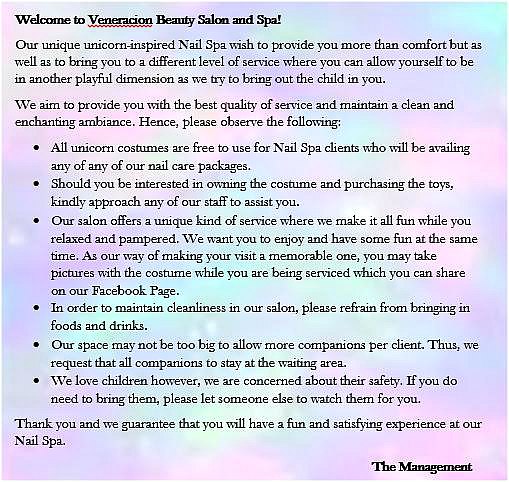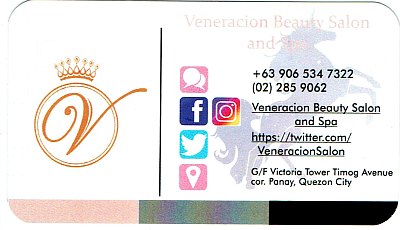 Enjoy your unicorn-inspired nail spa! Don't forget to tag @tweenselmom when you post your beautiful unicorn photos, ok!