When we found out that there's a new hotel in QC that's just a stone-throw away from Trinoma and SM North, I knew it will be a matter of time before we will be there. When two long-weekends came, I thought it would be the perfect time to relax and stay at SEDA.
The rooms and facilities were described straight forward on SEDA's website so I won't be detailing any of that. I just want to share the impressions and maybe some opinions we had when we were there. In an overview, I would say SEDA Vertis North is a very relaxing place for families to stay. The aura I felt when we were there was serene and calm. Maybe because of the light and subdued colors of the walls (light brown and wood) and the scent of the whole hotel. The scent wasn't floral, more of like of tea tree, and I loved it. In the room and the lounge, I've smelled it and I've felt peaceful the whole time. Although there were moments when the lobby was a bit crowded, I still felt unhurried.
Price we paid: For P6,600 a night, we got the Shower of Treats promo where we had the Deluxe Room and Buffet Breakfast with P1k Misto credits.
More Impressions
A. Rooms – a 32 sqm room 2 Twin Beds was enough for the 4 of us. The amenities were enough and I couldn't ask for more. The bed and pillow's softness were just enough and we all slept comfortably. The airconditioning was also perfect, not too cold and not too warm. They had HD Channels and fast Wifi (unlimited connections). just wished they have more chairs inside the rooms. They had only 1 chair so the rest of us mostly stayed on the bed if we want to sit down.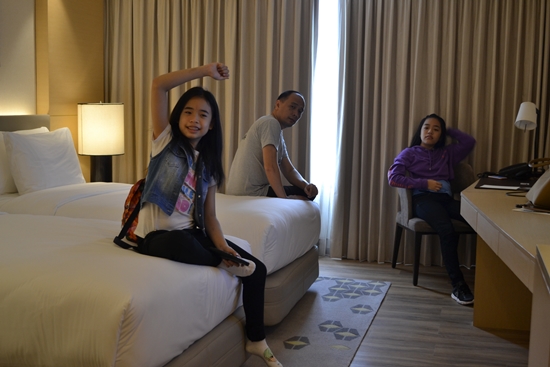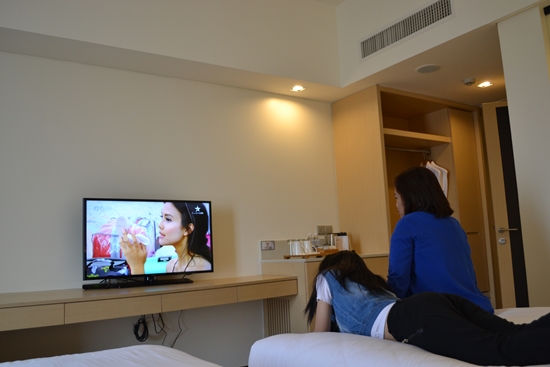 B. Shower – our room didn't have a bath tub which I wished, but since we were planning to use the swimming pool, I was contented with our room.  The rain shower was nice though and the high pressure of water in the shower felt good. Taking a bath was like having a massage.
C. Parking – Huge parking lot in the basement, we didn't have any problem on it. Hotel guests I think park in lower basement floors than those who attend functions in the hotel.
D. Club Lounge – We were given complimentary access to their Club Lounge where we had some free food on tea time 2-4PM and cocktails 6-8PM.  The Club Lounge was nice and had stylish sofas and a TV where you can watch while you eat. Love having some time to chat with the kids while  sipping our favorite drinks.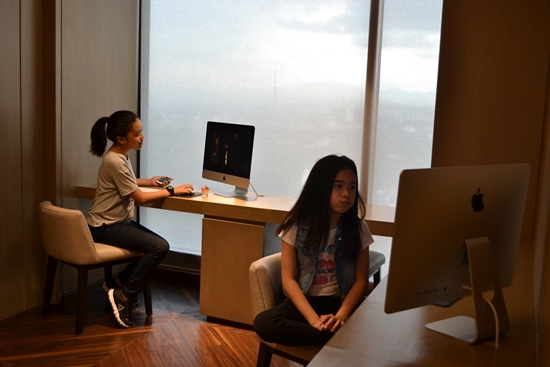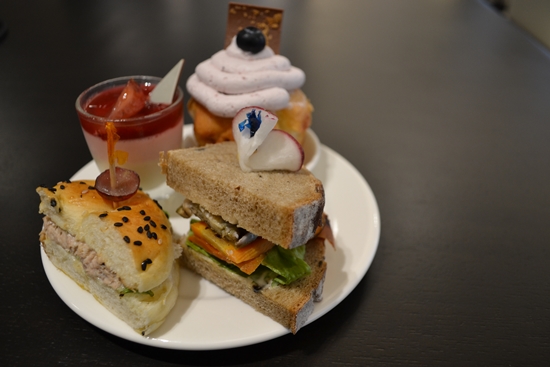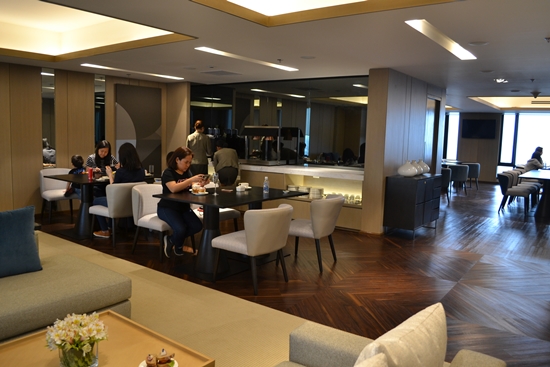 E. View – Don't expect to like the view on daytime but on night time, when it's dark, the view of Landmark and the lights of the traffic in EDSA can be quite entertaining. Thanks to the quality of their walls and glass, you won't hear a single sound of horn blowing in the hotel.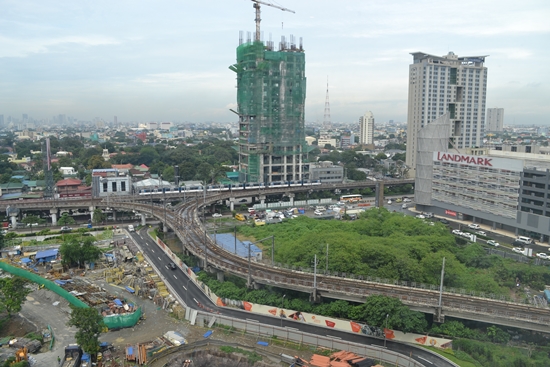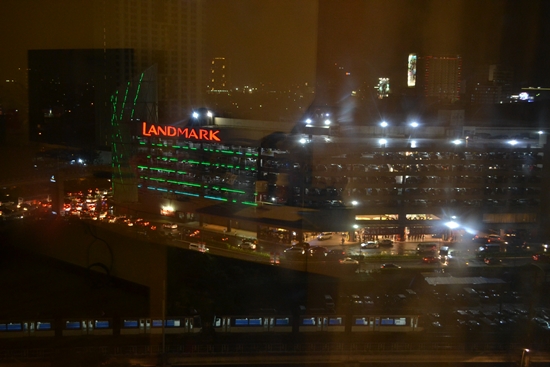 F. Straight Up Roof Deck Bar – We saw the roof deck bar and the place looks so stylish. I love to try some cocktails and mojitos in here next time. It was still closed when we went up there and the waitress told us that most of the times, the place is being rented for events or special gatherings.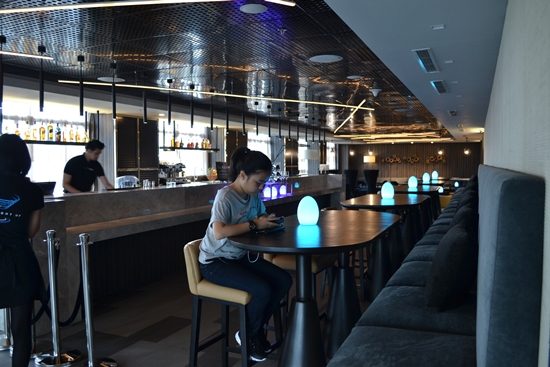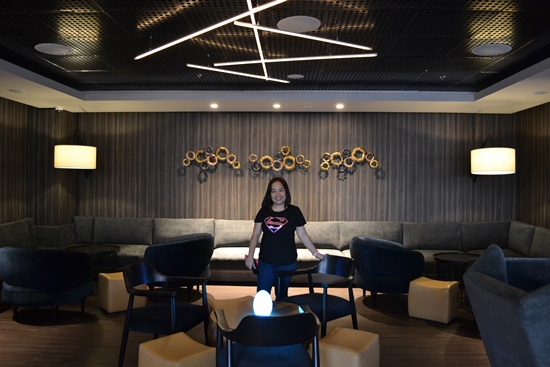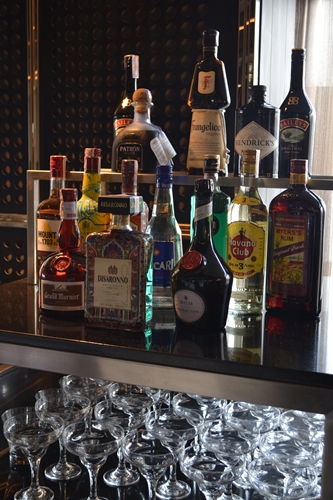 G. Swimming Pool – They have an outdoor pool with lots of nice sofas around it. Since it's an open area, it was a bit cold if you swim early. But the pool was bigger than most hotel pools we've seen.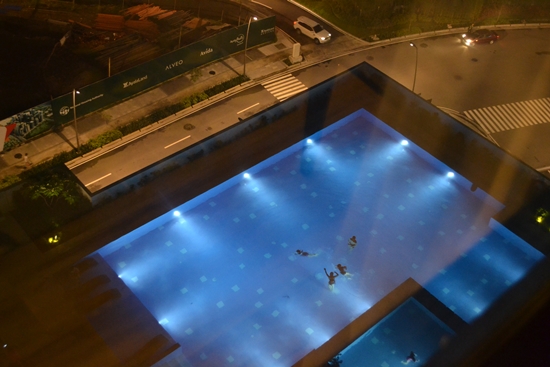 H. Breakfast Buffet – Their spread was delicious and enjoyed every minute of our breakfast. My favorite was their creamy omelet, bacon and sausages and they had big tables for the four of us. Everything was fresh and just-cooked. For breakfast, you really couldn't eat that much, but still, I've always liked that nice feeling of being served and not having to cook breakfast in a Sunday morning.  If I had anything negative (none actually), their Misto breakfast made up for it.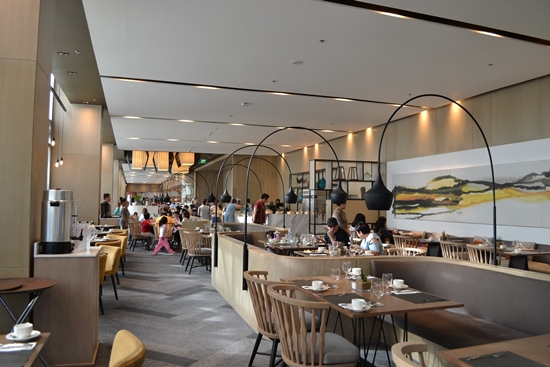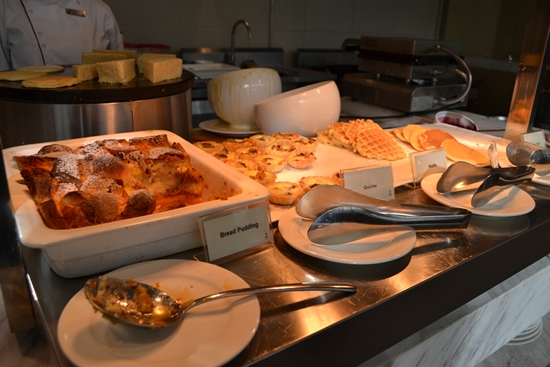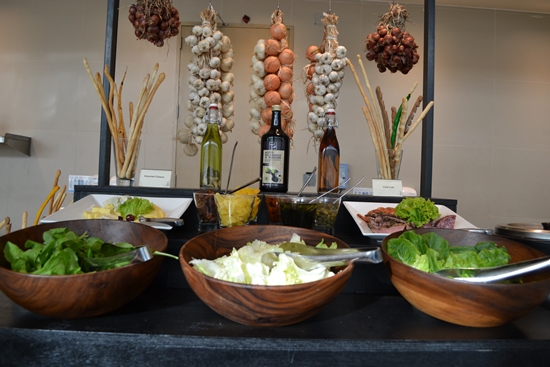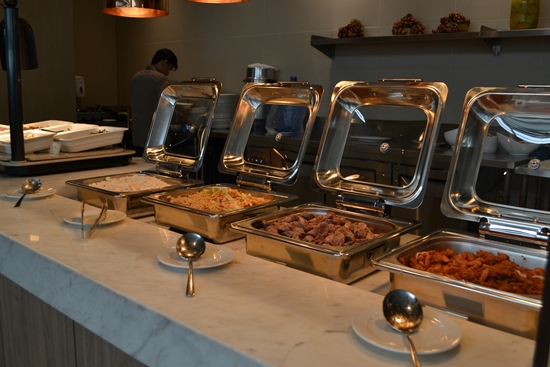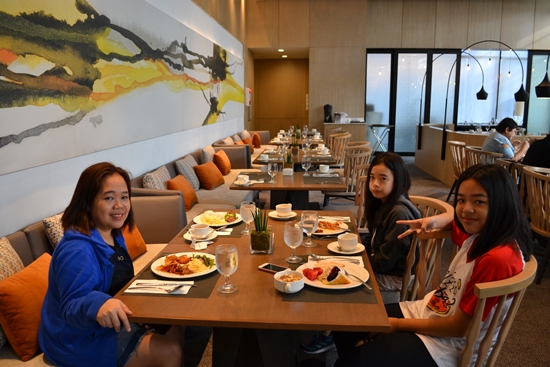 I. Family Movie Time (Sundays) – Before we checked out, we peeked at the area they alloted for guest for Family Movie Time. We were curious about it so we went upstairs and saw that SEDA had allocated one function room to set-up a big screen to play cartoons for the kids. Inside the room were several play stations for the little kids (basketball, badminton).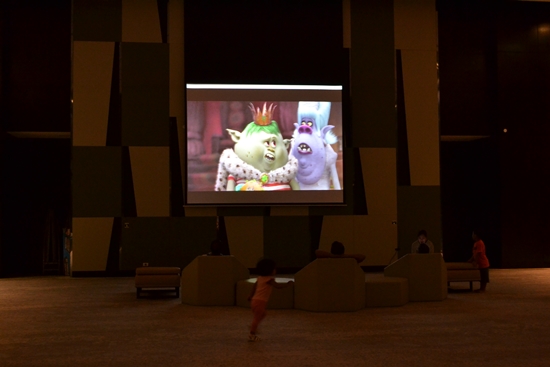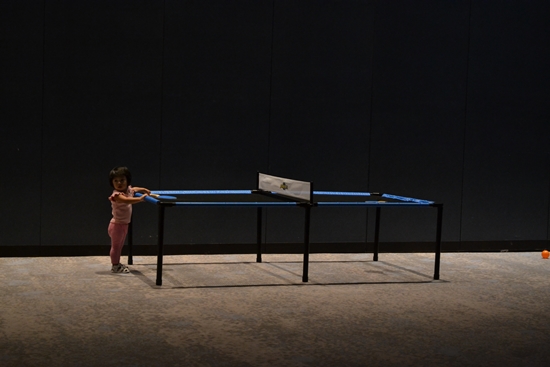 SEDA Vertis North is a recommendable place to stay to relax and unwind. The price is a bit higher than we've expected but proximity to Trinoma/SM North/MRT Stations will be worth it if you are a traveler. You can just shop around in the afternoon or try watching last full show without worrying since you'll be in the comfort of your room in minutes. In QC, we still have to see another place that will beat SEDA when it comes to style, amenities and overall service.