Almost half a decade from now, my kids will be young adults. And that will mean I'll be in the mid-life adult stage (no, not the senior stage ha). And yes, time flies by so swiftly and 24 hours is just like a fleeting second. And though there are more imminent bills to pay (utilities, school fees etcetera), this is the perfect time to think of the future, in the longer term.
Thinking about other kinds of savings aside from the usual bank and checking account I know was just a bit too tedious for me. I know gasgas na gasgas sa akin ang sabihin na "I'm too busy" but when I've thought about it, I think I was just afraid of committing into something that I need to pay for a long time. You know, I have this trauma kasi sa credit and we were able to live without using any credit card for a long time.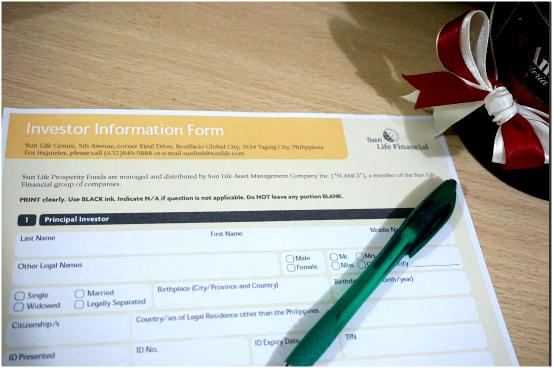 But God speaks in many different ways and I believe in this. I think I have delayed getting an investment fund from SunLife for almost a year. Thank God my financial consultant, Che Gernandizo, had been very patient with me. She had been answering all my questions all the way from the start and after a year of not contacting her, she still readily answers me when I contact her. Che had been referred to me by a co-blogger mom Fully Housewifed who is also a Sun Life advocate.
Just this week, Che emailed me about Sun Life's September promo where I can open a Money Market Fund account for just P500. I took this as the main sign that I really need to get one. Plus the fact that I see some examples of senior citizens who worked for a long time but now still need help financially. I am confident our kids will not forget us when we get old but they will have their own families and who knows what challenges will they experience in the future. I want us to be able to help them and less of them helping us.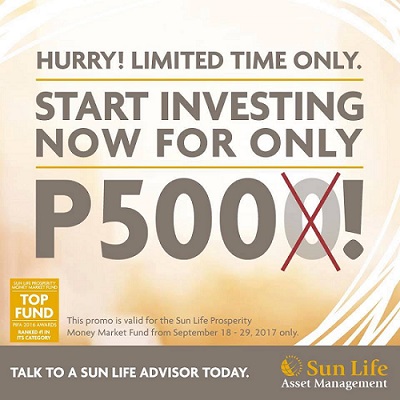 As days go by, my husband and I still want to live in the present, trying to make memories daily and investing in experiences with our kids as much as possible. At the same time, I am doing my best to contribute knowledge through blogging, and then balancing time in working, being a wife, and my personal development, mentally and spiritually. But through Sun Life, I wish to pay myself forward.
Che sent me a file which explains to me a bit the different kinds of funds one can invest into and the Money Market Fund is the most conservative type I can choose. Conservative means para sa mga sigurista. Because we don't have that much, it's my first choice. The returns will be minimal though because you also invest minimally. But I am still proud of myself of actually being able to fill up, go to the bank to pay the initial amount, and then to LBC to send the forms to my consultant. I finally did it and made the first step.
If you want to have more ideas about Sun Life Financial and their Mutual Funds, go to their website and read some more or better yet, talk to Che Gernandizo 09178749367, a certified financial adviser who will patiently help you.