Imagine, we only have a few weeks left and it will be Christmas Day. It's that time of the year again when our skills and patience, not only in cooking, are tested, but also in keeping our kitchen organized and clutter-free. With a little bit of planning and a few kitchen tools and essentials, we can pull it through. I've done it for many years, lived without help since my daughters were born, prepared several dishes in time for Noche Buena, and still manage to have enough time to glam up and enjoy the night. How?
Keep A List
Allot a day to think of the dishes you want to serve on Christmas Day and stick to these dishes. When you are finally decided, list down all the ingredients you need and check them against your stocks. Keep this list in a place where you can easily pick it up when shopping day comes.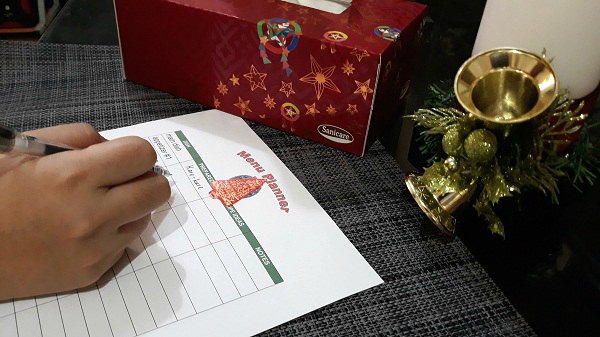 Organize The Basics
Any dish, may it be simple or complicated, depends on the spices and ingredients which give the dish its flavor. Keep your spices, sauces and liquid ingredients organized and easy to reach so you can adjust the taste of the dishes without so much fuss and without making a mess.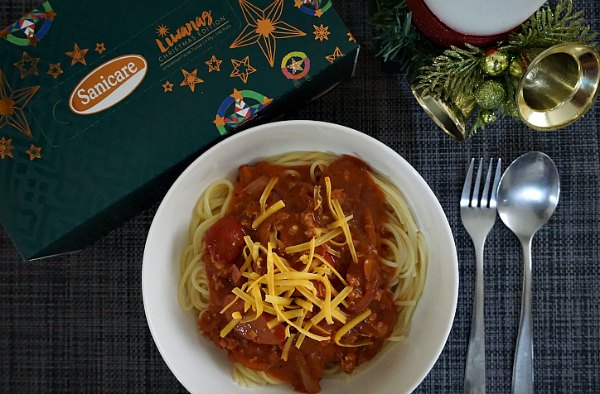 Keep It Tidy
To keep things tidy while you work in the kitchen, make sure to keep a roll of kitchen towels beside you. This way, you will manage to wipe drippings right away, keep the peelings off the table in just one swipe, and pick up scattered ingredients off the floor.
Sanicare Kitchen Towels is the best in the market if you will ask me. We've been using this brand ever since I discovered how more sanitary and hassle-free it is to use kitchen towels rather than using cloth when wiping our table and kitchen tools. Because it has moisture locking technology, Sanicare Kitchen Towels are very absorbent. The sheets are thick and not easily torn apart when wet. I usually buy the Jumbo Twin Pack when I do the grocery because I get to save from the free sheets when you buy a twin pack.
This holiday season, Sanicare comes out with special Christmas prints for their Kitchen Towels.  The designs are perfect because the kitchen towels blend well with the holiday theme of the kitchen.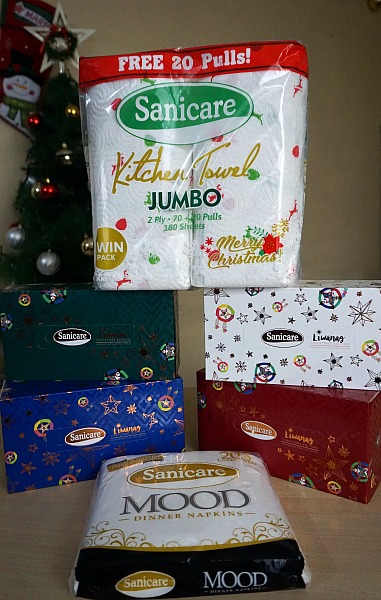 Aside from kitchen towels, Sanicare has also Lunch Napkins and Mood Dinner Napkins in its Kitchen Hygiene Line. Sanicare Mood Dinner Napkins comes in two colors, white and black. They are luxuriously soft but strong. I love the texture so much because they felt like cotton when you wipe your mouth with these dinner napkins.
Sanicare Christmas Liwanag Boxes
Sanicare is releasing specially designed boxes for Christmas called Liwanag Christmas Boxes. Small Pinoy Christmas lantern ("parol) prints are drawn on Sanicare Facial Tissue boxes which are available in all Christmas colors white, red, green and blue. And do you know who the artist is? It's Alex Eduque, the founder of MovEd which is a foundation who helps little kids from marginalized societies to get quality education.
How appropriate to use the Filipino parol because it's a symbol of hope and unity. It has been a difficult year for Filipinos, with the war and all, but the Christmas lantern tells us that there will always be a bright star in all of us which gives us the courage to move on.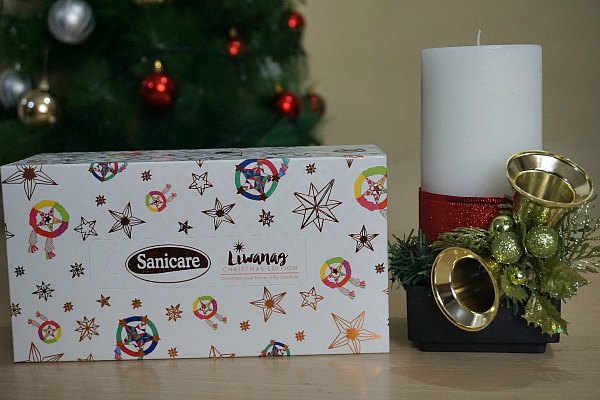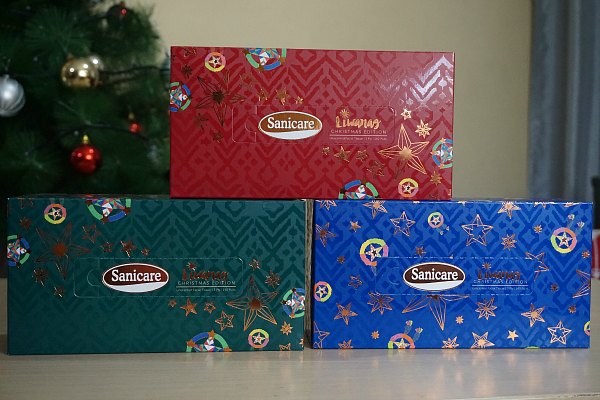 Sanicare Starry Bright Christmas Promo
Get a chance to win exciting prizes when you join Sanicare's Starry Bright Christmas Promo!
Mechanics:
Post a creative photo on your Facebook account featuring the Sanicare Facial Tissue Liwanag Series Box.
Put a caption that starts with the phrase, "My Christmas is extra bright this year because ______ !" and then tag 3 friends. Make sure to include the hashtags #SanicareLiwanagSeries #Sanicare #SCPA
Go to Sanicare PH Facebook promo post and click the link provided in order to submit the entry.
Promo runs from November 22-January 2018. Deadline of submission is on January 1, 2018 6PM.
Winners will be announced on January 15, 2018 on Sanicare PH Facebook page.
Prizes
Grand Prize : 1 winner of 4 all day passes to Dream Play and Lunch Buffet for 4 at The Café at the Hyatt City of Dreams Manila.
Consolation Prizes : 10 winners will receive a P2,000 worth of Sodexo Gift Certificate
Make sure to follow Sanicare social media sites to get updates about the products and the promo.
Facebook: https://www.facebook.com/sanicare.ph
Instagram : @sanicare_ph