Aside from buttered corn or sauteed corn with mushrooms, do you know other corn dishes perfect to serve as snack?
Here's a cheesy dish with Jolly Corn Kernels as the star. It's an easy baked dish where you just need to layer the ingredients then bake. My family loves this dish because aside from whole corn kernels, it contains cheese and bacon bits.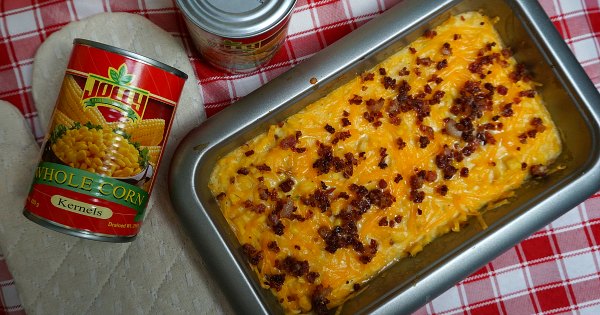 Ingredients:
2 cans Jolly Whole Kernel corn
1/2 cup flour
1-2 cups cheddar cheese
1 tsp sugar
cooked bacon bits
2 eggs beaten
1 cup milk
salt and pepper to taste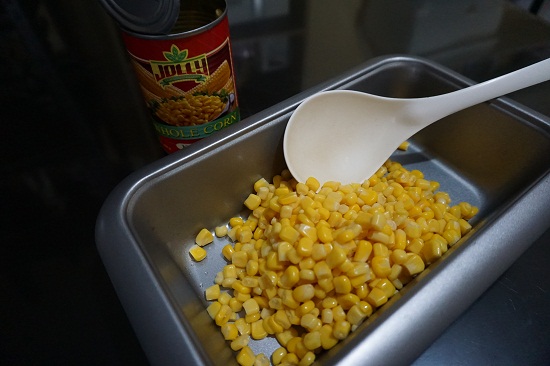 Drain the Jolly whole kernel corns.
Put the flour, sugar, eggs, milk, salt and pepper together and mix gently.
Layer the mixture in a rectangular baking pan sprayed with oil.
Layer with corn at the bottom, cheese, bacon and then repeat.
Bake for 15-20 minutes in F350 degrees
Serve hot.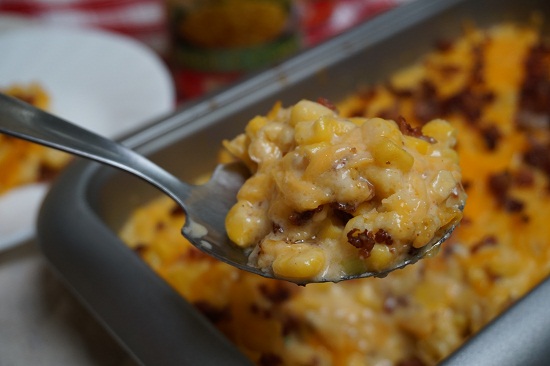 The Jolly corn kernels I used were made by Jolly of the JOLLY Food Line, the first owned brand of Fly Ace Corporation, has succeeded in dominating the local market for its two variants — JOLLY Mushrooms and JOLLY Corn. In the consumer panel study by Kantar World from February 2016 to January 2017,  JOLLY Mushrooms and JOLLY Corn dominated  in the canned food categories, both earning the No. 1 spot in terms of value and volume shares.
 Fly Ace AVP for Marketing Abigail Ng-Reyes attributed the success of the company venture to aggressive marketing campaigns and to the collaborative team efforts among management, employees, trade partners, and consumers who have stayed loyal with JOLLY throughout the years.
To date, JOLLY Food Line offers a variety of 24 mixed of canned vegetable and fruit products. During its grand anniversary celebration held recently at Solaire Resort and Casino, JOLLY tapped actress and TV host Maine Mendoza as its newest brand endorser.