As we all plan out our menu for the last big celebration of the year, you might want to know the benefits of good fats and smart grocery shopping.
The New Year's eve, just like the last week's celebration the Christmas Noche Buena,  comes with a full stream of delectable dishes which may not be as healthy for our bodies.  That is why it is important to strike a balance between delectable treats with what is good for your health.  Here's a quick guide for a heart-healthy New Year feast:
Choose recipes that have high amounts of good fats, the polyunsaturated and monounsaturated fats like Lemon Cilantro Salmon with Mango Avocado Salsa or the Baked Chicken and Spinach Rollups.
Use only ingredients which are low in bad fat (saturated fats) and high in good fats such as Jolly Heart Mate Canola Oil which has the lowest saturated fat among all types of cooking oil. It is also rich in essential fatty acids such as omega 3 & 6 which are important for brain development, immune system function, and blood pressure regulation.
Load up on avocados, nuts, and salmon to minimize bad cholesterol levels and to help reduce the risk of heart disease.
Lessen your consumption of food with high saturated fats (lechon) which could lead to high cholesterol levels, increasing your risk of developing heart disease.
As Fly Ace Corporation's Group Category Manager for Edible Oils Zen Prudentino puts it, look for affordable options that will prevent cholesterol spike and will keep your heart in good shape. "It is wise to read the labels and understand your ingredients. Jolly Heart Mate Canola Oil is the number one canola oil brand in the Philippine market, it is 100% pure, lowest in bad fats and givesthe best value for money with its perfect combination of quality and affordability." she shares.
"Deep-fried food is in demand once the holiday season rolls around, so opting for cooking oil with a high smoking point, like Jolly Heart Mate Canola Oil, will prevent fried dishes from being burnt and releasing toxic substance in the process"she adds.
For all your special holiday recipes that call for frying, sautéing, grilling, and baking, the country's no.1 Jolly Heart Mate Canola Oil is a versatile cooking partner. Affordable and high-performing, its pale golden color, light texture, and neutral taste are all part of its charm. Remember, good food is something that no holiday party can do without, so why not make it extra endearing by preparing a well-thought-out spread? After all, dishes that look appealing on the outside and is healthy is the best gift for yourself and loved ones during this jolliest time of the year.
Lemon Cilantro Salmon with Mango Avocado Salsa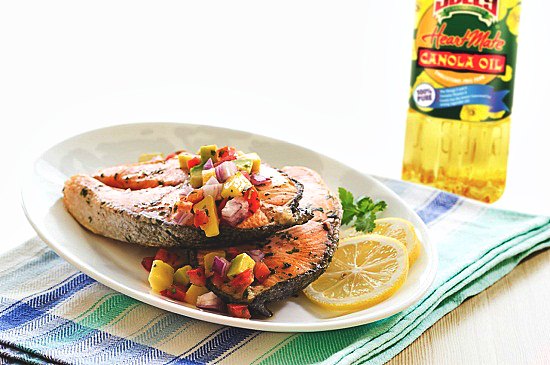 INGREDIENTS:
For the Salmon
2 center-cut salmon fillets (6 oz. each)
1 1/2 tablespoons fresh lemon juice
¼ cup finely chopped cilanto
2 tablespoons Jolly Heart Mate Canola Oil
Freshly ground black pepper and salt, to taste
For the Salsa
1 medium red onion
3 garlic cloves
2 tablespoons chopped fresh cilantro
3 pcs medium tomatoes
2 firm-ripe avocados
1-piece ripe mango
1 tablespoon fresh lime juice, or to taste
DIRECTIONS:
Place the salmon fillets in a shallow bowl. Toss well with lemon juice, cilantro, Jolly Heart Mate Canola Oil, salt and pepper. Let it rest for 15 minutes.
Cook the salmon, skin side down in a nonstick skillet over medium-high heat for 2 to 3 minutes, shaking the pan and carefully lifting the salmon with a spatula to loosen it from the pan.
Reduce the heat to medium. Cover the pan and cook until the salmon is cooked through, 3 to 4 minutes more. The skin should be crisp and the flesh medium rare.
To make the salsa: Finely chop onion and mince garlic. In a bowl toss onion and garlic with cilantro.
Chop tomatoes and mango, add to onion mixture, tossing to combine.
Peel and pit avocados and cut into 3/4-inch pieces. Add avocados, lime juice, and pepper to taste.