Being hygienic down there is one of the first and most important aspects of feminine hygiene which I taught my daughters. You should too. And when you say you need to teach them, that means you have to be crystal clear in what you teach.
Dove Soap and Feminine Liquid Soaps
I've taughtt the girls about feminine hygiene even before they learned how to take a bath by themselves. Because girls are more inexperienced and sensitive than older women when it comes to washing, I have to make sure that they use a soap that is gentle for them. Dove soap bar is the first soap I've introduced to my daughters when it comes to feminine hygiene. This is what my mom-in-law taught me as well. I also use Dove alternately with a feminine liquid soap. Dove is not only gentle but it also leaves a very clean and fresh scent after washing. When it comes to washing though, be careful of overdoing it so as not to kill the good bacteria which are present in the feminine area.
Tight Clothes and Choosing Underwear
Since my kids are still growing, I have to buy them new ones at least twice a year. Wearing tight fitting underwear is not comfortable and can make the skin sweat especially on hot weather. The sweat can make dirt more sticky and thus more harmful bacteria can breed over the skin and be the cause of unpleasant odor. It goes the same with wearing tight fitting shorts or clothes. It's advisable to wear jeans or shorts which allow easy movements and that are made of comfortable materials.
When it comes to choosing underwear for me and my girls, I try to buy those made with breathable fabric. Right now, the girls don't care about the designs I choose for them but I am more inclined to choose white underwear or light colored ones so the dirt can easily be seen when the undies are being washed.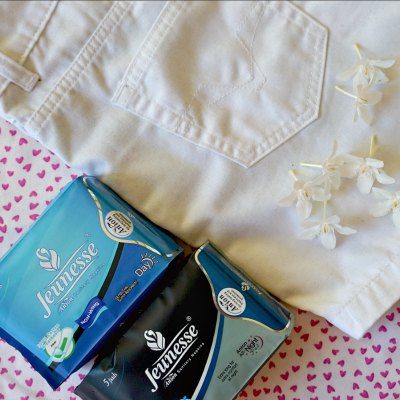 Sanitary Pads and Napkins
Sanitary pads and napkins play an important role in maintaining feminine hygiene. Young girls usually have periodic discharges which is why I always tell my girls to bring extra pads of panty liners and napkins and even a fresh underwear in their bags. As a mom, I still remind them from time to time because in their age, they are still not that conscious and more focused in what they are doing rather than spending extra minutes to change and freshen up. Fortunately, the pads we are using now, Jeunesse, has that long lasting absorbency and is able to keep us smelling fresh for a longer time. Jeunesse has what they call anion strips which help in fighting germs and unpleasant odor. Jeunesse pads are also available in different kinds of thickness so we are able to choose which ones to use according to our needs. We particularly use the Night pads when we have heavy flows and the new Ultra Thin Super Absorbent Day Pad with wings which is currently my favorite.
Talking about intimate hygiene is a must with the kids as they are growing up, may they be girls or boys. Having a good smelling body and a pleasant smell in the most hidden parts of the body is not only healthy but can give anyone comfort and confidence the whole day.