This is the easiest pasta dish I've ever tried and you can cook it in less than 5 minutes ( given that you have all the ingredients and excluding time you cook the pasta). Since I am a pasta lover, what I do is I always cook some pasta in advance and store them in the refrigerator. You can also keep a jar of parmesan or shredded cheese in your ref. Cooked pasta can be stored from 3-4 days while cheese life can range for a month or so.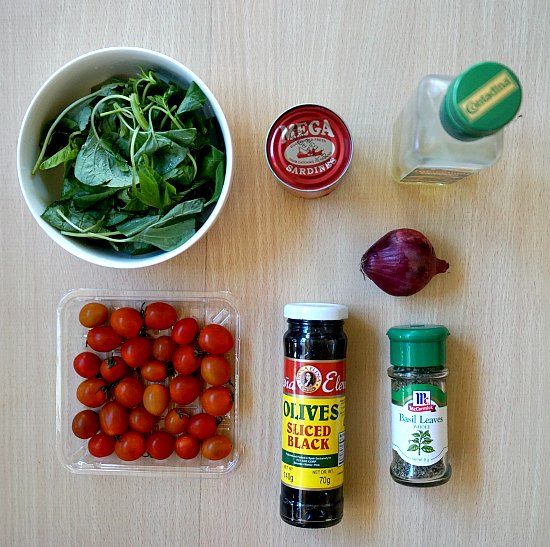 Ingredients:
a can of your favorite tomato sardines, choose one with chili if you like it spicy
a bunch of spinach, wash and pat dry the leaves
1 medium red onion, minced
10-15 pcs black olives
dried basil leaves
cherry tomatoes (sliced in half)
(Contadina) olive oil for sauteeing
200 grams of pasta (penne or spaghetti, cooked according to packaging instructions)
Procedure:
Saute onion, spinach, black olives, and tomatoes in olive oil.
Mix in sardines and season with salt and pepper for a minute or two.
Top cooked sardines on pasta.
Sprinkle with basil leaves and parmesan (optional, it tastes good even without cheese).
Enjoy!