Last November, Ajinomoto launched the #CreateYourPlate with Community campaign which supports Ajinomoto Philippines Corporation's mission to "bring happiness to every Filipino through its high quality products and services that make every meal delicious, nutritious and enjoyable." Unfortunately, I missed the launch event but to show my support, I tried the recipe that they sent me. I wanted to try this recipe because my lola used to cook this dish when she was still alive. And my lola was the best cook in the family. I was so happy to pull it through successfully and publish it as my personal tribute to the woman who loved and took care of me. My husband loved the way I cooked this dish and he asked when I will cook it again. I feel that he is proud that I will be able to bring another kind of dish whenever there's a special occasion or family gatherings.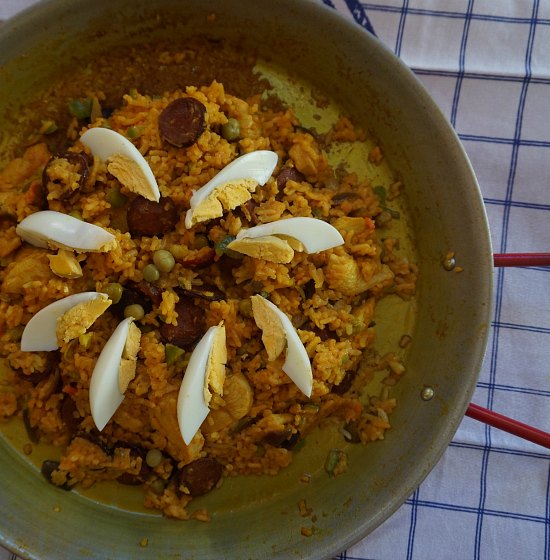 Ingredients:
cooking oil for sauteeing
3/4 cup cooked rice Dinorado
1/4 cup cooked rice Malagkit
1 tsp. atsuete or annatto seeds
100 grams chicken, thigh, boneless
50 grams chorizo sliced ( I used King Sue on my dish)
1/2 med red onion, minced
2 cloves garlic, minced
1 pack 7 grams Aji-Ginisa Seasoning Mix
1/2 cup green and red bell pepper
2 pcs boiled egg, sliced
1/4 cup green peas ( I used Jolly Green Peas)
1 cup coconut cream ( I used Jolly Coconut Cream)
2 cups water
1 tsp. turmeric powder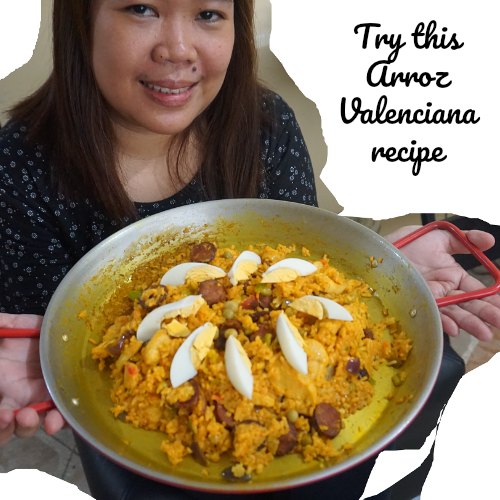 Procedure:
1. Heat cooking oil and pour achuete. Mix until cooking oil is colored and then discard the seeds.
2. Saute chicken and chorizo and then onion and garlic.
3. When cooked, add Dinorado and Malagkit and mix until fully covered with colored oil.
4. Pour in coconut cream, water and turmeric powder.
5. Let it simmer and then add Aji-Ginisa Seasoning Mix. Let the dish cook until liquid is absorbed and evaporated.
6. Add green peas and bell pepper and cook for an additional 2 to 3 minutes.
7. Put the sliced boiled egg on top and serve.
The dish is easy to cook and Ajinomoto can surely bring out the best in it, but Arroz Valenciana can be done in so many ways. You can personalize it, put other ingredients you like, to make it your own signature dish.
For more information about Ajinomoto Cookmunity, follow facebook.com/CookmunitybyAjinomotoPH and visit www.ajinomoto.com.ph