When I searched for Richmonde Hotel in Google, you know what attracted me initially? They were the price, the pool and the staircase. There were many hits and a couple of misses in this hotel and I hope this blog post will give you enough idea to help you decide if you are going to check in this hotel or not.
I booked our room in Richmonde directly from their website RichmondeHotel.com.ph since I was already a bit late in booking. If you want to get the best deals online in hotel booking, you should book at least 2 months in advance.
For the Junior Suite, we initially booked the room for P4,482 which includes twin beds plus a big leg space for a sofa. But in the end, we opted to get a 2 bedroom suite because we wanted a room with a kitchenette and a dining area. Plus the girls are big already it will be better for them to have their own room. We looked all over the internet to see how big their 2 bedroom suite was but unfortunately, we couldn't find any so I hope this blog post will be helpful to others.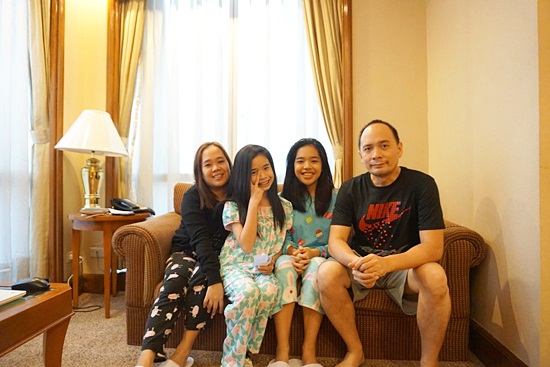 For the 2 bedroom suite, we paid around P7,600 including the breakfast buffet for 3 adults.
Parking
Since we checked in for New Year's Day, we thought people were already checking out. But we were wrong. Many families want to spend New Year checked-in a hotel. There was free valet service but my husband opted to drive and find the parking. He was lucky that he was able to get a slot because many vehicle owners just parked their cars outside the hotel.
View
During the day it was nice because there was a part where it's all glass and the light outside seeps through and brighten the room.But when night time came, I did not like our view at all. All we could see during midnight (New Year) was blackness. We couldn't even see the fireworks from afar because buildings obstructed our view. So we just watched the tv to see fireworks all over the world as New Year celebration started.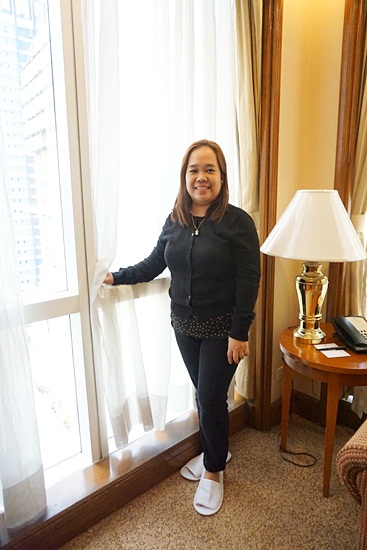 Room Space
When you open the room, it was dining area already, with the dining table at the center, and then further will be the sofa set. I did not expect that the 2 bedroom suite was just enough for the 4 of us. I expected a bigger room. But if you are a couple with much smaller kids, this room will be enough. One of the rooms contain a single bed (which I also thought will have 2 beds), and the 2nd room contained a queen bed for us couple. Since my eldest won't be sleeping in a small bed, she just let her sister occupy the single bed and she slept on the floor on the 1st room.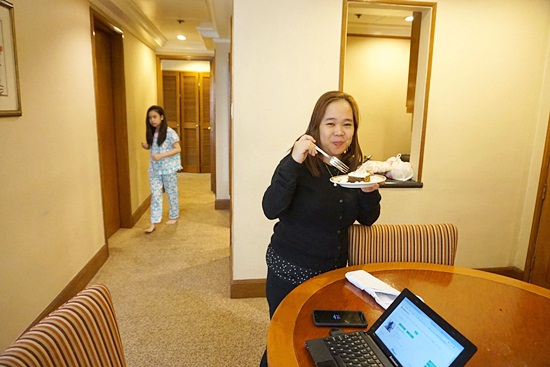 Kitchen/Dining Area
The kitchen has electric stove, microwave oven, electric and kettle. They also have pans and some cooking utensils, but for the plates and goblets, you still have to request them and only to a maximum of 4 sets.
Amenities/Wifi
The kids' room has an old style tv while our bedroom has the modern LED type. The dining room has also its own LED 32 inch TV with DVD player. It has HDMI connection so we were able to connect a laptop and watch shows from the internet. But the Wifi connection wasn't that fast so we were also not that able to watch that  much.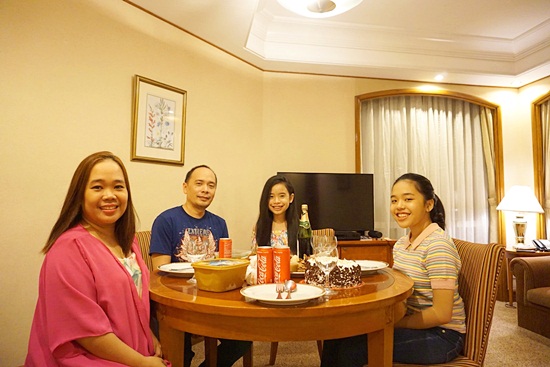 Bathroom
The bathroom is big, that I can say. It has a bathtub and a separate shower room and a wash area with two sinks, his and hers. Just be careful when you use the bathroom because the floor can be slippery.
Pool
Water was warm and very satisfying for us. My eldest and I made sure that we do not miss the pool. Despite that there was a lot of guests in the pool that day, we still managed to swim for a few minutes. The pool though is not that big as in the photos but maybe because there are just too many of us in there that day that there isn't enough leg room for all of us. Check the short video.
Breakfast Buffet
Food was good and there's a lot of them to choose from. It was after New Year's day and so I must have been not that into eating that much because of last night's dinner but I can tell you that the buffet will be worth to visit. There was roast pork and dimsum and siopao, at least those which I was able to remember. The dessert table is not that big but I enjoyed the fruits and the spread of different kinds of breads that you can warm in a nearby bread warmer.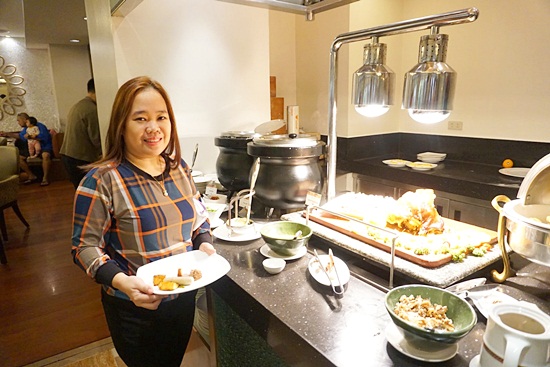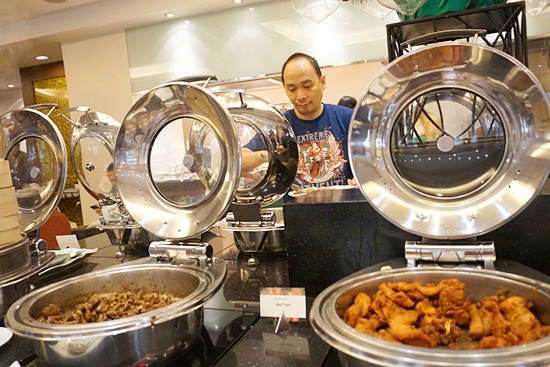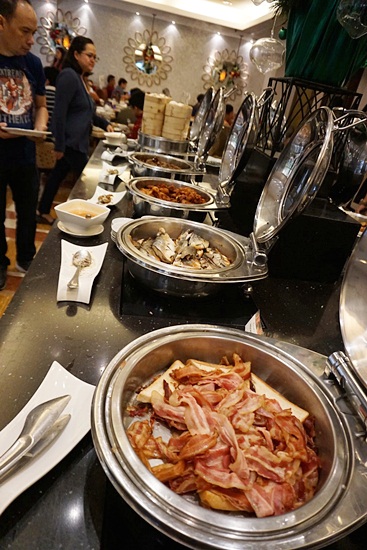 All in all, I'll give this star 3.5 stars for the pool, the buffet and the location (proximity to Megamall). I also loved their decors in the lobby.