I have been a P&G brand user ever since. Most of the time I am not aware that I had been loyal to their brands since I started having my own money and buying my personal needs. I've used their shampoo (Pantene) and soap products (Safeguard), and now I'm using mostly their detergent (Ariel) and fabric conditioner brands (Downy).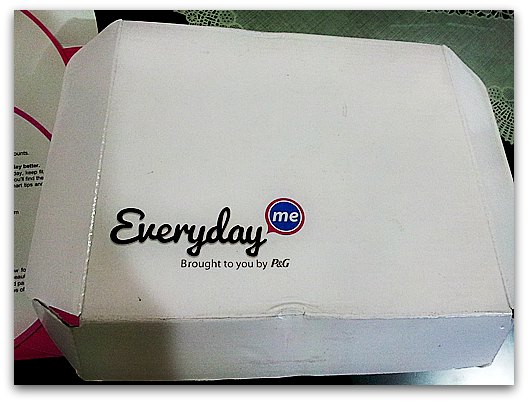 I haven't been into brands but I was just made aware of this when I was able to sign up to Everyday Me. It was a sponsored post to Like and Sign Up to EverydayMe and their promoted photo was an Ariel powder. Of course I wanted to get a free Ariel because this is what I am using for my laundry.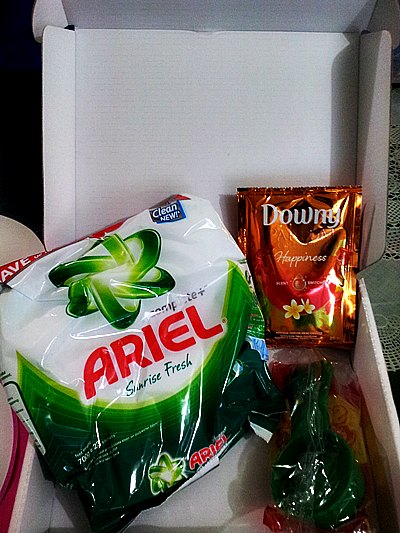 Then yesterday, I received a box which contains a big pack of Ariel plus Downy Happiness sachets. What a nice surprise 🙂 I've always wanted Ariel because I can personally say that it has better cleaning power than other laundry powder, even against Tide. Tide is my next laundry powder choice by the way. And I get to try a variant of Downy. I've only used Downy Antibac because I like its scent and I'm always after antibacterial products. My kids' uniforms need antibac because my girls are the cowboy types, they just sit anywhere they want. I've always wanted to try another scent but I'm into keeping my budget and wouldn't want to take the risk. Downy Happiness is a bit more expensive than Antibac so I am eager to try this one to know if it will be worth the change some other time.
Inside the box are discount coupons that will be very useful for me. The Ariel, Safeguard, Pantene and Downy discount coupons will be definitely put into use. This will be P200 off from my grocery budget already. Pretty nice. What's I'm looking forward to use is the Red Carpet Olay Discount coupon worth P300. My mother in law is an Olay Regenerist user and she had requested a bottle as a gift this Christmas. What a nice coincidence!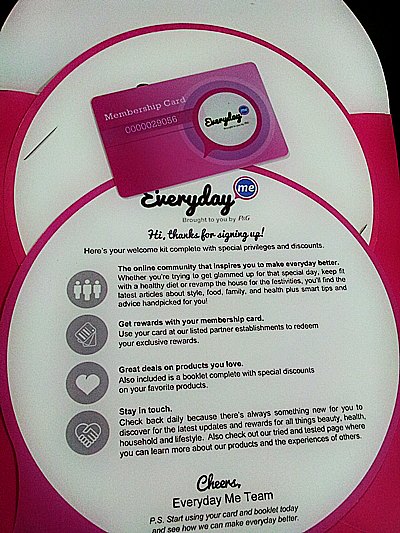 The box also contains a membership card which I think, from the leaflets, can be used as a rewards card. The leaflet says "use your card at our listed partner establishments to redeem your exclusive rewards". The leaflet says that it also has a booklet but I didn't see anything inside it. I've checked P&G's Everyday Me website and it's currently open and they have new promos!
What about you? Have you signed up to EverydayMe?