You may have already heard about "climate change" a lot. Every time there's a storm, we hear in the news that "global warming" had already altered our weather that much that it's now impossible to predict if it's going to rain or not even if it is supposed to be a rainy season. But one thing is for sure, we have a part in bringing these weather changes, because of our irresponsible use of natural resources.
The good thing is, apparently, more and more people are now realizing that we can all do our part in bringing nature back to its natural state. If you will open your eyes, there's been an increasing number of earth friendly products in the market.
1. eco-friendly detergents
2. plant based paints or VOC (volatile organic compounds) free paints. VOCs are harmful elements produced by some paint
3. motion sensing lights which automatically turns off when not in use
4. solar powered outdoor lights
5. cool roof coatings which you put over your roof to reflect sunlight and lessen heat at home
6. composting toilet – I have just read about this but never actually found a home who has one. Given the right type of toilet, I think this is possible.
7. eco-friendly cement used to develop new houses
In line with this environment friendly cement, Holcim Philippines, Inc. recently received the National Ecolabel Seal of Approval for its WallRight and Excel cement products for passing the National Ecolabelling Programme-Green Choice Philippines (NELP-GCP) innovative CO2 reduction criteria, highlighting these products' compliance with sustainability and environment conservation.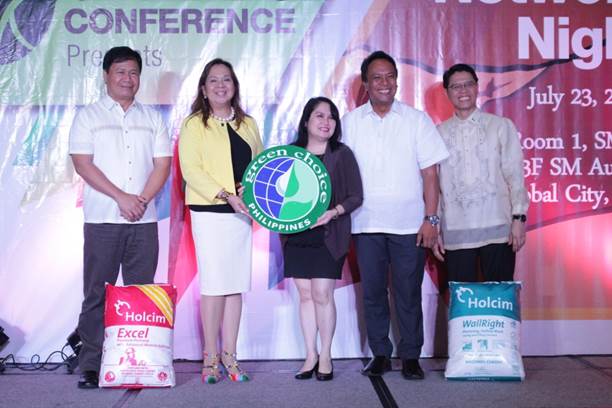 Receiving the seal is Holcim Philippines' Vice President for Corporate Communications Ritzi Villarico Ronquillo, APR at the 4th Kalikasan GP3 Expo Conference (KGP3) held at the SMX Convention Center, SM Aura, Bonifacio Global City, Taguig. Presenting the award are Albert Magalang, Climate Change Office head; Ann Claire Cabochan, director-in-charge of the Bureau of Philippine Standards of the Department of Trade and Industry; Sec. Nereus Acosta, Philippine Presidential Adviser for the Environment; and June Alvarez, executive director of the Philippine Center for Environmental Protection and Sustainable Development, Inc.
As parents, we always need to think about the future. Our kids deserve a clean and pollutant-free environment. Even if it seems to be tedious these days, let's be positive that with the efforts being exerted by many concerned citizens and business owners, we will be able to at least prevent further deterioration of this one earth we live in.